For nearly 20 years, Indeed has helped job seekers find work and employers find candidates for their open roles.
The company touts its position as the No. 1-ranked job site on the internet, serving up millions of job listings across thousands of job boards and corporate careers sites. Always free for job seekers, Indeed says that it's also a cost-effective way to source skilled candidates across almost any industry.
Wondering whether Indeed is a good fit for your job search–or hiring strategy? This review will tell you everything you need to know about the largest job site online, from cost to tools to user reputation.
This review will focus on Indeed, however, if you are looking for other options, we would recommend ZipRecruiter. ZipRecruiter offers free job searching for jobseekers and a free trial for job seekers.
What is Indeed?
Indeed is a job board that is free to job seekers, who can upload their resumes and search for jobs based on things like location, full-time or part-time, and the type of job. Companies can also use Indeed to post job openings for free, but they can choose to promote job posts to reach more candidates.
As of this writing, Indeed boasts over 250 million monthly unique visitors across 60 countries.
Indeed For Employers
Indeed offers two options for employers: free or sponsored. Free job postings appear to all job seekers who perform searches for similar roles; however, they're not promoted to prospective candidates.
Basic, free job postings also include:
Access to Indeed's recruiter dashboard to manage applicants
Screener questions to weed out qualified applicants
Indeed Assessments, i.e. job skills tests
Virtual interviewing tools
Job post analytics
Integration with external applicant tracking systems (ATS)
Pricing For Employers
Pricing for Indeed's sponsored jobs is based on price per application (PPA), meaning that employers only pay for applications that meet their criteria. Exact pricing depends on factors like job title, location, and the job market in your area.
Users can set a limit on the number of applications they're willing to pay for. Sponsored jobs bill on the first of the month or when the total spend reaches $500.
Note: If Indeed doesn't have enough data to determine a price per application, employers can choose to pay per click.
Features For Employers
Here are the top features that Indeed offers for employers.
Posting For Free
Free job postings have access to basic analytics and tools and will appear in search. Employers who opt for free job postings can manage jobs and applicants via Indeed's recruiter dashboard, administer job skills tests, conduct virtual interviews, and more.
Sponsored Jobs
Sponsored jobs get twice as many impressions per day and hire twice as quickly as free jobs. Pricing is on a pay-per-application basis and users have 72 hours to reject and replace applications before they are counted toward the cost.
Indeed Resume
Employers can use Indeed Resume to search the site's database of 225 million resumes based on skills and qualifications. Indeed Resume costs $120 per month for 30 monthly contacts or $300 per month for 100 monthly contacts.
Indeed Apply
Indeed Apply allows you to integrate your company's ATS within your job postings to further narrow down your applicant pool. According to Indeed, companies that do this get 12 percent more clicks.
Featured Employer
If you spend enough on sponsors, you have the opportunity to become a Featured Employer, which shows your company's logo on job postings, gives you complimentary access to Hiring Insights reports, and access to the Employer Branding Hub, which allows you to customize your page to match up with your brand and culture.
Indeed Targeted Ads
Targeted Ads can help you find and connect with candidates who wouldn't necessarily associate your company with their skillset. For example, if you're a hospital chain that's looking for a network administrator, you can use Targeted Ads to ensure that your jobs appear to those candidates.
Indeed Assessments 
Indeed's skills testing tool automates the assessment process. Employers can invite applicants to take skills assessments and view their results.
Indeed Hiring Events 
Indeed's platform streamlines the process of creating a one-day hiring event, automating basic tasks, and screening applicants.
How To Post A Job On Indeed For Employers
Step 1: Go to the employer homepage at indeed.com/hire.

Step 2: Set up your employer account.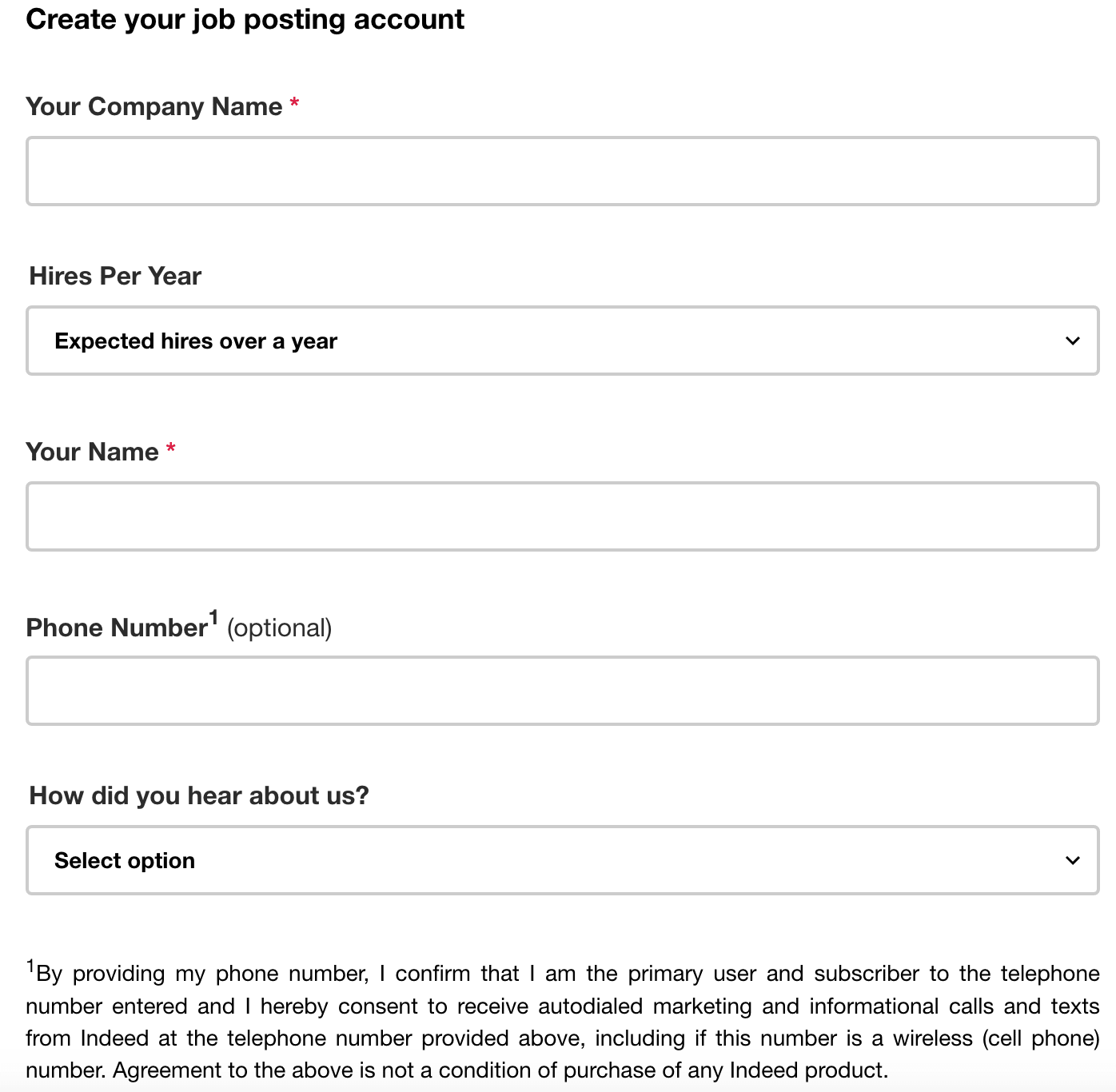 Step 3: Enter your job details.
Here is where you will enter details such as the job title, location, etc.
Step 4: Paste your job description.
Paste the description of the job you are hiring for. The more specific you are, the better! This makes it easy to sort the correct candidates to the top of your list.
If you need help with your job description, check out our job description template.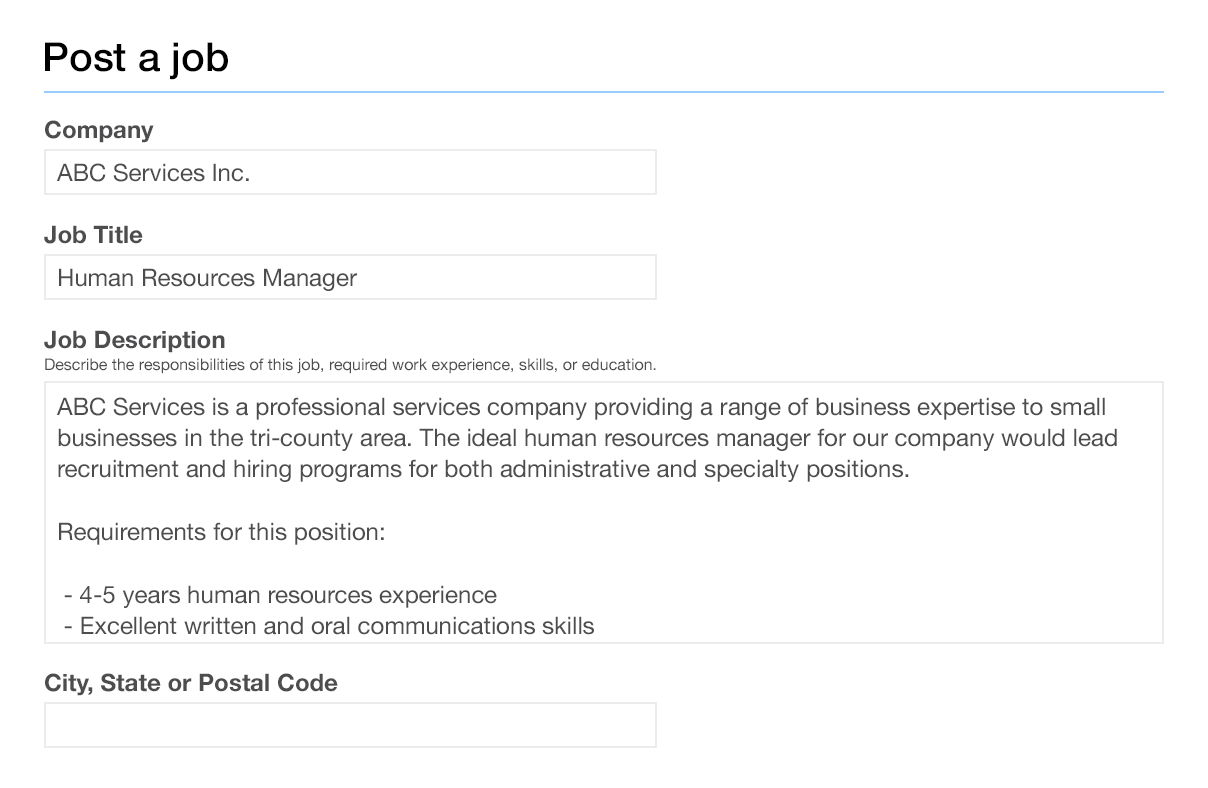 Step 5: Specify screener questions.
You can select from the premade list of screener questions or you can choose to make your own. You can use a variety of question formats including:
Yes or No questions
Short answer questions
Multiple choice
Asking a particular date or a number
Request a file upload
After you choose the questions, you can mark them as required or optional. When job applications start coming in, you will be able to sort candidates based on the answers to these screener questions.
Some examples of screener questions include:
Are you eligible to work in the United States without sponsorship?
Tell me about yourself.
What are your salary expectations?
What are your reasons for leaving your most recent job?
Step 6: Decide whether to sponsor your job for more visibility.
It is not a requirement to sponsor your post, however, employers typically see more applicants when they sponsor posts.
That's it! Your job is now posted on Indeed. Sit back and watch the applications roll in!
Indeed For Job Seekers
Indeed is completely free for job seekers and allows you to upload your resume, and apply to different jobs directly through the site, which will save you time compared to applying through individual company websites. You can search for jobs and apply to them, but you can also be sought out by employers who find your resume appealing.
If you need resume help before uploading your resume to Indeed, we recommend working with a resume writing service. Resume writing services are an affordable way to get expert resume help.
Email Notifications 
Perhaps the most attractive feature for job seekers is Indeed's email notifications which you can sign up for, and get notified several times a week of new job postings that match your search criteria.
Company Reviews 
As a job seeker, you have the ability to search for reviews by current and former employees to see what it is like to work for any given company. Ratings, company snapshots, CEO approval, and salaries are all available on Indeed company reviews.
How To Get Started 
You can sign up with your Google, Apple, or Facebook account, or you can create a login with your email. From there you can upload your resume, and begin your search by location and job type.
Indeed's Reputation
Indeed has mixed reviews on consumer reviews sites. However, it's important to take into account that many negative reviews appear to be from unsatisfied job seekers who are disappointed at the progress of their job search. Given how stressful and labor-intensive job searching tends to be, it's not surprising that some users might have negative sentiment toward a job search site.
Other negative reviews cited customer service issues related to payments, products, or screening. It's worth noting that Indeed appears to respond quickly to any negative reviews and attempt to resolve problems quickly.
At the time of this writing, Indeed held the following aggregate ratings on consumer review sites:
Indeed vs The Industry: What To Expect
Indeed isn't the only job board or job posting site out there, but they are by far the biggest. As there are other job boards, there are other job postings and other candidates that can be found outside of Indeed. ZipRecruiter by contrast is an aggregate job board that takes a job posting and beams it out to over 100 different job boards. However the only way to use ZipRecruiter as a job poster is by paying, which brings us back to the main draw of Indeed, and the ability to post to their vast job board completely free of charge.
When and if you do decide you want to pay to sponsor job postings, Indeed offers an impressive suite of tools that we listed above that can help you zero in and speed up the process. As a job poster, it depends entirely on your budget and search criteria when deciding to actually have some skin in the game and start paying for postings, for whichever job board you go with. Many employers probably utilize more than one job board. There is no empirical evidence that suggests one job board is better than another, but probably depends more on individual taste, and what the job poster is most comfortable or familiar with as far as the technology and intuitiveness within each site.
As a job seeker, there is no reason not to sign up and toss your hat into the ring of a seemingly endless amount of job postings. And with their email notifications, you can pretty much sit back, and wait to see jobs that you match up with arrive in your inbox.
For more information on how Indeed stacks up to ZipRecruiter, check out our full review of ZipRecruiter vs Indeed.
Indeed vs. ZipRecruiter 
The main difference between Indeed and ZipRecruiter from an employer perspective is that Indeed offers free job postings, while ZipRecruiter offers only a free four-day trial. Employees can use both services for free. For more details, read our full review of Indeed vs. ZipRecruiter.
Indeed vs. Glassdoor
Glassdoor's job postings come from Indeed, so if you use Glassdoor for job search, you're already leveraging Indeed's tools. However, Glassdoor offers additional insight into employers with extensive user reviews from real employees. Read our full review of Indeed vs. Glassdoor.
Indeed vs. LinkedIn
The biggest advantage of LinkedIn for job seekers lies in the ability to connect directly with employers, hiring managers, and recruiters. Employers may also enjoy the opportunity to brand and market themselves to candidates via the world's biggest professional social network. However, Indeed offers the benefit of sheer size: as the largest job site in the world, it offers plenty of opportunities for employers and job seekers alike. For more information, read our full review of Indeed vs. LinkedIn.
Indeed vs. CareerBuilder
Both Indeed and CareerBuilder are free for job seekers, but only Indeed offers a free option for employers. CareerBuilder gives a free five-day trial, after which it offers one-time and monthly plans starting at $425. Read our full review of Indeed vs. CareerBuilder.
Indeed vs. Craigslist 
Craigslist is less a job site than a digital version of traditional classified ads. However, Craigslist may come in handy for posting and applying for local jobs. Job seekers apply for free; employers pay a flat fee based on their location. To learn more, read our full review of Indeed vs. Craigslist.
Frequently Asked Questions
How is Indeed different from other job posting sites?
The main difference is its size. As of this writing, they have:
250 million monthly unique visitors.
245 million resumes.
200 million total ratings and reviews.
10 jobs added per second globally.
750 million salaries.
This makes Indeed the largest digital job board, by far.
What types of jobs will I find on Indeed? 
You can find everything. At a fast-food chain, for example, you could find both an hourly crew member position as well as an opening for upper-level management.
What types of candidates will I find on Indeed?
If you post a job on Indeed, you should be able to find a candidate whose skills, experience, and salary expectations match up with your open position.
How has pricing on Indeed changed?
Pricing on Indeed is calculated based on price per application (PPA) for most jobs. That means that employers pay for submitted applications that meet their criteria, rather than paying for every click on each job post. Indeed moved to the PPA model from cost per click (CPC) in 2022.
What types of candidates will I find on Indeed?
If you post a job on Indeed, you should be able to find a candidate whose skills, experience, and salary expectations match up with your open position.
Is Indeed a legitimate job site?
Indeed is a legitimate job site with a 20-year history of connecting employers and job seekers. However, users should do their due diligence when evaluating job listings, employers, or applicants to avoid falling prey to job scams.
What are some alternatives to Indeed? 
Bottom Line
Indeed is the largest job board for a reason. The biggest draw is that it is 100% free to post an opening on their massive job board. Both job seekers and job posters continually go to the site to find suitable jobs and hire suitable candidates.
If Indeed isn't working for you, consider ZipRecruiter. Post your first job on ZipRecruiter for free!