What career path is the best fit for you based on your skills and personality?
Welcome to the CareerCloud Career Quiz
I'm Michael Gardon, operator of this site, host of the CareerCloud Podcast and creator at The Break - a newsletter all about "breaking work" to design a career path and work-life that works for you.
I'm one of those people who never had a calling, and didn't know what my "passion was", so I had to make my own path. My path ended up having many career pivots, 6 to be exact, all before I was 40 years old. I still don't feel like I know what I want to do when I grow up - I'm just interested in too many things!
Choosing a career, though, is about narrowing down the world to the skills, tasks and decisions that you are naturally inclined to be good at or interested in.
That is where a Career Quiz can be super helpful.
Taking The CareerCloud Career Quiz
We partnered with our friends at Innate to create a scientifically based Career Match Assessment that helps you find your ideal career fit based on your unique skills and personality.
During this assessment:
Read a statement

Select on a scale, how strongly you agree or disagree that the statement applies to you.

Make sure to read the question, then answer instinctively and honestly before moving on.

Upon finishing, you'll receive your assessment summary and breakdown of your career matches.
What You Get When Taking The Quiz
The quiz is designed to give you feedback on your personality, and match that assessment to different job that you may be innately inclined to excel in.. This part of the quiz is based on the 5 Factor Model of Personality, which has decades of research behind it and is one of the most widely accepted models used in psychology and in corporations.
THE ASSESSMENT
Based on the 5 Factors, you get an assessment summary. Here's my actual summary: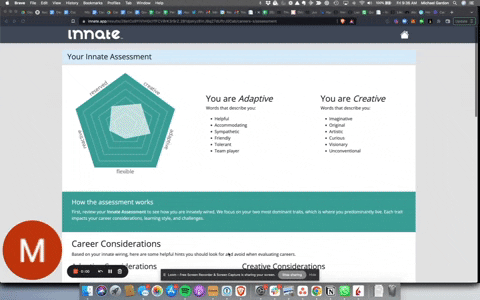 I'm loving that 'adaptive' is my primary trait. Having pivoted my career many times in unrelated fields, this seems to fit nicely.
With the assessment you also get insights into:
Career considerations and how you are likely to best work

Your team orientation

Your learning styles

Challenges you may get from others
CAREER MATCH RESULTS
Based on your assessment results, we suggest career fields and industries that will be a good match.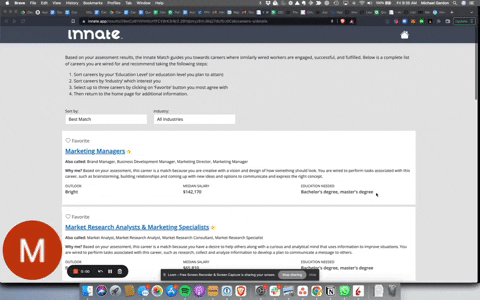 This includes:
Detailed descriptions of the careers, and what other names that career is called. For instance, Marketing Manager may also be called Brand Manager.

Salary information

Skills needed in the career

Responsibilities and common tasks

Educational requirements
FREE RESUME REVIEW
When you review your results you have the opportunity to get a free resume review from a 4.2 star rated service from over 11,000 reviews. TopResume is a trusted name in the resume writing service industry and easily makes our list of best resume writing services.

About The Career Quiz Assessment
Innate's assessments have been administered to millions of individuals since 1995. The foundation of this assessment is the Five Factor Model of Personality, which is the most widely accepted personality theory in the scientific community. Using state-of-the-art psychometric techniques, Innate continues to enhance this assessment as it evolves for use in additional settings and with diverse populations.
The team has over 70-years of experience using state of the art psychometric techniques to develop, administer and interpret the results of assessments. The team members draw on expertise in the following disciplines:
Industrial & Organizational Psychology

Psychometrics

Career Profiling & Counseling

HR, Professional Development & Recruiting

College Admissions & Coaching
Continue Your Career Discovery Journey
I'm a life long career pivoter who is focused on building an intentional work-life that fits in my life-life. If you're thinking about making a career change or want to dip your toe into a non-traditional career path by exploring freelancing, side hustles and entrepreneurship but don't know where to start, I'd love for you to sign up to get The Break newsletter.
With The Break, you get one actionable tip on breaking your work and redesigning it for more control, growth and peace.
To sign up, after you take your career quiz and register, just check the box "Allow Innate to share my data with "Career Cloud."
Your name and email address are the only pieces of information that are shared, and we never, ever share or sell your information with anyone else.
If you want to skip all those steps, you can simply sign up for The Break right here.