After doing all the research for resume writing services, our best overall choice is to start with TopResume's free resume review.
If you are at the executive level, ZipJob is our pick for the best resume writing service.
Crafting a great resume is still important in today's job market, but it's time-consuming and difficult for most people. That's why getting a professional resume writing service to help you is a great investment. The best resume writing services get all the heavy lifting done for you and provide amazing personalized service.
The 8 Best Resume Writing Services
Our team has hands-on experience hiring and managing thousands of employees for technology, HR, finance, writing, marketing, and executive jobs. We spent hundreds of hours researching all of the online resume writing services and we update this page every week. We continue to have conversations with recruiters and consult with hiring managers to learn what makes a resume stand out in 2023.
Why You Should Trust Our Research on Resume Writing Services
Online resume services come in all varieties, and unfortunately, it's fairly easy to start a resume service so new ones pop up all the time. 
To find out which services stand the test of time and deliver exceptional results, the CareerCloud research team talked to actual users, talked to management, and even test-drove the services themselves. Keep reading to get the full story.
Our team has hands-on experience hiring and managing thousands of employees for technology, HR, finance, writing, marketing, and executive jobs. We spent hundreds of hours researching all of the online resume writing services and we update this page every week. We continue to have conversations with recruiters and consult with hiring managers to learn what makes a resume stand out in 2023.
Full Reviews of the Best Resume Writing Services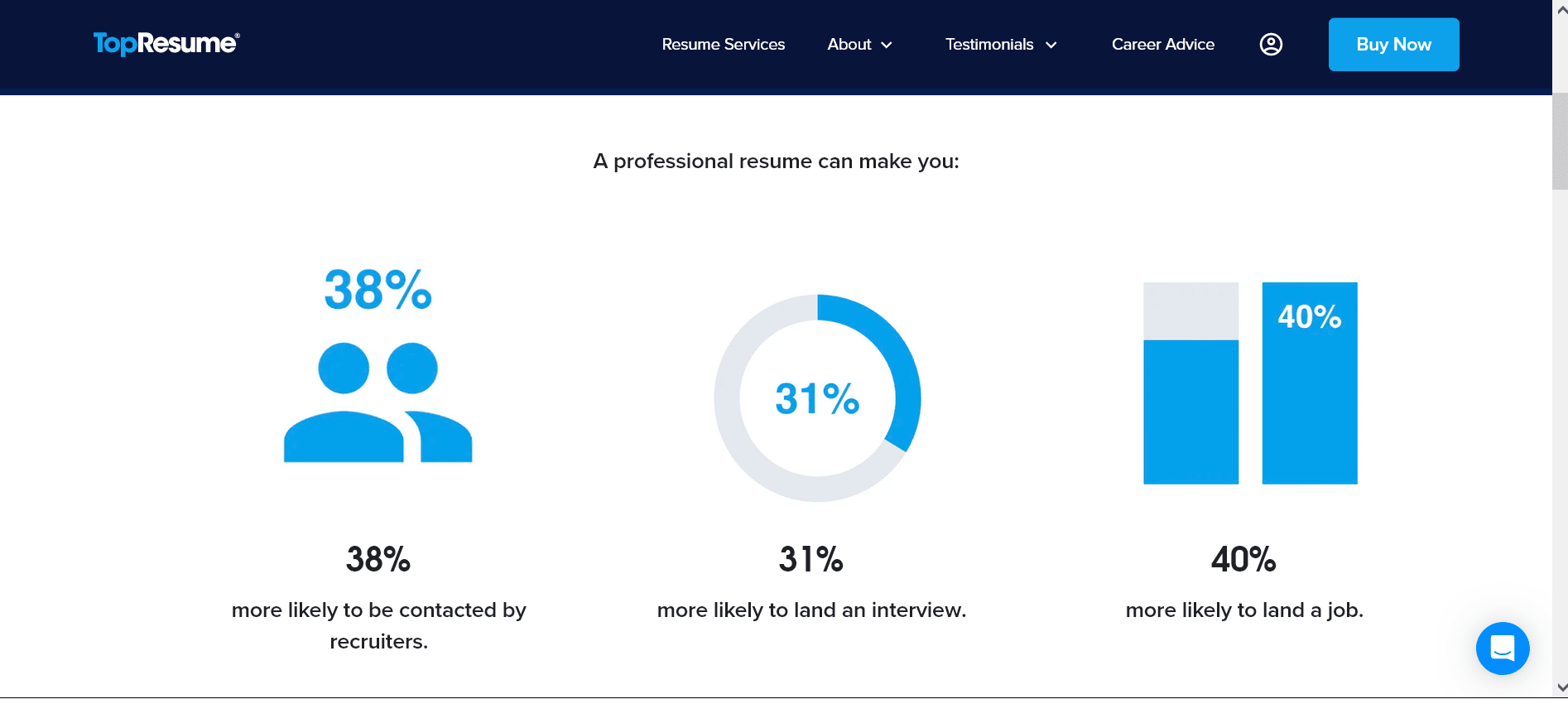 TopResume is our recommendation for almost all job seekers. They deliver professionally written resumes for workers of all backgrounds and it lets you try the service for free by requesting a free expert resume review.
Others in the industry also offer a free review, but TopResume has helped over 1 million people land jobs, so you know they are one service that stands the test of time.
Starting with a free review will guide you toward which of the company's three resume writing packages are the best fit for you. It builds its packages around the types of services it offers rather than your career level, as many other professional resume-writing companies do.
What It's Like To Write A High-Quality Resume With TopResume
You will want to start by getting TopResume's free expert review. You can certainly start by buying a package right off the bat, but the vast majority opt for the free review first.
All you do is click "get a free resume review" and it takes you to a screen where you upload your resume. PDF is recommended.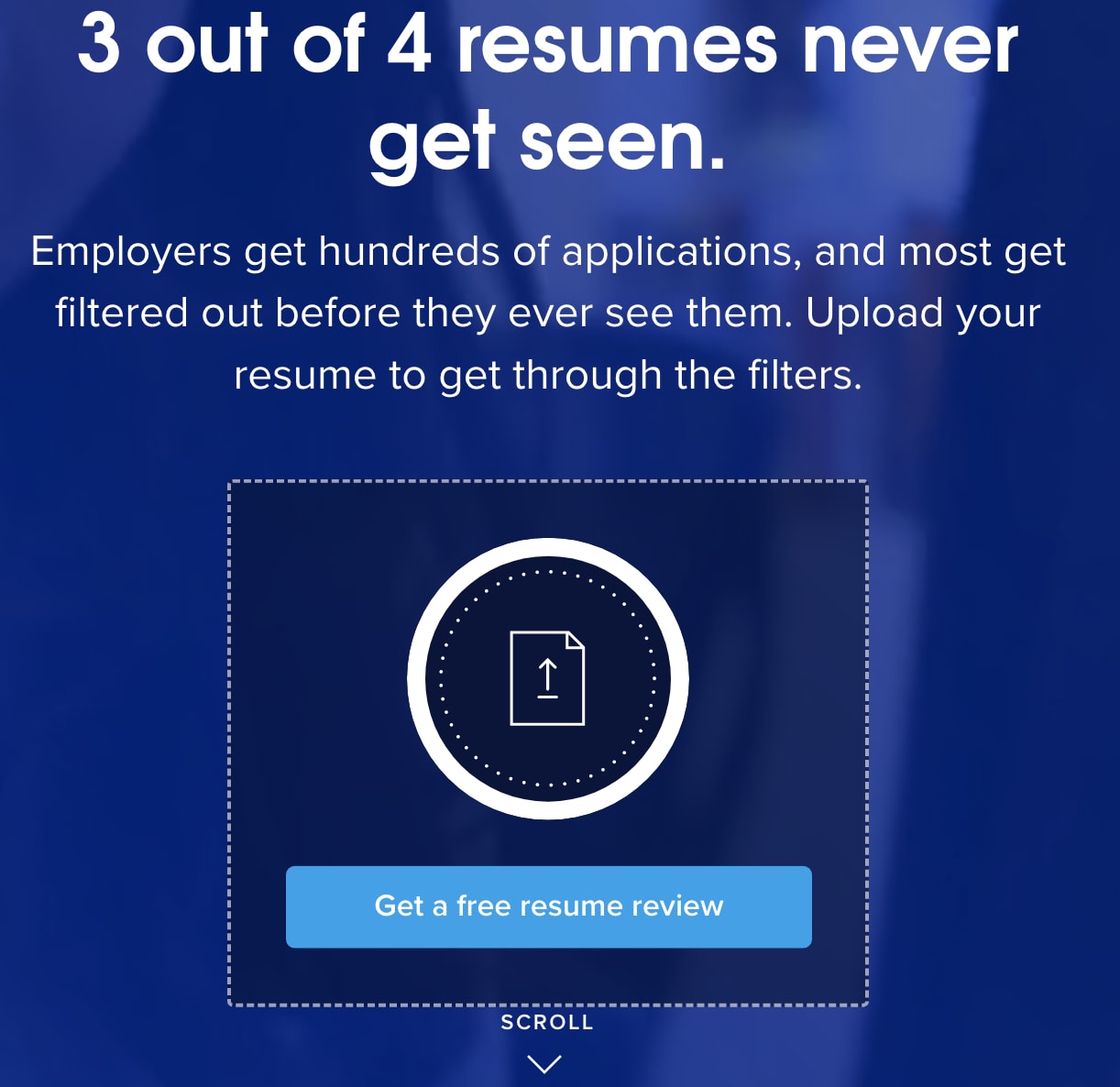 Working with TopResume starts with their free expert review.
You will be emailed the analysis of your resume and all their suggestions for improvement. From there you can decide what help you need.
You will then choose a package that meets your needs. Choose from Starter, Premium, or Ultimate. While Ultimate is geared towards executives, it's often worth paying up to get the 60-day interview guarantee and the LinkedIn Makeover service.
Since most employers go straight to LinkedIn to check you out, this is a no-brainer.
TopResume also makes our list of best LinkedIn profile writers.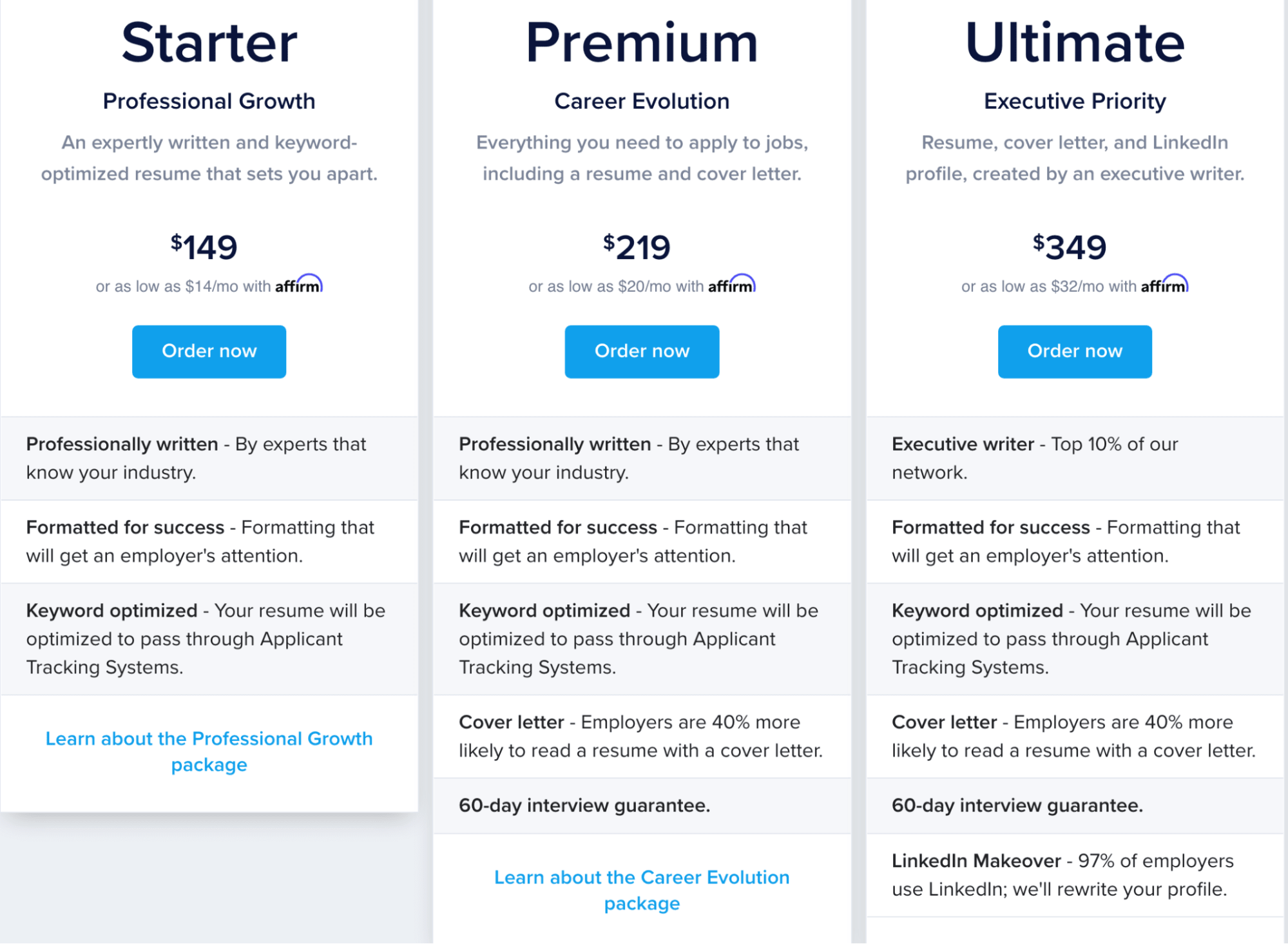 TopResume's packages serve all needs.
After you choose a package you will get matched with an expert resume writer, work 1 on 1 with that person to get a custom, modern resume that is keyword-optimized and tells your career story in a way that helps you stand out.
Everything You Get With TopResume's Resume Service
Free diagnosis and personalized. TopResume has solutions for all skill levels and budgets, including a free resume review. Unlike other builders, a real expert provides personalized feedback within two days. This helps you evaluate the service before spending money.
Variety of packages. There are three resume writing packages you can choose from, depending on how much assistance you want. The basic Professional Growth package includes a well-formatted and keyword-optimized resume written by a professional in your industry. The Career Evolution package includes all of that plus a handwritten cover letter. The Executive Priority package includes a cover letter and a LinkedIn profile makeover, plus a guarantee that your resume will be written by one of the company's best resume writers.
Guaranteed interviews. TopResume's Career Evolution and Executive Priority packages come with a 60-day interview guarantee. If you don't get double the interviews after their expert rewrite, they'll redo it at no extra cost. Just let them know in writing within 180 days to claim the offer.
Tradeoffs With TopResume
TopResume is completely focused on low price and appealing to the majority of job seekers. So, if you are an executive and need a much more comprehensive package, high touch, especially with LinkedIn you might find better options.
Zipjob tops our list of best executive resume writing services. They have a top-tier package dedicated to executives with higher touch points and more service.
Finally, we checked the fine print for you on TopResume's 60-day Interview Guarantee. There is no full refund offered. Their guarantee says you will double your interviews with their services or you will get a free resume rewrite and that all sales are final.
Current TopResume Pricing
Expert Resume Review: Free
Professional Growth Resume Service: $149
Career Evolution Resume Service: $219
Executive Priority Resume Service: $349
Why We Recommend TopResume
There's simply no easier or quicker way to get a professional resume written cost-effectively. Anyone can have a crafted resume in as little as 3 days. 
Their free review makes it easy to get started. No pressure tactics and the pricing is right.
On the rare occasion that TopResume doesn't have what you are looking for, I'm sure one of the next 7 options in this guide will.
Bottom Line: If you are looking to get a pro resume in a short amount of time for cheap, TopResume is your choice. Check out our TopResume review for even more information and detailed features.
Don't take our word for it! Check out these reviews from real people who have used TopResume.
TopStack Resume — Best for Professionals + Pay When You Are Satisfied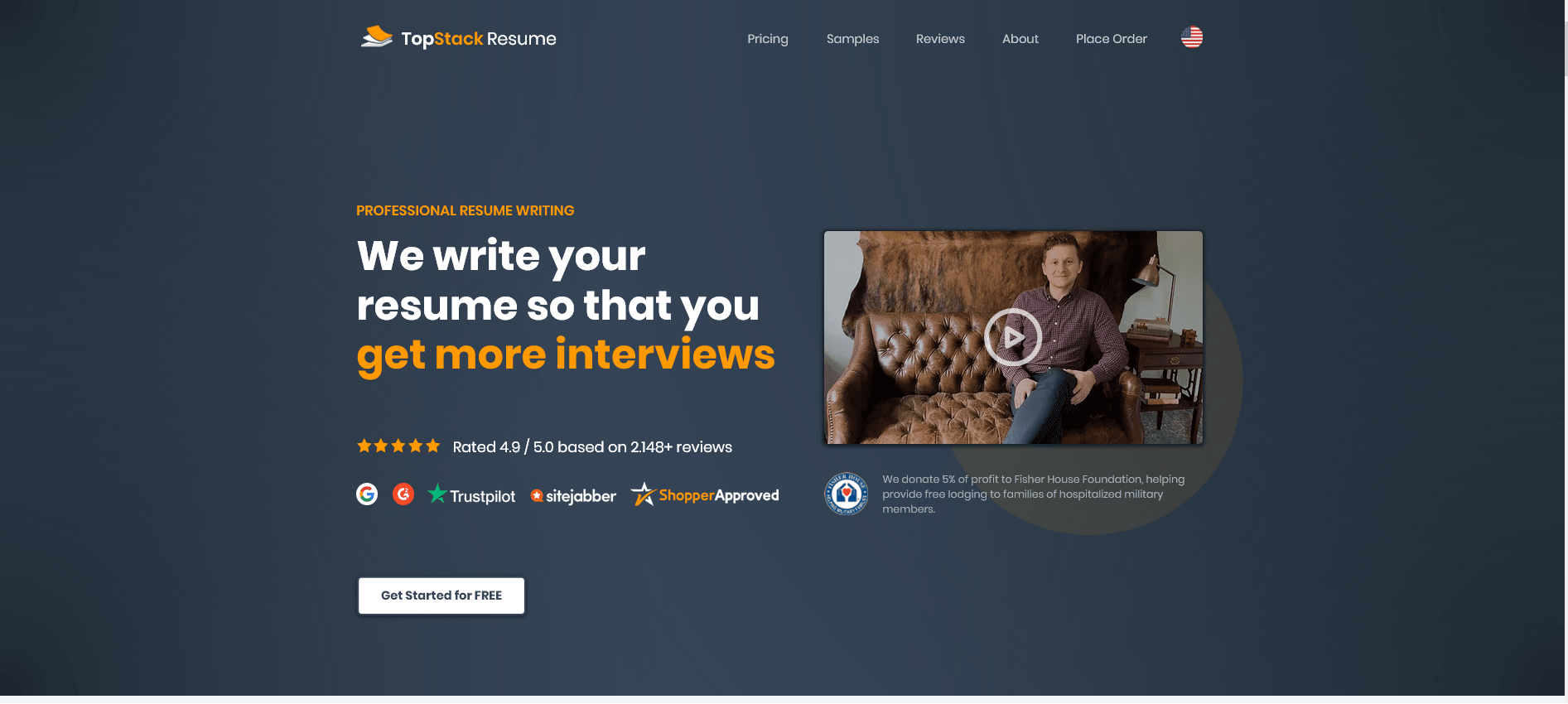 TopStack Resume is our best pick for most professionals because of their level of service and unique payment model. Instead of committing to spend hundreds of dollars upfront, with TopStack - you don't pay until you're satisfied!
This is a perfect option for people who are a little hesitant to lay out cash without seeing the quality you get back.
Their writers create custom, keyword-rich resumes that will wow hiring managers and recruiters. They also craft engaging cover letters and LinkedIn™ profile content. And, if you need some extra support during your job search, you can work with one of the company's career consultants for guidance.
Writing A Professional Resume With TopStack
With TopStack, you choose one of 4 packages right off the bat that serves your needs best, but you don't pay right away. You get started for free.
You work with your writer to complete a first draft of your resume.
Once you're good on the first draft of your resume, you complete payment and work with your writer to complete any additional work such as cover letters, LinkedIn profile changes, or resume redrafts.
Here are what the packages look like: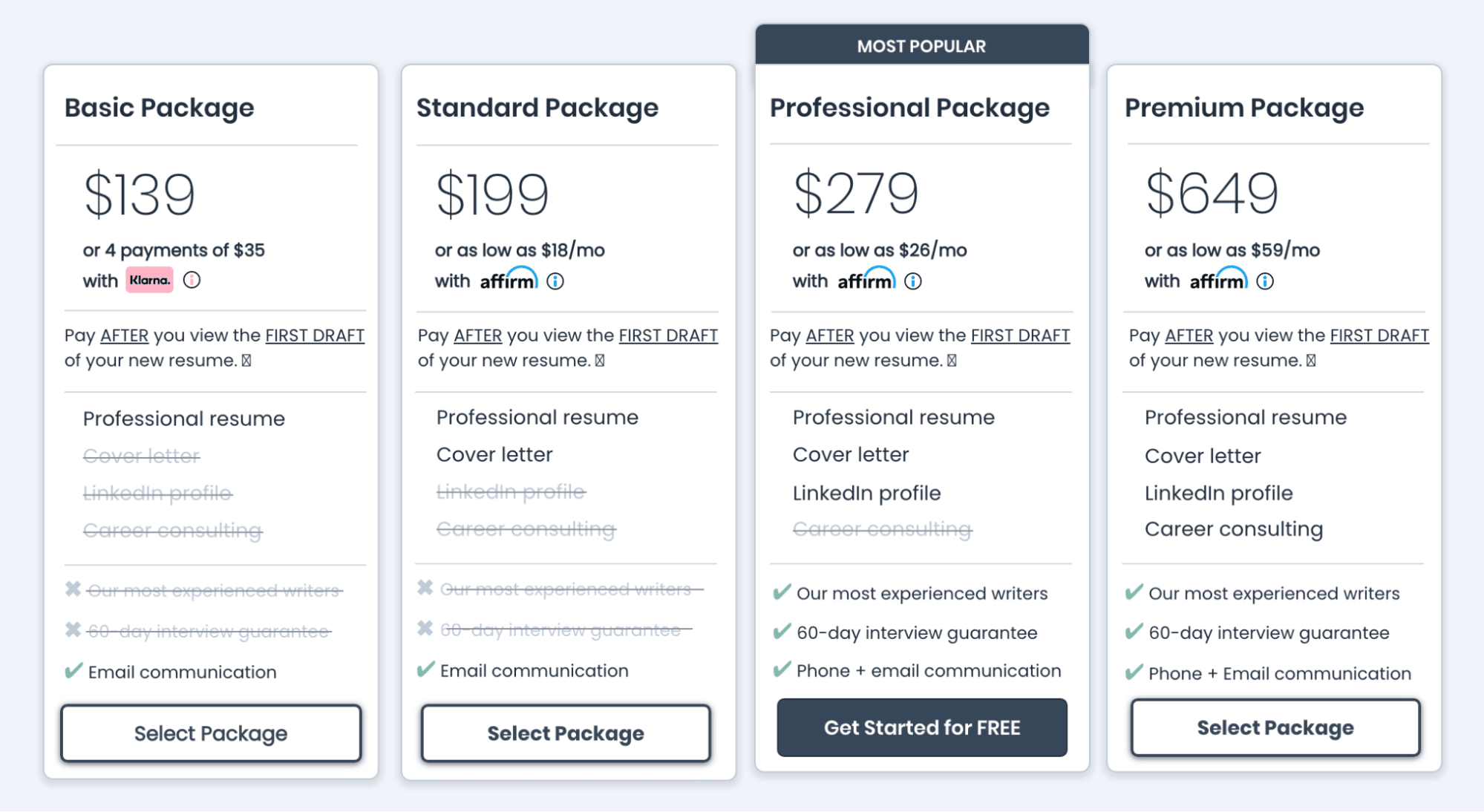 When I worked with TopStack, I was surprised to see a number of additional a-la-carte offerings, which can be a big help for targeted needs or for folks on a budget.
Individual services include:
Professional resume
Federal resume
Academic CV
Two resumes
Cover letter
LinkedIn Profile
Interview Prep sessions
Career consulting
Personal statement
Resume update
Here's Where TopStack Resume Excels
Pay-after model. TopStack's unique pay-after model is risk-free. You receive a link to review your completed resume without providing payment upfront. Only pay if satisfied.
Personalized. TopStack Resume makes it easy with a simple process. Fill out an order form with your career goals and experience, and then get paired up with a talented writer. You'll work together to perfect your resume through email or phone until you're happy with it. Once it's just right, pay for your order, and voila! Your completed document will be in your hands, ready to impress any hiring manager.
Variety of packages. TopStack Resume offers four resume writing packages, so you can choose the level of service that meets your needs. First, the Basic package comes with a professionally written resume and email communication with your writer. Next, the Standard package comes with everything from the Basic level, plus a cover letter. Then, the Professional package builds on the Standard level with LinkedIn™ profile content and phone communication with your writer. Finally, the Premium package mirrors the Professional package with the addition of up to 4 hours of career consulting.
Advanced career consultations. Career consultations meet you where you are. Each conversation will get tailored to your current situation, whether you're creating a job search strategy, preparing for an interview, or planning to make a career change.
Guaranteed interviews. Both the Professional and the Premium packages come with a 60-day interview guarantee. If you don't receive any interviews within 60 days of purchasing your resume (and you've applied to at least ten jobs during that time), TopStack Resume will provide additional career guidance and application support to you for free. Plus, when you purchase one of these higher-level packages, you'll get to work with one of the company's most experienced writers.
TopStack gives back to the community. TopStack Resume also gives back to the community. Five percent of the firm's profits get donated to the Fisher House Foundation, which provides free lodging to loved ones of hospitalized military personnel.
TopStack Resume Tradeoffs
TopStack can take a little more time unless you pay extra to expedite your order. Most of this is due to the extra attention on the first draft and edits, so quality is not a problem. It can take up to two weeks to get your finished document. If that timeline doesn't work for you, TopResume may be a better option for speed.
Current TopStack Pricing
Basic Resume Writing Package: $139
Standard Resume Writing Package: $199
Professional Resume Writing Package: $279
Premium Resume Writing Package: $649
Upgrade to Phone Communication with Writer: $25
Resume Writing Expediting: $50
Why We Recommend TopStack Resume
I just love the ability to see my first draft before I pay. There's something about TopStack delivering value before any money exchanges hands that I really like. They put skin in the game right away.
This also makes it easy to get started. Pricing is on point for the quality, and I love that they give back.
Bottom Line: TopStack just makes sense for budget and quality-conscious job hunters because of that pay-later model. Check out our TopStack Resume review for even more information and detailed features.
Check out some of these reviews from individuals who have used TopStack Resume!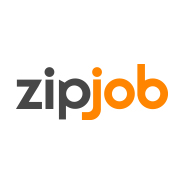 ZipJob — Best For Executives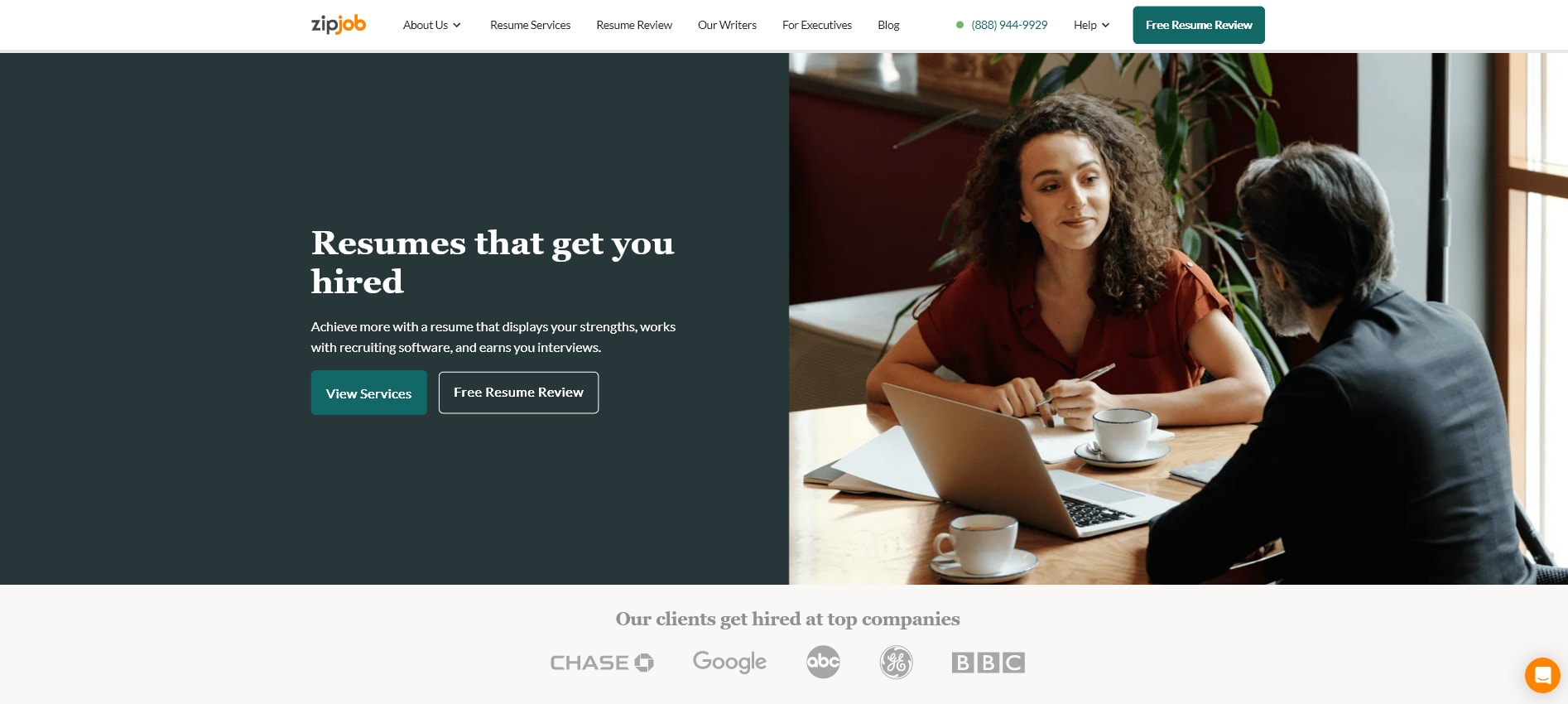 ZipJob is easily the best option for executives but also offers full resume rewrite or new resume creation services for any level in the industry. You can even have your resume reviewed for free within 48 hours! ZipJob knows that most employers use an Applicant Tracking System (ATS) to screen resumes, so they take the time to optimize your resume to pass and score high in ATS systems and also scan your resume with similar ATS technology to make sure it passes the test. There are three different package options, as well as a free resume review, available to fit your needs.
Learn more about the best executive resume services and why ZipJob is our top pick.
Writing An Executive Resume With ZipJob
Start with ZipJob by getting your resume reviewed for free within 48 hours by using their free resume uploader, which is similar to TopResume.
When you receive your feedback, you'll be invited to choose one of three packages that best meet your needs. These packages are very affordable and are detailed below.
Now if you are in the executive camp, you'll want to go straight over to their dedicated executive resume service page to start. There you can really see how ZipJob caters to the executive level. 
When you sign up you get 1 on 1 phone consultation, 1 week first draft turnaround, plus LinkedIn services and even a thank you letter written from you!
What You Get With Zipjob
Great reputation. ZipJob writers have helped candidates secure jobs at Google, Apple, Chase, Allstate, Esurance, Groupon and more.
Free diagnosis. You can start with the free resume review service by uploading your resume to the site. This free resume review is completed by a resume expert and will be back to you within 48 hours. This is a great way to check out ZipJob and see if the service is what you are looking for before paying for a service.
Optimized resume for Applicant Tracking Systems. ZipJob will provide detailed feedback on your resume presentation, design and even run your resume through an ATS scanning test during the free diagnosis.
Package selection. There are four resume packages to choose from, depending how much help you are looking for. The basic package is called "Launch" and includes a professionally written resume from a resume expert, keyword-optimized resume prepared for ATS scanning, direct communication with your resume writer through the ZipJob dashboard and unlimited revisions. The next package is the most popular and is called "Fast Track", this package includes everything from the Launch package, but also includes a custom cover letter and a 60-day interview guarantee. The next package is the "Premium" package. This package includes everything mentioned so far, as well as LinkedIn profile updates with keyword optimization, optional phone consultation, expedited delivery and future resume updates for life. The final package is the "Executive" package. This package includes a professionally written and ATS-optimized resume, a custom cover letter, LinkedIn optimization, resume distribution, a phone consultation with a resume expert, unlimited revisions and free future updates.
Guaranteed interviews. According to ZipJob, if you are not landing at least two times more interviews after 60 days, they will ask you to send over a few of the links to jobs you have applied for. Then, they will review your resume against those jobs and see what additional improvements can be made. ZipJob will update your resume and provide further recommendations.
ZipJob Resume Writing Tradeoffs
Money-back guarantee. As with most professional resume writing services we reviewed, the 60-day guarantee, doesn't come with a money-back offer and is only available on their Fast Track and Premium packages. The good news is that ZipJob will assign a senior writer if you're not getting interviews and they will update your resume at no additional cost.
Price. Further, ZipJob is very clear about its pricing, but the lowest-priced Launch package comes in at $139. Someone who is unemployed or between jobs may not have the funds to purchase this service.
Current ZipJob Pricing
Expert Resume Review: Free
Launch Resume Service: $139
Fast Track Resume Service: $189
Premium Resume Service: $299
Executive Resume Service: $899
Why We Recommend ZipJob Resume Service
For someone going for a director-level or higher position, we recommend ZipJob because of its dedicated executive tier. ZipJob has placed executives at companies like GE and Google. Their personalized service and ability to speak with your writer by phone are huge pluses for the executive level.
The LinkedIn profile component is also often overlooked, but extremely important in today's hiring environment for executives. 
Bottom Line: ZipJob easily beats out the competition for executive resume writing services. Read my full ZipJob review for more information.
Check out these reviews from happy customers!
Let's Eat, Grandma - Best Customer Service
Let's Eat, Grandma may sound silly, but they get it done when it comes to your resume rewrite. Each of their resume writers are highly-qualified career professionals that have been in the business for over 5 years. I actually interviewed Let's Eat, Grandma CEO Chris Villanueva for this review and I asked him about the name:
"Let's Eat, Grandma" is a nod to the old grammar joke on the importance of comma placement. It's catchy and also conveys our playful, nerdy culture that our customers love."
Crafting Your Next Resume With Let's Eat, Grandma
Working with the resume writing service Let's Eat, Grandma is an exceptional experience that seamlessly guides individuals through the process of creating a compelling resume. 
The journey begins with a simple and user-friendly website interface that allows clients to choose from various service packages based on their needs. Once engaged, the team at Let's Eat, Grandma demonstrates their dedication to understanding each client's unique background and career aspirations. 
You will get a personalized consultation, where their professional resume writers will get crucial information and key achievements to make your resume pop. 
The culture at Let's Eat, Grandma is marked by collaboration, expertise, and a commitment to excellence. The writers possess deep knowledge of industry trends and tailor each resume accordingly, ensuring it aligns with the latest hiring practices. 
Furthermore, the team exhibits a genuine passion for client success, which shines through in their attention to detail, responsiveness, and timeliness. Our team's experience working with Let's Eat, Grandma was a breeze, and was characterized by professionalism, respect, and a focus on delivering outstanding results that elevate clients' chances of securing their dream job.
When we checked with other users, we heard the same thing - customer service is what sets them apart.
Here are the Let's Eat, Grandma packages:
What You Get With Let's Eat, Grandma
Free diagnosis. Right off the bat, LEG gets you a free resume critique. While you won't get a full rewrite, it is a good option to help you select which package is the best fit or to help you guide your own rewriting efforts. In the critique, you will get the top three suggestions where your resume could improve - regardless of if you select them or not.
Simplicity. Next, entering your resume information is easy. Step 1 - you fill out a questionnaire about your work history and what you hope to accomplish during the resume writing process. Step 2 - you'll have a phone consultation with your writer where you will come up with a "targeted strategy" to improve your resume. Step 3 - the writer will complete a first draft and you will review it. In total, the entire revision process (up to two additional drafts) should take seven days. So, you'll have a totally new resume in 2-3 weeks.
ATS optimized. A major benefit to using Let's Eat, Grandma is that all resumes written by their professionals won't get bounced by applicant tracking systems for formatting issues - guaranteed.
Customer service. Let's Eat, Grandma prides itself on in-house customer support to ensure clients have a great experience. Their vision statement is: "To be the most customer-centric service for job seekers and partner with them for life."
Let's Eat, Grandma Tradeoffs
Guarantee. A downside to using this service is that they do not offer an interview guarantee or job offer guarantee, like some other resume writing services.
Timeliness. They also don't offer expedited timelines; if you are on a tight turnaround time, this service might not be for you.
Interestingly, even though there is not an interview guarantee, many users report seeing an increase in interviews. For instance, Jamie who works in healthcare management says, "I had 0 responses with my own resume. With my new resume, I have applied to 7 jobs and have received several interview requests…"
Current Let's Eat, Grandma Pricing
Senior Writer Resume Critique: Free
Starter Package: $439
Accelerated Package: $549
Premium Package: $689
Executive Concierge Service: $1,899
If you're looking to spend a little less money on your resume writing service, check their website frequently for price changes. Often, they will have seasonal sales that drastically reduce the prices of their packages.
Why We Recommend Let's Eat, Grandma Resume Service
Bottom Line: LEG outpaces the pack when it comes to customer service. They care about the human behind the resume, and that comes through in their culture and people.

ResumeSpice - Best For Your First Resume
ResumeSpice is a highly-rated resource for job seekers, earning the #1 Trustpilot rating for resume writing and career coaching. Houston-based recruiting firm Murray Resources founded the company to solve the particular challenge recruiters face when helping their clients through the resume process.
Managing Director Keith Wolf, CPC told me that challenge is getting timely help for a client and consistent quality of the resume output.  So with ResumeSpice, you will feel good about getting a quality resume that exceeds hiring manager and human resources personnel expectations. 
ResumeSpice clients have secured positions at top companies like Amazon, Apple, and Facebook. No matter what industry you're in, job function you perform, or career level you're at, the provider can likely help you land your next role.
Working With ResumeSpice
When you work with ResumeSpice for resume writing services,the first thing you notice is their website is super easy to use - click get started and view the different service packages for your needs.
Not sure what you need? Use the integrated chat feature our call 832.930.RESUME to get connected to one of their specialists. Once you're on board, the Resumespice.com team shows their dedication by really getting to know you and understanding your unique background and career goals. They'll have a one-on-one chat with you to dig out all the important details and impressive achievements that will make your resume shine.
What I really love about ResumeSpice is their collaborative and expert approach. Over 35% of their business comes from people trying to switch into a new field, so collaboration on goals and transferable skills is very important for this market.
Their writers know the industry inside out, and they'll tailor your resume to match the latest hiring practices. They genuinely care about your success, and it shows in the way they pay attention to every little detail, respond promptly to your queries, and stick to the agreed timelines. 
And you know what? Other users agree! The standout feature for many people is the exceptional customer service provided by ResumeSpice. They truly go the extra mile to make sure you're satisfied and get the best possible support throughout the entire process.
What You Get With ResumeSpice
All eyes on deck and timely. ResumeSpice creates high-quality resumes in a short time. Once you purchase the service, you'll have a phone consultation with a resume writing expert. They'll ask you questions about your experience, education, credentials, and career aspirations. Then, they'll write a draft of your resume, have it reviewed by other resume writing experts from the company, and get it to you within two business days - faster than many other resume writing services.
ATS optimized. The document will be keyword optimized so it can make it through applicant tracking system screening processes. It will also be well-formatted and compelling to pique the interest of human readers. You'll receive the final version via email in both PDF and Word document formats.
Extra assistance. If you need additional support, ResumeSpice writes cover and thank you letters, professional bios, and LinkedIn profiles. The company also offers interview preparation and career coaching sessions. That way, you can get personalized guidance for your next professional move.
Guaranteed interviews. ResumeSpice pledges that your resume will be effective and offers a 60-Day Interview Guarantee. If you don't land any interviews within two months of receiving your final resume, the company will rework it for no additional cost. You do have to meet some conditions, such as submitting the document to 15 or more companies during that time. Please see the firm's website for the full terms.
Tradeoffs With ResumeSpice
Price. ResumeSpice is pricey. The company doesn't offer package deals for buying multiple services, either. While the company officially allows two rounds of revisions, they have a stellar reputation and promise to address any concerns you have, even if it goes beyond two edits.
ResumeSpice Pricing
Entry-Level Resume: $409 (good for recent graduates or those with less than two years of experience)
Professional Resume: $519 (good for those with more than two years of experience)
Executive Resume: $629 (good for those seeking C-suite/senior management positions or high-salary roles)
Cover Letter: $189
Professional Bio: $189
LinkedIn Profile: $189
Interview Preparation: $189 per session
Career Coaching: $179-$695 (depending on the number of sessions)
Why We Recommend ResumeSpice
Bottom line: What really stands out is the professionalism and positive feedback we got from other users of the service. ResumeSpice is consistently rated 5 stars on all major platforms, and because it is a service built by recruiters, you know it's going to get the job done.
Need to dig deeper? Read our full ResumeSpice Review.
Here are a few reviews from people who have used ResumeSpice! You can check out additional reviews on Trustpilot.
Resumeble - Best For ATS Optimization
Resumeble boasts a "Consulting Approach" to resume writing. Instead of automating parts of the resume writing process and tackling the rest as a one-size-fits-all proposition, Resumeble hones in on each client's specific goals, skills, and industry requirements. 
Clients work with writers one-on-one to ensure that their materials are targeted to their needs. Resumeble writers come with over 100 years of combined experience and have created resumes that have landed clients roles in diverse industries including business, IT, engineering, NGOs, and academia. 
With your writer, you can develop a resume that targets your hiring audience and successfully represents your skills and experience. Or as they like to say at Resumeble, you'll master the art of "humblebrag."
Working With Resumeble
Every resume-writing package at Resumeble comes with a professional resume, cover letter, three free revisions, an interview how-to manual, and perhaps best of all, a one-on-one writer consultation. This process ensures that the writer understands your goals and needs and can craft materials that will help you get where you want to go. 
Resumeble's four-step process is easy to follow:
Register with Resumeble. Provide your contact and billing information and choose one of Resumeble's three packages, Career Pro, Professional, or Premium. Professional and Premium packages come with add-ons like LinkedIn profile makeovers, unlimited revisions, interview guarantees, and interview thank-you letters.
Complete an easy questionnaire. Tell Resumeable who are you, what you've done, and where you want to go. 
Work with your writer. An experienced resume writer who understands your goals, industry, and work history will help you draft and perfect your resume. 
Receive your completed resume. Your polished draft is ready for hiring managers!
What You Get With Resumeble
Writers who get you. Resumeble has experienced resume writers with backgrounds in just about every area you could need. Whether you're just starting out or eyeing the C-suite, they have experts who understand your goals and can help you achieve them. 
ATS optimization. Applicant tracking systems (ATS) are here to stay–and beating the ATS is key to getting your resume noticed. The writers at Resumeble know exactly how this system works and how to structure your resume in the most focused and cohesive manner to make it a potent weapon against ATS algorithms.
Tradeoffs With Resumeble
Reputation. With a Trustpilot score of 4.7, a robust and updated blog, and competitive pricing, the only thing missing from Resumeble's website was a listing of companies that their clients have been hired at. Similar services proudly boast the companies that their clients have gotten hired at, but there is no mention of reputable companies on Resumeable's site.
Free diagnosis. There is also no resume diagnostic like with Zipjob or TopResume, so you don't have the option of uploading your current resume in order to see where you're falling short.
Resumeble Pricing
Choose among three packages and four additional services:
Career Pro: $159
Professional: $229
Premium: $399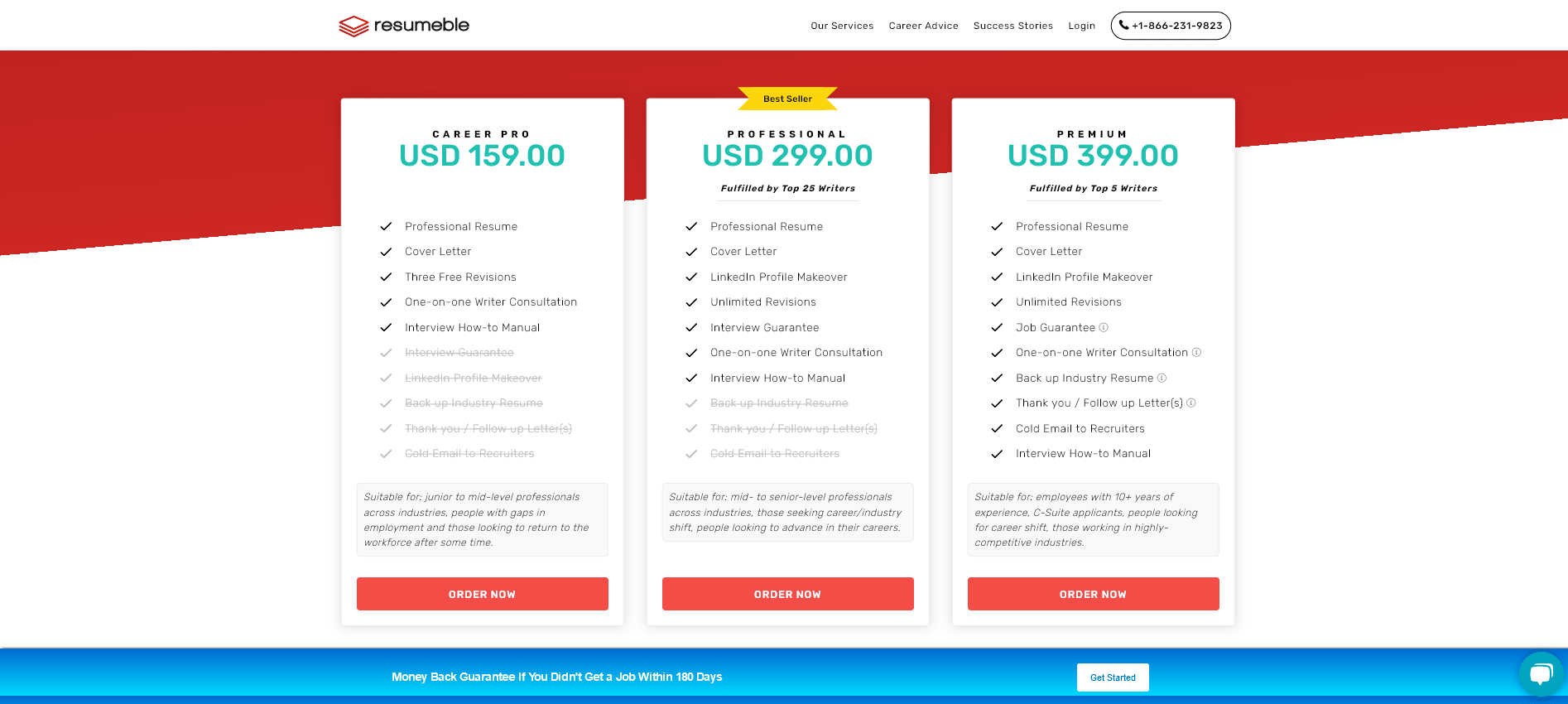 Other services are $99 to $149.99 and include cover letter writing, LinkedIn profile refresh, resume writing, and CV writing. There's even a short questionnaire to help you determine the most suitable package or service for your needs.
Why We Recommend Resumeble
Bottom line: Resumeble offers expert writers, an easy and interactive process, and a variety of service levels at attractive price points. They also offer a guarantee: you'll receive an interview call within 60 days of the order completion or they'll rewrite your resume free of charge.
Want to learn more about Resumeble? Read our full Resumeble review.
JobStars - Best For Resume Distribution
JobStars resume writing service can help you land your next role regardless of your industry or experience level. A rare independently owned resume-writing service, JobStars is run by founder Doug Levin, a certified resume writer and career coach. 
The company offers a variety of packages that include an in-depth intake consultation, resume development, optional cover letters, and add-ons like LinkedIn profile optimization. All packages come with 30 days of unlimited revisions, which is a rare feature in these services. Other unusual offerings include federal resume writing, CV writing, and professional bio development.
Working With JobStars
JobStars offers three packages with add-ons such as cover letters and professional LinkedIn profile optimization. Clients can also opt for specialized packages targeting federal jobs or industries that prever curriculum vitae over resumes. The company also offers a la carte services such as cover letter writing, LinkedIn profile optimization, professional bio writing, and resume refresh. 
The process of working with JobStars begins with deciding which package you need. Review the company's pages for Resume Packages, Speciality Resumes, and Individual Services and the service that fits best. Then select options like career level, cover letter, etc., and add your choice to the cart. 
After you add your payment information and checkout, you will receive a welcome email within 24 hours with information on logging in to the portal. From there, you will fill out an introductory questionnaire and schedule your phone call with a JobStars specialist.
What You Get With JobStars
Diverse. JobStars offers a range of job search-related solutions, so you can get all of the help you need in one place. Recent client job titles include IT service manager, park ranger, CEO, senior business analyst, agriculture technician, pastor, and events manager. They can also help clients prepare federal resumes and CVs. Regardless of the client's focus, they'll work with an experienced writer who will create a compelling resume that impresses hiring managers. They can also develop powerful copy for your cover letter, LinkedIn™ profile, or professional bio.
Unlimited Revisions. JobStars offers unlimited revisions for 30 days after you receive your first draft. Though JobStars prides themselves on doing their best to get it right the first time, they want you to be happy with the final product.
Resume distribution. Unlike many other resume writing service providers, the company can also distribute your resume to recruiters that match job seekers with their dream roles in your area. That way, you have a whole team of people on the hunt for your next opportunity.
Interview coaching. Plus, if you need guidance on how to ace your upcoming interview or make a career change, JobStars has career coaches standing by to work with you.
Variety of packages. JobStars offers three resume writing packages to suit various needs: Bronze, Silver, and Gold. The Bronze package includes an initial intake consultation, your resume, an optional cover letter, and 30 days of unlimited revisions. The Silver package includes everything from the Bronze level and adds in the LinkedIn™ profile optimization service. Finally, the Gold package includes everything from the Silver level plus the resume distribution service.
Tradeoffs With JobStars
Pricey packages. The cheapest resume writing package is $595 without a cover letter or expedited turnaround time. Mid-career and executive workers will pay more. However, it's worth noting that JobStars offers a higher level of focus and service than the typical resume-writing provider. For example, they offer a 30-day unlimited rewrite policy, which may be the only one in the industry.
No guarantees. Unlike some competitors, JobStars does not offer a money-back or rewrite guarantee if clients do not land an interview or are otherwise dissatisfied with their work. However, the company says that this is intentional, citing a desire to prioritize "quality over empty promises."
JobStars Pricing
Bronze Resume Package: $550-$950
Silver Resume Package: $750-$1,395
Gold Resume Package: $1,050-$1,695
Curriculum Vitae (CV) or Federal Resume: $695-$1,750
Resume Refresh: $195-$950
Cover Letter: $50-$195
LinkedIn™ Optimization: $250-$495
Professional Bio: $150-$650
Resume Distribution: $350
Job Concierge: $1,295-$2,395 
Career Coaching: $150-$595
Prices vary based on your career level, any add-on services you elect, how soon you need the document, and other factors.
Returning customers are eligible for discounts. You may request a refund within 30 days of purchase and before resume writing begins. After that, all sales are final.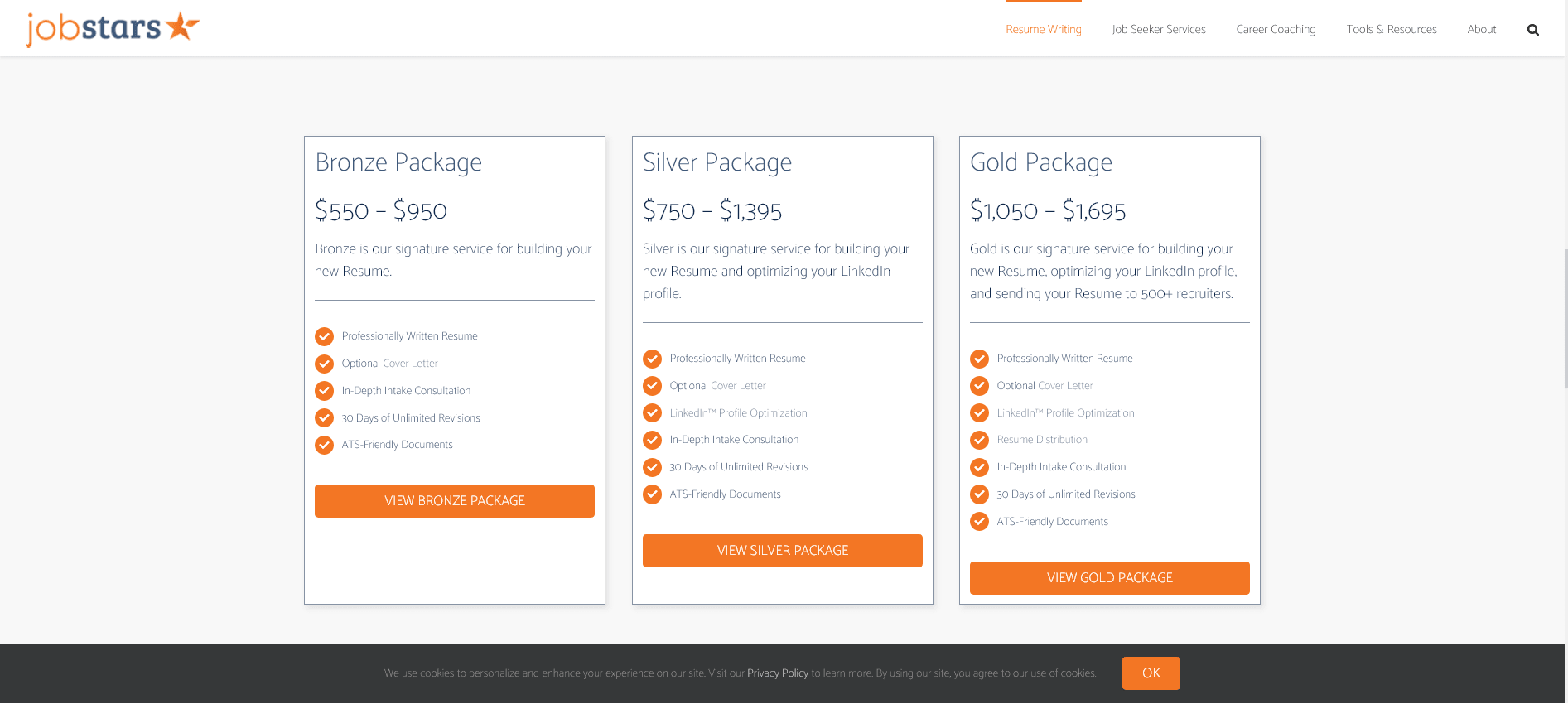 VisualCV is an online curriculum vitae (CV) and resume builder. Using the tool, you can create ATS-friendly documents with just a few clicks. The end product is a professional-looking, graphic designer-worthy product that will impress human hiring managers and resume bots alike. 
Basic features are free on VisualCV, although you'll have to subscribe to access multiple templates, create more than one resume, build a cover letter, or use analytics. VisualCV also offers professional resume review and resume-writing services.
Working With VisualCV
VisualCV is easy to use whether you choose to try the free tool or opt for pro services like VisualCV Pro, My Resume Review, or professional resume writing packages. Here's a quick step-by-step overview of each offering and how to sign up:
VisualCV Online CV and Resume Maker: 
Sign up with Google, LinkedIn, or your email address.
Choose your resume design from sample templates.
Customize your resume or CV.
Subscribe to download PDFs, create multiple CVs, and access analytics
My Resume Review:
Upload your current resume.
Wait two business days.
Receive a 10-minute video with expert tips and feedback.
Resume-Writing Packages:
Upload your current resume.
Meet your professional resume writers and discuss your goals.
Receive your professionally written resume within three business days.
What You Get With VisualCV
Simple. VisualCV is easy to use, so you can create a visually appealing and effective CV or resume in minutes. You can choose one of 25+ templates to format your document.
Samples. Don't have an existing CV or resume? You can write your content from scratch using sample copy, examples of well-written CVs you can review, templates, and helpful resources. Once you're happy with your content, you can adjust your fonts or change your template until you love the way your document looks. Then, you can get a shareable link or download it as a Word or .pdf file.
Benefits. You can also see how often your CV or resume gets viewed on your VisualCV dashboard. Plus, you can start an online career journal on the VisualCV website to log your professional accomplishments. That way, you can refer to it in the future when it's time to update your resume or CV again.
Tradeoffs With VisualCV
No package variety. While you can create a resume or CV for free, you can't download or share it until you purchase a Pro subscription. After you purchase a subscription, you'll be able to create and download unlimited resumes, CVs, cover letters, and career journal entries. You'll also get a personal website that you can use to market yourself or your services. But, if you only want to create one CV or resume, you may hesitate to pay for everything else. And while the subscription price is relatively low, VisualCV's resume writing service may be too expensive if you're unemployed or on a shoestring budget.
VisualCV Pricing
Pro Subscription: $15 per month billed quarterly or $24 per month billed monthly
Resume Formatting: $49
Resume Review: $149
Resume Writing Entry-Level: $149
Resume Writing Mid-Level: $259
Resume Writing Senior-Level: $399
Resume Writing Executive-Level: $899
If you're not satisfied with your VisualCV subscription, you can request a refund for any reason within 30 days.
Why We Recommend VisualCV
Bottom line: VisualCV offers professional-quality resume design for a reasonable monthly price. Just keep in mind that the free features won't go far. You'll need to subscribe to download your CV, access analytics, or use other features. 
Ready to learn more? Check out our full VisualCV review.
Other Ways To Get Help With Your Resume Writing
Resume Builders
Resume builder tools are a good choice if you're a strong writer and you want to try creating a resume for yourself. But be wary of relying on the tool's recommendations too much. Remember, everyone else on the site is seeing those same suggestions too.
If you're not confident in your ability to write a great resume, you may be better off going with a professional resume writing service. One resume builder tool that we recommend is MyPerfectResume. For more information, you can read our full review of MyPerfectResume.
Professional Writing Services — CV, Cover Letter and More
A professional resume writing service is the best way to guarantee an original, personalized resume, but it comes at a high cost. Depending on your field, experience level and the package you choose, you could pay anywhere from $90 to several hundred dollars.
A professionally written resume is also going to take longer. Most services take about three days to complete a resume. There is usually an option to expedite it, but that costs extra.
How To Choose A Resume Writing Service
We looked at several factors when choosing our top resume writing services. The most important of these were writer qualifications, collaboration, customization and the additional services the company offers.
Free ATS Resume Assessment
You should definitely look for a resume service that can give you feedback on your current resume. That's why we like Topresume so much. A free resume scan basically has a computer read your resume and assess whether or not it's well optimized for ATS software which are used by all types of employers as the first screen of applicant resumes.
Once your free scan is complete, you can decide to take the next step and have a resume writer optimize your resume to beat the ATS. If not, you'll at least have some great feedback on what you need to improve on your own.
Writer Qualifications
It also helps to have a writer who knows your field and is familiar with industry jargon. The top services offer resume assistance from a network of certified writers that specialize in different areas. Resumes Planet, for example, has over 200 certified writers specializing in 40 different fields.
So someone who works in healthcare will be assigned a resume writer with a healthcare background, while someone in IT will get a writer trained in that field. This industry knowledge enables the writers to go deeper and add specific, tailored information to your resume that will be sure to catch the eye of employers.
Collaboration
Some companies take a less personal approach. You fill out an online form with your information and you don't hear anything from the writer until the draft is complete. This can be stressful and result in a final product that you're unhappy with. All of our top professional resume writing services give you direct access to your writer throughout the process, and we favored the ones that included a phone consultation.
Customization
A good professional resume writer will also customize the resume itself. This means taking the information you provide and arranging it in a compelling format that flows well and is easy to read. Some writers take the information you submit, change a few words around and call it a brand-new resume, so it's a good idea to check out the samples on the company's website before you make any decisions. After comparing a few, you should be able to tell which provides the best results.
Additional Services
All the the best professional resume writing companies generally offer a suite of services that includes cover and thank-you letter writing, LinkedIn profile development, resume editing and more. The cost of these services vary, depending on what tier (entry level, executive, etc.) you choose. Companies will often give you discounts if you purchase a bundle of services at the same time you pay for your resume, so keep this in mind if you're interested in these extras. They're not for everyone, but they're great options to have if you want to give yourself the best possible chance of landing the job of your dreams.
Related: The Best LinkedIn Profile Writing Services
What We Didn't Consider: Price and Turnaround Time
Some companies offer $25 resumes and a 24-hour turnaround time. That may sound great, but it's actually not. In this industry, you generally get what you pay for, and if a company's promising you the moon for pocket change, chances are, they're not putting a lot of effort into your resume. Likewise, if a company's bragging about its "experienced" writers that have each completed thousands of resumes, that's probably an indication that they're using the same generic templates for everyone.
Bottom line, if you're going to invest in a resume writing service, make sure you choose one that's worth your money. Do some research and check out some of the sample resumes on their website. (If they don't have any, that's also a red flag.) Learn more about the company's process and look for some type of satisfaction guarantee. You should feel confident in the company you choose before you hand over your credit card.
Frequently Asked Questions About Resume Writing
Do I need to use a professional resume writing service?
No, of course not. If you feel confident in your writing abilities and you're a good self-promoter, you shouldn't have any trouble writing a solid resume on your own. But a professional writing service guarantees you a nearly perfect resume tailored to your career choice, and many companies promise that their resume creations will result in interviews for you.
Writing and marketing aren't your fortes.
Your resume is a prospective employer's first introduction to you. Chances are, they have dozens — maybe even hundreds — of others sitting on their desk, so you have to make yours stand out quickly if you want a shot at an interview. A bunch of spelling errors and generic phrases like "enthusiastic hard worker" aren't going to get you very far. You have to know how to highlight your skills and achievements in an original, dynamic way. You can learn a little about how to do this by looking at examples online, but if you find yourself struggling, it may be easier to hand the job over to someone that's trained in the field.
You have special requirements.
Students with no work experience, people changing careers and those with long gaps in their work history may have a more difficult time creating a strong resume that will appeal to employers. Professional resume writers are trained to handle these types of cases, and some even specialize in one specific area. This kind of experience is a huge advantage when dealing with tricky situations, and it could be well worth the cost of a professional resume writer.
Time is of the essence.
When you need to land a job right away, you want the best resume possible. If you're sending your current resume out to a bunch of companies and hearing nothing back, that may be a sign that it needs some work. An excellent resume can significantly shorten your job search and help you find more exciting, lucrative career opportunities, so it's worth investing the time and money to make sure you jump off the page.
What makes a resume great?
If you want to stand out from other applicants, your resume has to tell employers who you are, what you've done and why you'd be a great fit for their company. There's a lot of advice out there on the best way to write a resume, and the best way for you is going to depend on your unique situation and experiences. Here are a few general guidelines to help improve any resume.
Cut to the chase.
According to a study by TheLadders, the average employer spends only six seconds looking at each resume. That means you have to make your point and make it fast if you want them to look closer. Don't start with a boring objective statement like "Talented, hard-working professional interested in opportunities for growth with a successful company." That may be true, but it's true of most other applicants as well, and it does nothing to distinguish you from the pack.
Instead, begin with a short executive summary that explains why you would be a great fit for that company. Keep it simple and limit it to a few sentences. There's plenty of opportunities to add detail in the later sections of your resume. Your goal with your introduction isn't to score an interview — it's to keep the employer reading. Then, let your qualifications and accomplishments do the rest.
Be specific in your achievements.
Don't say you saved your previous employer a bunch of money. Say how much you saved and how you did it. This gives prospective employers a better sense of your value and abilities, and it will stand out much more in their minds than a vague, general description. List your previous jobs in reverse chronological order so your most recent achievements are near the top.
Tailor your resume to the job.
Before submitting your resume, look over the job posting and scan for keywords and skills listed in the job description. Incorporate these into your resume whenever possible. Some employers use a screening process to cut down the number of resumes they have to look at, so by making sure yours is tailored to exactly what the company is looking for, you stand a better chance of making it through.
Keep it professional.
Make sure you proofread your resume before you send it in. Nothing says "I'm not detail-oriented" like misspellings and poor grammar. Don't use a bunch of crazy fonts and don't include a photo of yourself. These things aren't necessary and they're distracting to those who are reading your resume. You don't want four of the six seconds they'll likely spend looking at it to be staring at a picture of you.
Keep it concise.
Avoid using a bunch of fluffy adjectives and adverbs that don't add any real meaning, and don't use pronouns. Whenever possible, limit your resume to one page, but don't make it so cluttered that it's difficult to read. Most people skip over large blocks of text when they're reading, and if you do this on your resume, there's a chance important information could get overlooked.
What do I put on my resume if I have little or no work experience?
When you don't have a lot of work experience, and you need help with resume writing, it can be difficult to know how to make yourself appealing to a potential employer. Ideally, you'll have some type of internship or volunteer experience in the field you're interested in, but if you don't, that doesn't mean all hope is lost. Here are a few tips on how to overcome a short work history. For more in-depth tips, read our guide to creating a resume that stands out with no experience.
Play up your skills.
Employers aren't going to care about what you did at your last job as much as they care about what you're capable of doing for them. If you don't have any career experience to put on your resume, focus on the skills you have that could benefit their company. Problem-solving, time management and research skills are a few examples. If you have any previous jobs or experiences that enabled you to develop these skills, highlight them here.
Get some experience, if possible.
If you're a student or a recent college grad, try to get an internship in your field. This will give you valuable work experience that will look good to future employers, and it can teach you more about the type of work you're interested in doing. You may also want to check out any volunteer opportunities in your community that are related to your field. Even if it's not exactly the kind of job you want to do, it can still teach you valuable career skills that will translate to any profession.
Don't overemphasize your schooling.
Education is a part of everyone's resume, and as a student or recent graduate, it will likely be a bigger part of yours than for someone who's been out in the workforce for 20 years. But don't let that be the main focus of your resume. Emphasize your skills and what you can bring to a prospective employer. For most jobs, a strong work ethic, good personal management skills and a willingness to learn are as important — if not more so — than the knowledge you learned in school.
What's the difference between a resume and a CV?
For most jobs, a resume will suffice, and it may even be preferred over a CV. The exceptions are if you're applying for an academic, scientific or international career. Most countries outside of the U.S. prefer CVs, so if you're considering a move overseas, a simple resume won't be enough. Academic and scientific professions also prefer CVs because they give a more detailed overview of research and publications, professional licenses, grants and awards.
Because of the level of detail, CVs can be more difficult to write than resumes. Most professional resume writing services will do CVs as well, though they may be more expensive. It could be worth the additional cost, though, especially if you're new to CVs and you're not sure what information you should include.