If you're a hiring manager or job seeker, you might wonder if Craigslist can help you find talent or a new opportunity. We'll discuss how the platform works, the key features it offers, and how much it costs to use. That way, you can determine if using the website would be the right move for you.
This review will focus on Craigslist, however, if you are looking for additional options, we recommend checking out ZipRecruiter. ZipRecruiter is free for job seekers and employers can post their first job for free.
What is Craigslist?
Craigslist is an online platform that hosts classified ads where you can search for housing, items for sales, local activities, and yes — candidates and jobs. Let's explore how the website can help both employers and professionals.
Craigslist for Employers
Craigslist can support hiring managers in a few different ways.
Craigslist Features for Employers
Employers can do the following on Craigslist:
Post open roles in the jobs section of the website
Search through a database of local job seekers
Contact prospective candidates that may match the company's talent needs
The platform doesn't offer advanced services like recruiting assistance or employer branding. But, it's easy to use and budget-friendly, potentially saving you time and money.
How to Post a Job on Craigslist for Employers
You can post a job on Craigslist in minutes. Here's how:
1.) Make sure that you're in the Craigslist region for the area you're targeting. You can change locations by clicking links in the far right column.
2.) Click on 'create a posting' near the top left corner. Then, click on 'job offered' and press 'continue.'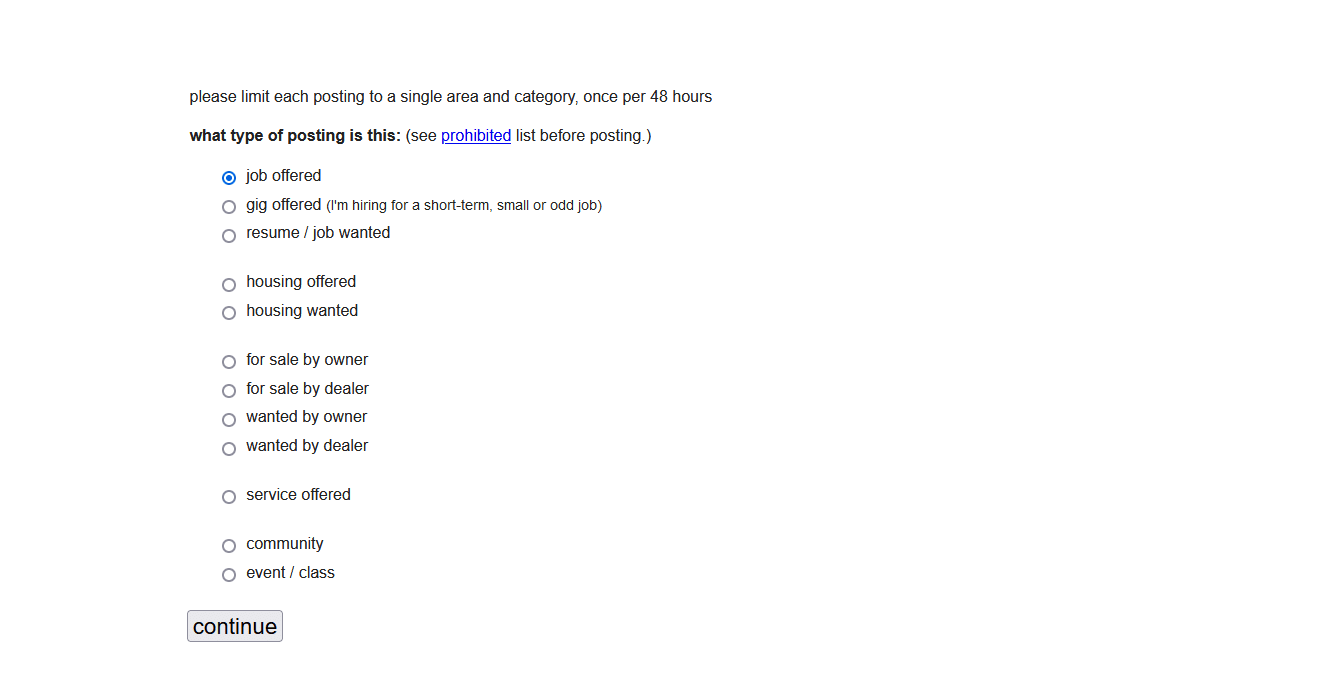 3.) Choose the category (or categories) you want the listing to appear under, and click 'continue.'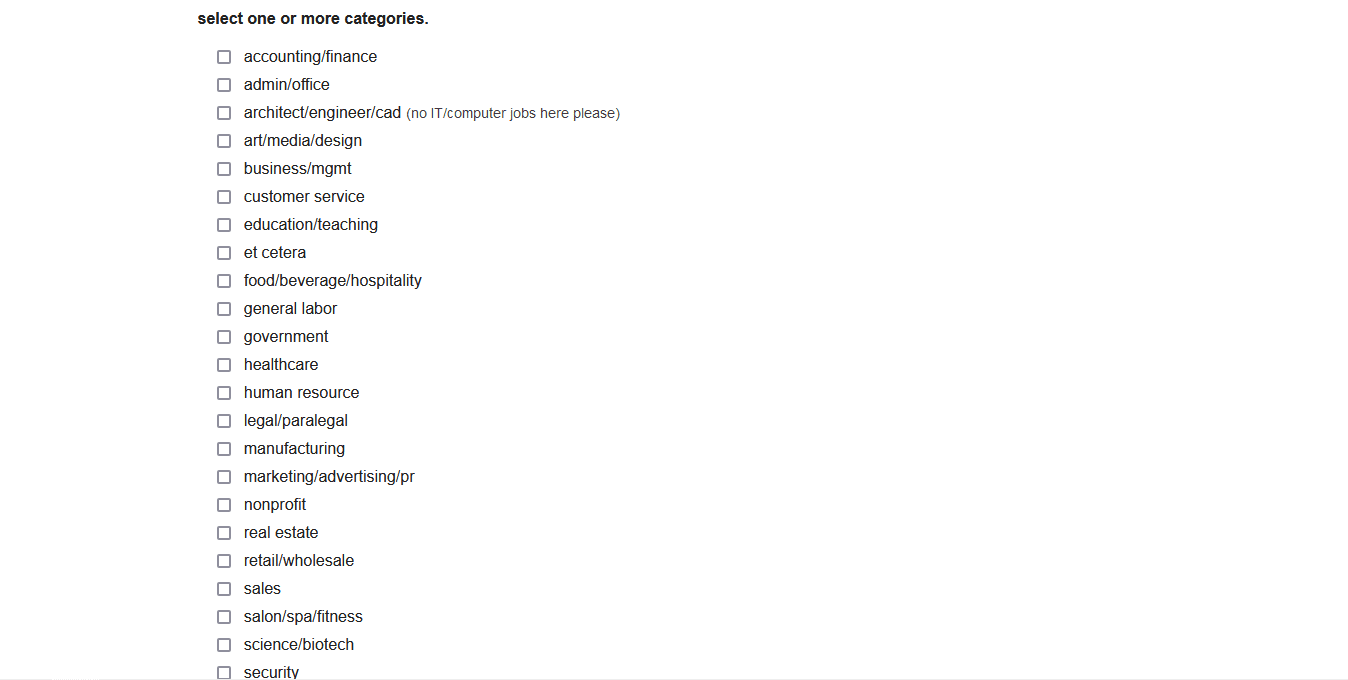 4.) Fill in details like:
The posting or job title
Your location
A job description (Cut and paste from an existing description, or type in a new one.)
The type of employment (part-time, full-time, internship)
The compensation
Whether relocation assistance is available, the work can be done remotely, recruiters can contact you about the position, or the role can be highlighted for people with disabilities
The company name, contact name, contact information, and how to apply
Remember: Use keywords in the job description to make it easier for applicants to find your listing.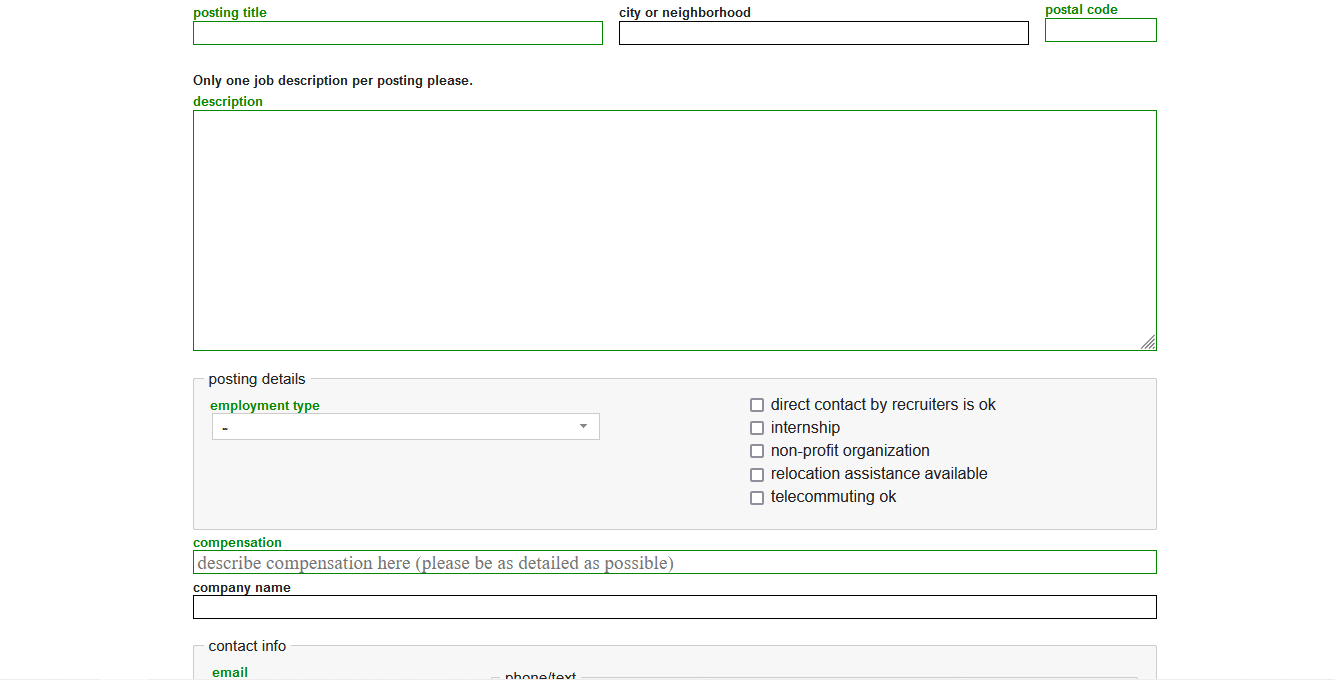 5.) Once you've provided the job details, click 'continue.' You'll have to pay for the posting before it appears in search results.
You can also search through Craigslist's resume database to find and connect with job hunters. Here's how:
1.) Click on 'resumes' at the bottom of the 'jobs' column.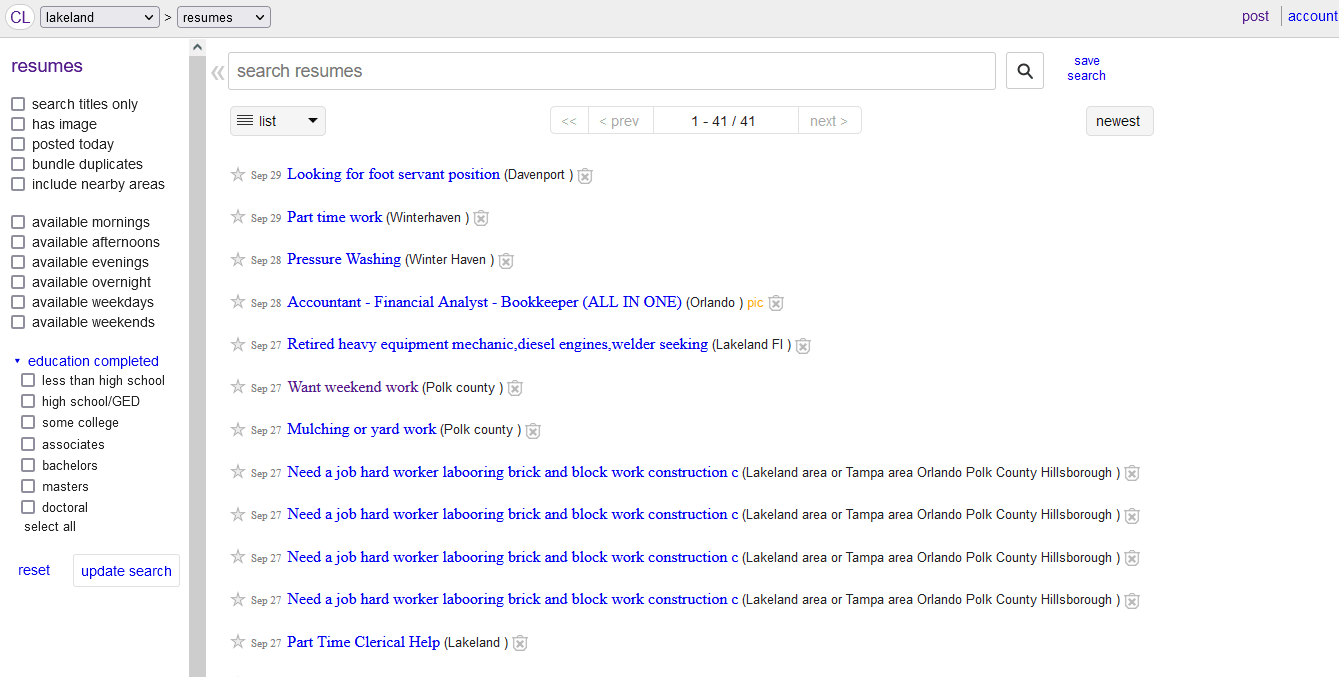 2.) Enter search terms like job titles, skills, or other keywords in the search bar. You can also refine your results by availability, education, and other parameters using the filtering options on the left.
3.) Click on any intriguing listings and review the content to see how well the person may fit your open position(s).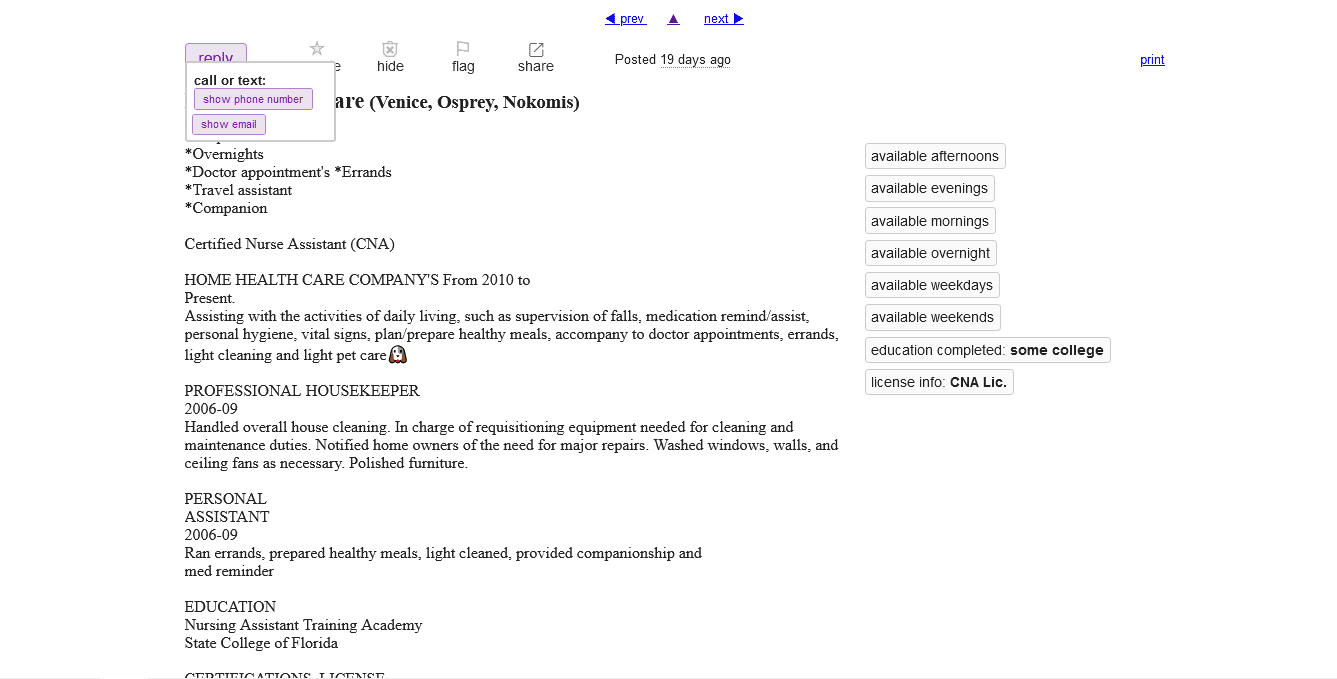 4.) If you'd like to speak with the candidate, look for contact information on their resume or click 'reply' near the top left corner.
Craigslist for Job Seekers
Craigslist lets you advertise your services with a resume listing, search for new opportunities, and connect with job posters. While the site doesn't offer career advice, salary tools, or other resources, it makes the job search process easy.
How to post your resume on Craigslist
1.) Navigate to your local Craigslist page by clicking on your city in the right-hand column.
2.) Click on 'create a posting' (under 'craigslist' in the top left corner).
3.) Click on 'resume/job wanted,' and then press 'continue.'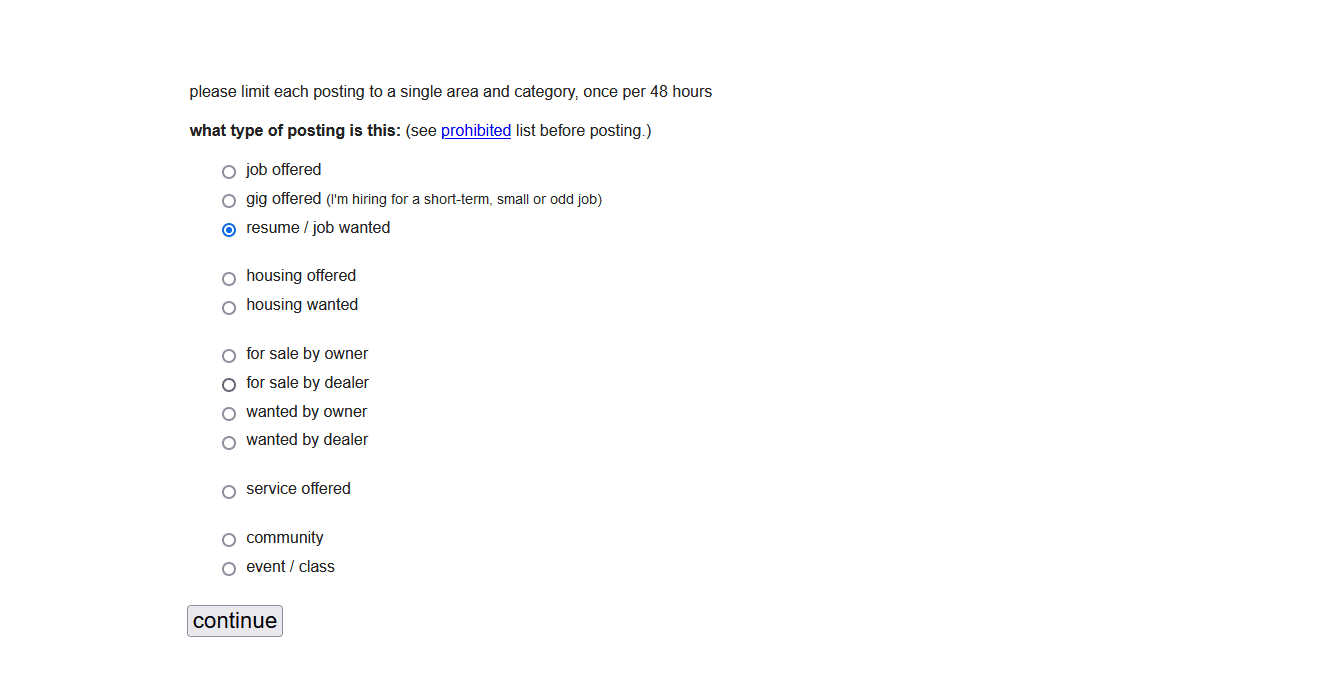 4.) Choose 'I'm an individual seeking employment,' and then click 'continue.'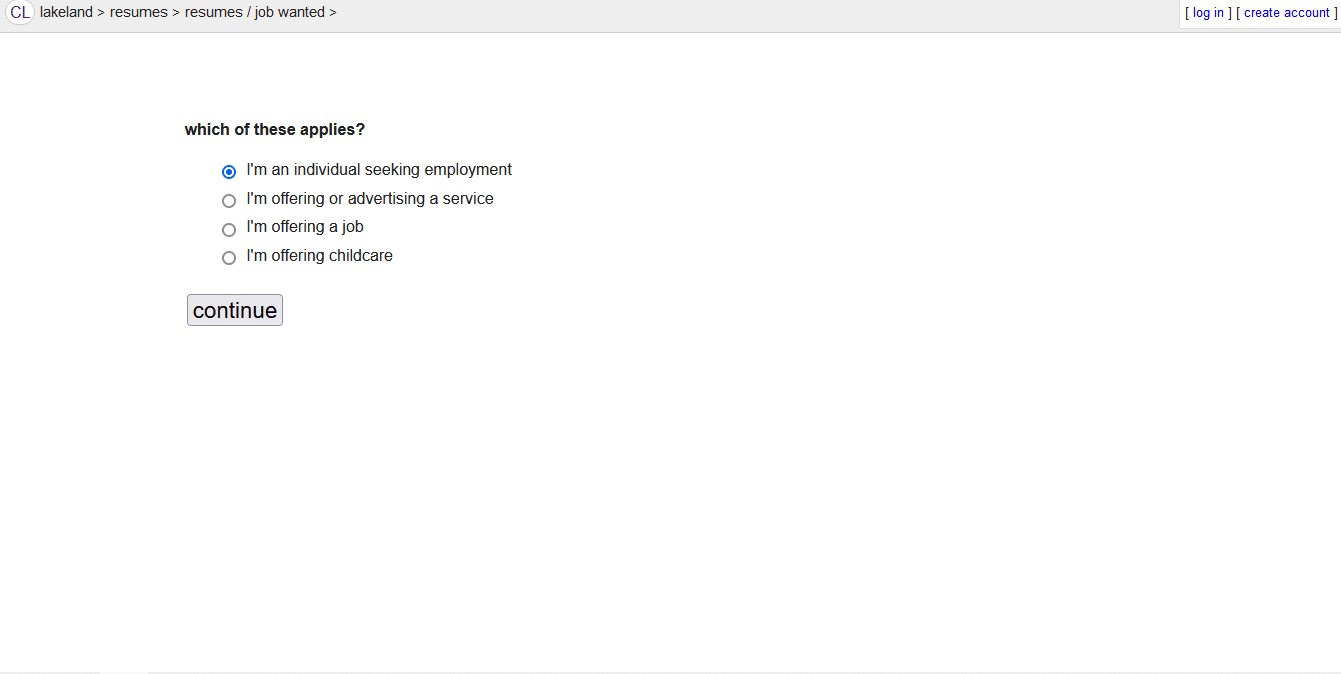 5.) Fill out the form with the following information:
A posting title (or desired job title)
Your location
A description of your work experience (Cut and paste your resume here, or create a resume from scratch.)
Your availability
Your education
Whether you have a professional license or a recruiter can contact you
Your contact information and preferences
Tip: Make sure to include relevant keywords in your description to increase the likelihood of your resume getting found by a hiring manager. If you need help with your resume, check out our review of the best resume writing services.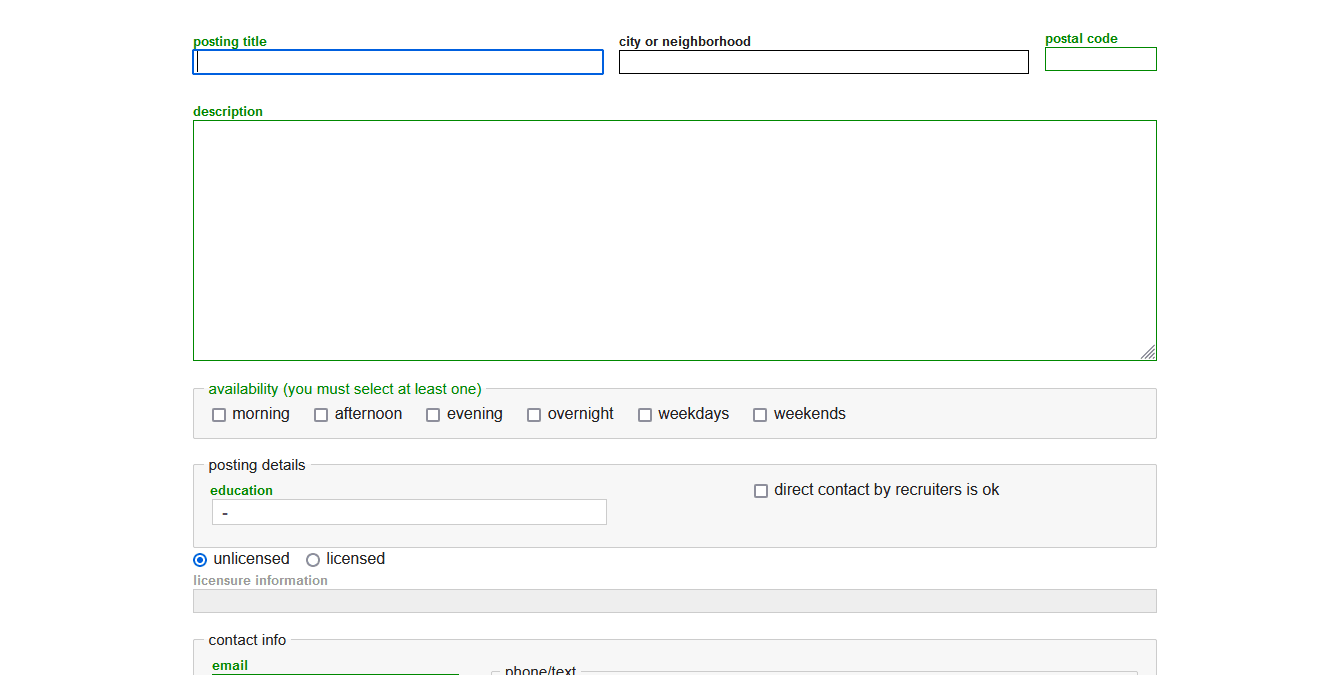 Once you submit your listing, employers should be able to see it in search results soon.
How to Find and Apply for Jobs on Craigslist
Finding and applying for jobs on Craigslist is easy. Here's how to do it:
1.) Look at the jobs column, and choose the category that best describes the type of work you want.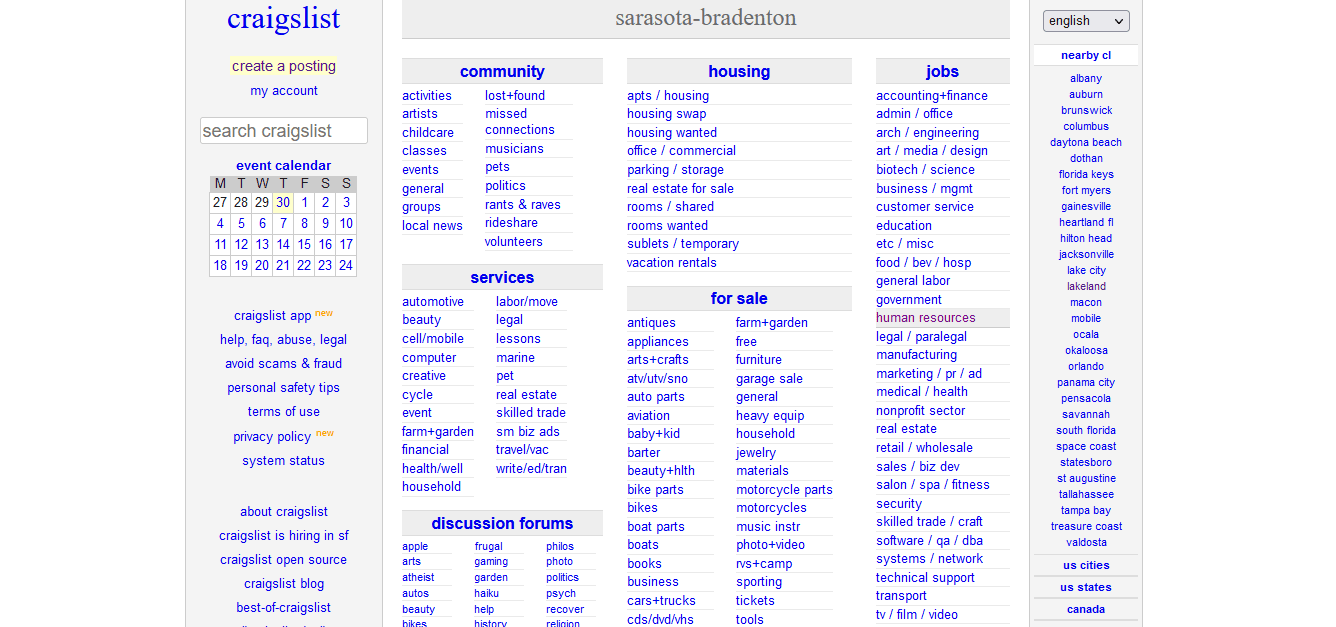 2.) Filter the results using the parameters on the left-hand side of the page. Then, click 'update search.' You can also search for specific job titles or keywords by entering them in the search bar.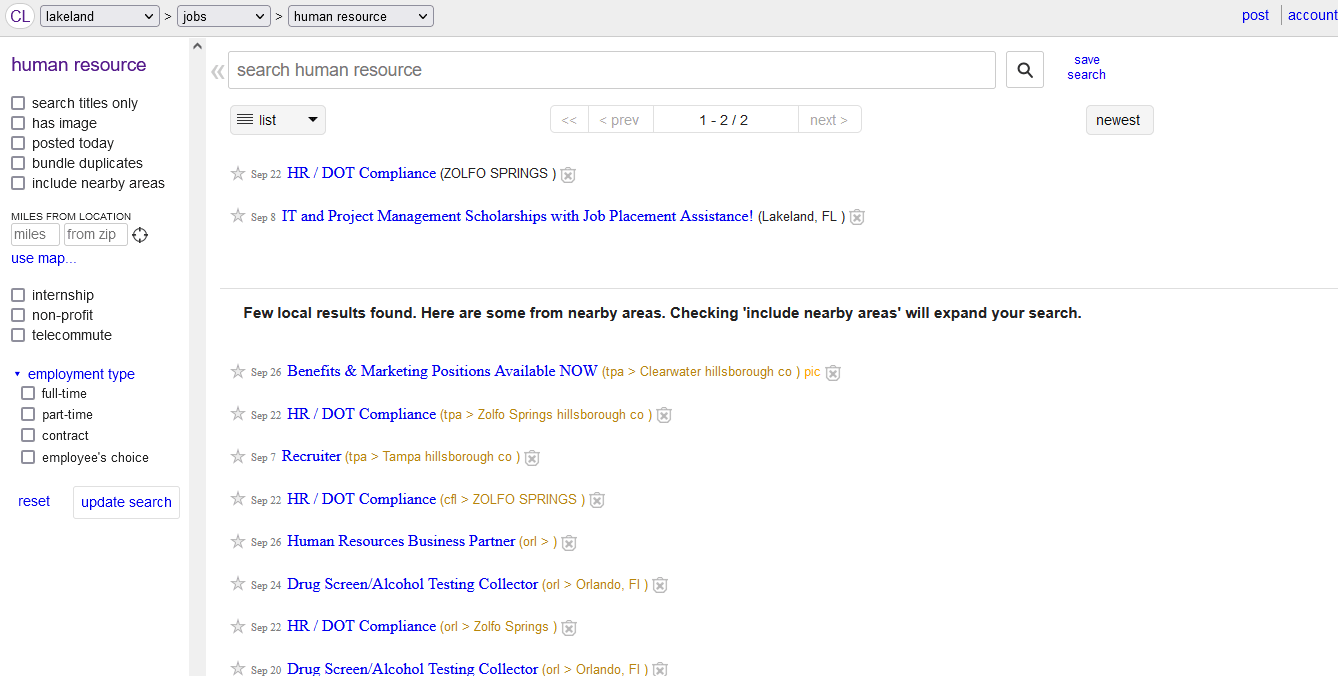 3.) Click on a listing to view details about the job.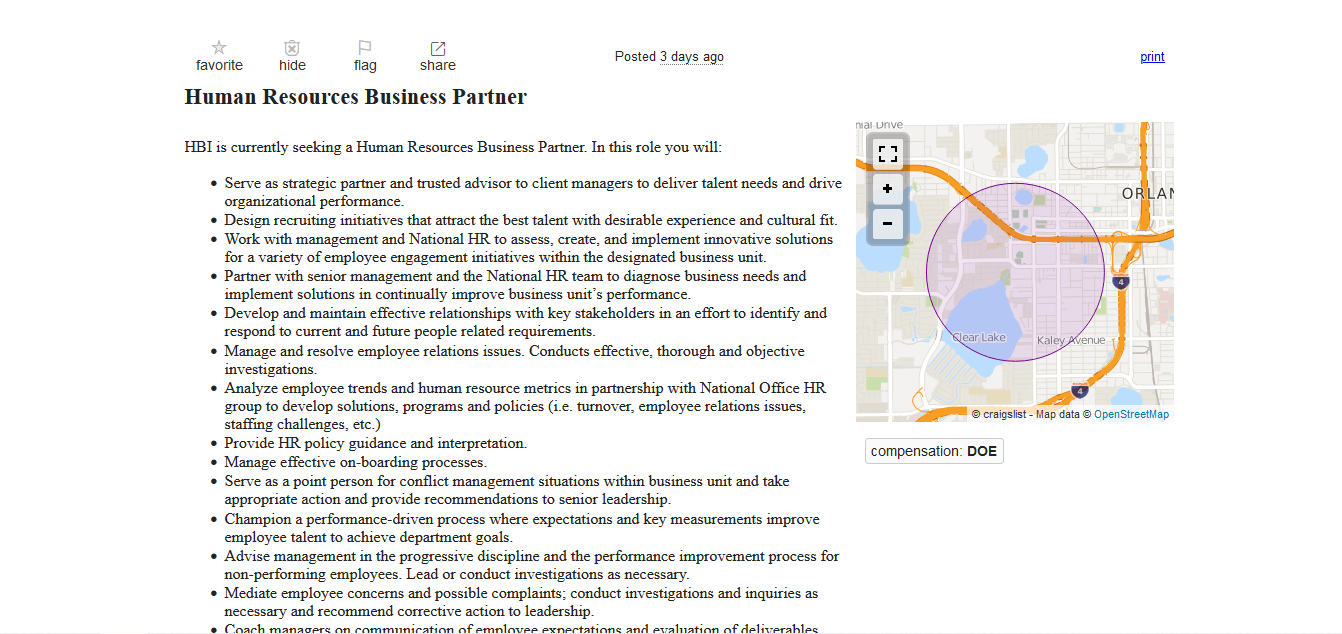 4a.) If you're interested, follow the application instructions in the ad.
4b.) If the ad doesn't contain instructions, click 'reply' in the top left corner of the listing.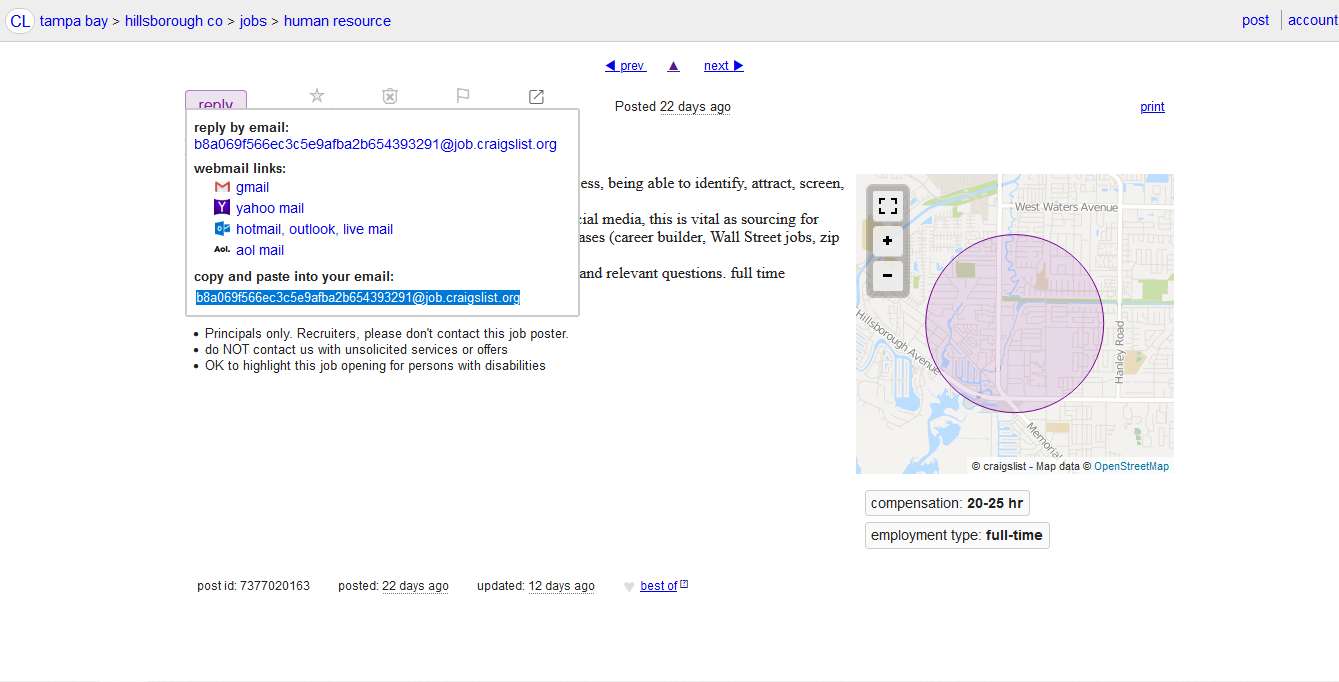 Craigslist Pricing
It doesn't cost anything to search through resumes and jobs or to contact who posted them. Job hunters can post their resumes for free. However, hiring managers, human resources professionals, and recruiters will have to pay $10-$75 per posting category, per month, based on location.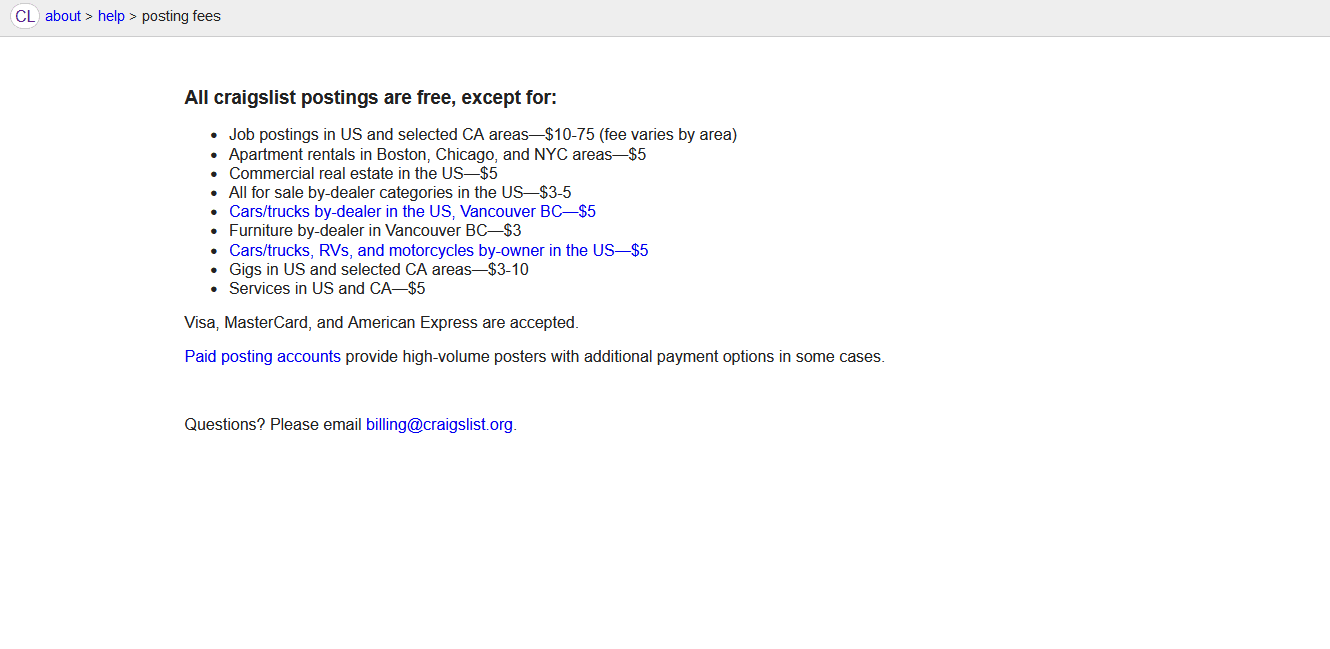 Pro Tip: If you don't want to spend a dime to list your open role, check out our picks for the best free job posting sites.
Frequently Asked Questions 
How do you use Craigslist to find a job?
You can use Craigslist to find a job by posting your resume and sifting through job listings.
Is Craigslist good for finding employees?
Craigslist can help you find the talent your company needs. However, for best results, you may want to use the platform to supplement other recruiting strategies.
How do you apply for jobs on Craigslist?
To apply for a job on Craigslist, you should follow the instructions listed in the post. If there are none, click 'reply' in the top left corner to contact the poster.
How do I post a free job on Craigslist?
You can't post a job for free on Craigslist. It will cost you at least $10 per month, depending on your location.
The Bottom Line
Craigslist can be a user-friendly and cost-conscious way for you to connect with the talent that you need. But, you should always be on the lookout for new tools to enhance the recruiting process.
ZipRecruiter can help with all of your hiring needs. If you are ready to add to your team, consider listing your job opening on ZipRecruiter!