If you're in charge of implementing new technology and tools in your organization, you may be wondering how to choose the best CRM software. Don't worry. We'll share our top choices to help you make this critical decision quickly. That way, you can get back to landing new business and serving your customers.
The Best CRM Software Of 2023
What Is CRM Software? 
Customer Relationship Management software, or CRM software, is a computer program that helps companies collect, organize, and retrieve customer information. The software contains a database of all interactions, sales, and important notes associated with each customer or lead.
Reviews Of The Best CRM Software
Now, let's review our selections for the best CRM software:
Keap - Best For Automation
Keap, previously known as Infusionsoft, is an all-in-one CRM system. The software helps you grow your revenue, serve your customers, and run your business more efficiently through sales and marketing automation.
Where It Excels
Keap has many standout features. The system lets you:
Capture contact information automatically through social media, web forms, and landing pages.
Import contacts from email marketing providers like Constant Contact or MailChimp.
Create custom automations that get triggered based on customer tags or segments.
Manage each customer directly from their profile.
Set appointments with leads and customers.
Send invoices and collect payments.
Forecast revenue and view other informative reports.
Access the system from your desktop or mobile device, allowing you to work from anywhere.
Integrate the software with thousands of other business applications.
Plus, Keap offers a dedicated migration specialist and a coach to help you implement the software and get the most out of it. If you have any questions, you can also call customer service or take advantage of the company's 24/7 chat support.
Where It Falls Short
While customers have a lot of great things to say about Keap, there were a few reported negatives. Depending on your experience, you may have problems with the software's landing page builder, social media integration, or reporting features.
Pricing
Keap offers three plans to suit a variety of needs:
You can try Keap for free for up to 14 days to see if it's right for your organization — no credit card required.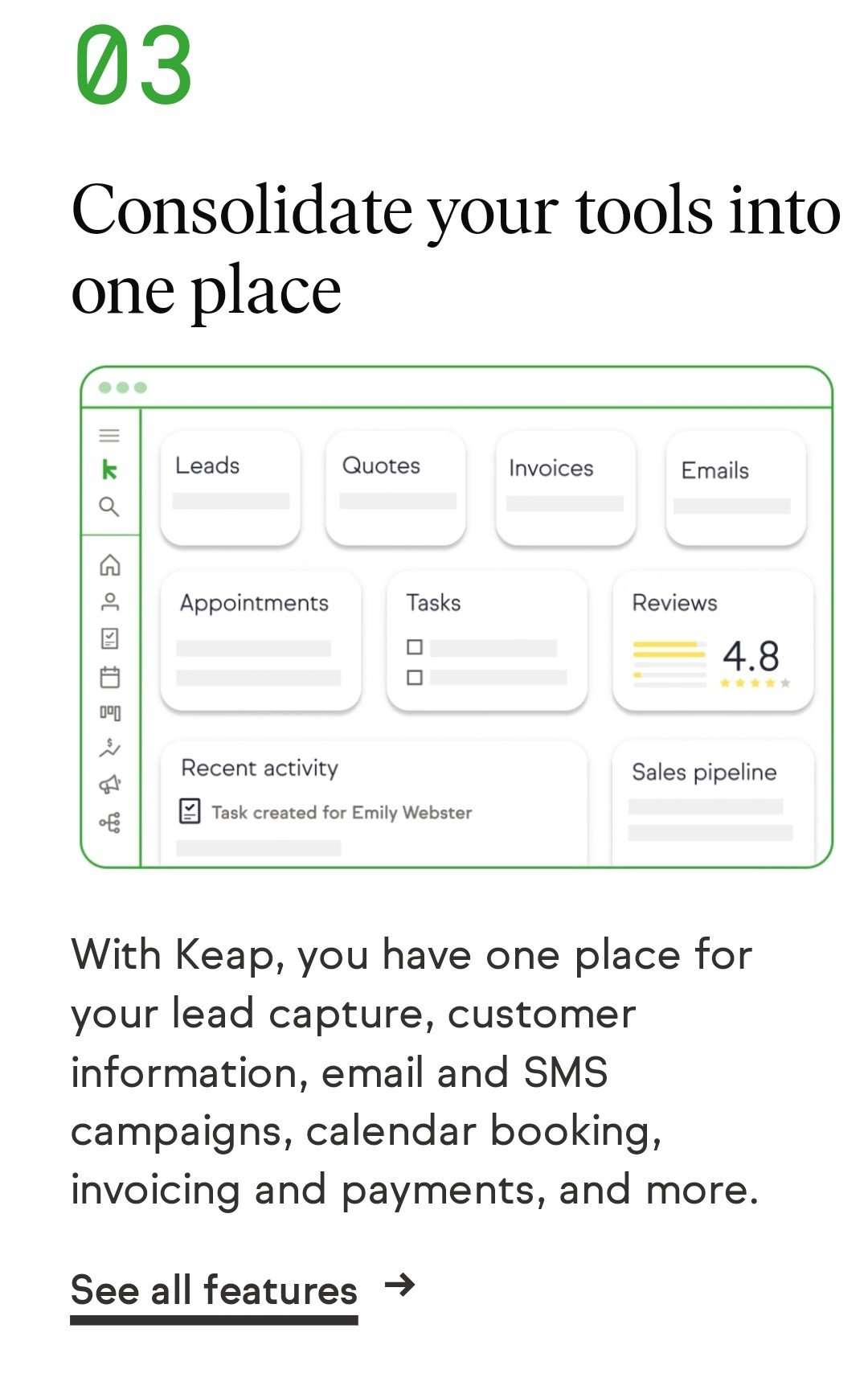 Salesforce - Best For Customization
Salesforce is a long-time player in the CRM software industry. The company's customizable Customer 360 platform helps every department in your organization stay connected so the team can provide excellent service and make more sales.
Where It Excels
As a whole, Customer 360 features the functionality you'd expect from a robust CRM — contact management, task automation, appointment scheduling, sales forecasting, mobile accessibility, and more. But, you can fully tailor it to meet your organization's needs, only implementing the modules that make the most sense for your business.
Salesforce boasts thousands of available apps and partner deals to help you design the ideal solution. If you're not sure where to start, answer some quick questions on the company's website to get a personalized suggestion.
Where It Falls Short
While the ability to customize the software is appealing, the sheer number of options available may be overwhelming. Plus, while many Salesforce customers are happy with the software, some users have reported slow load times, API limitations, and other issues.
Pricing
Salesforce pricing includes the cost of a base product, plus any add-ons you elect. While there are many possible configurations, the table below reflects the Sales and Service modules as the base product, with no add-ons.
If you want to see the Salesforce CRM in action before making a commitment, you can sign up for a free trial. You won't have to provide credit card information unless you subscribe to the service at the end of the trial.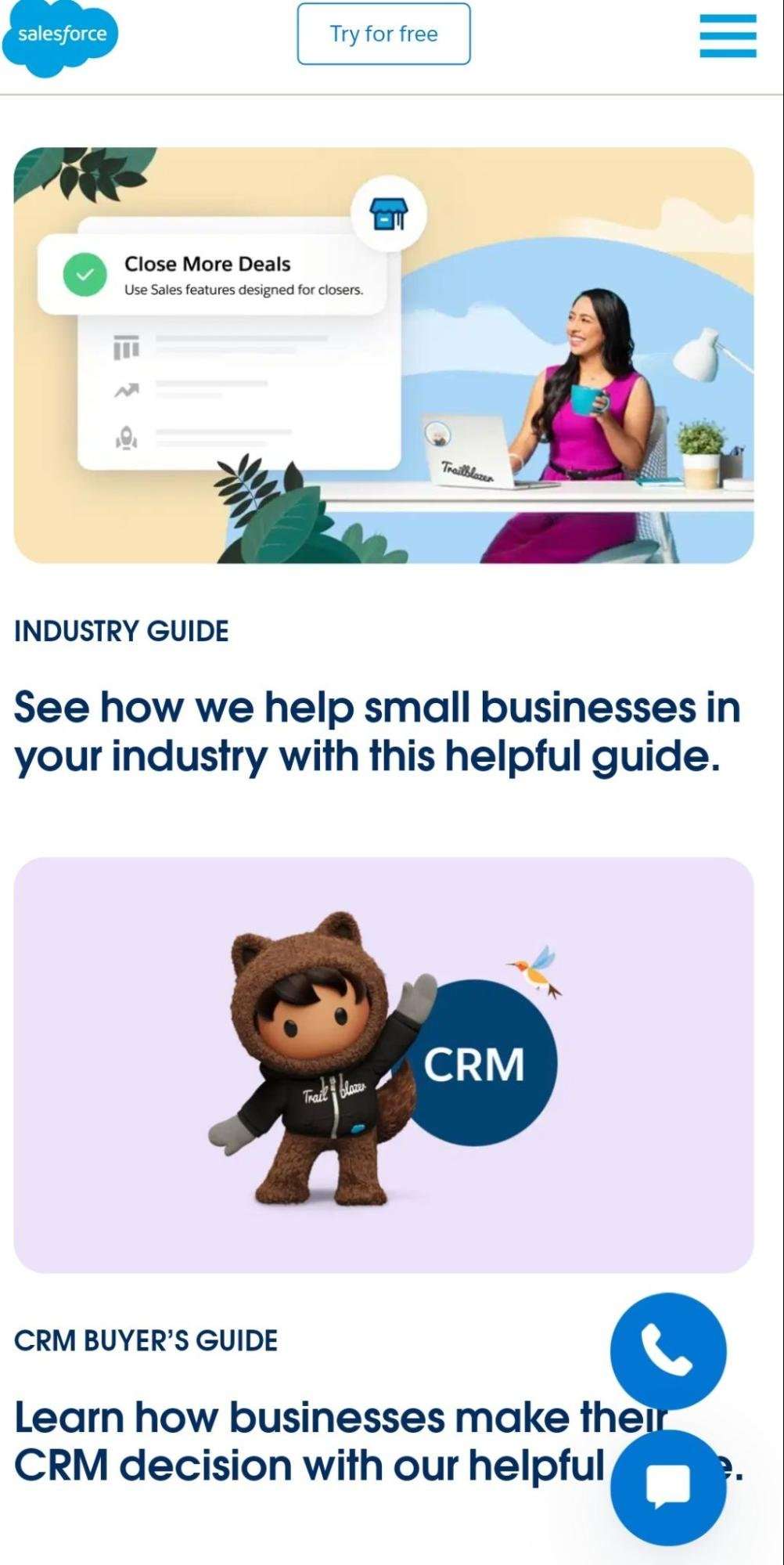 EngageBay - Best Budget-Friendly Option
EngageBay offers a customizable CRM software solution at an affordable price. The system helps your marketing, sales, and support departments work together as a cohesive team. That way, your company can satisfy existing customers and win over new ones.
Where It Excels
EngageBay offers four different modules:
CRM Software (contact management, appointment scheduling, task automation, etc.)
Marketing Automation (email sequences, landing pages, forms, and more)
Helpdesk Software (ticket management and automation)
Live Chat Software (notifications, customizable chat form, and more)
You can implement every module or just the ones you need.
Many customers say that EngageBay is easy-to-use. But, if you need support, the company's website features informative articles, guides, and product videos. You can also contact the customer service department for personalized guidance.
Where It Falls Short
While the service provider has many satisfied users, some customers have reported a few shortcomings. For example, you may find that there aren't enough landing page templates or that the system's webinar features are lacking.
Pricing
The table below reflects the pricing for EngageBay's all-in-one solution.
Please see the company's website for a complete list of each plan's features. You can save 10% if you pay for an entire year up front and 20% if you pay for two years. Plus, the service provider will migrate your data from your current software at no additional cost.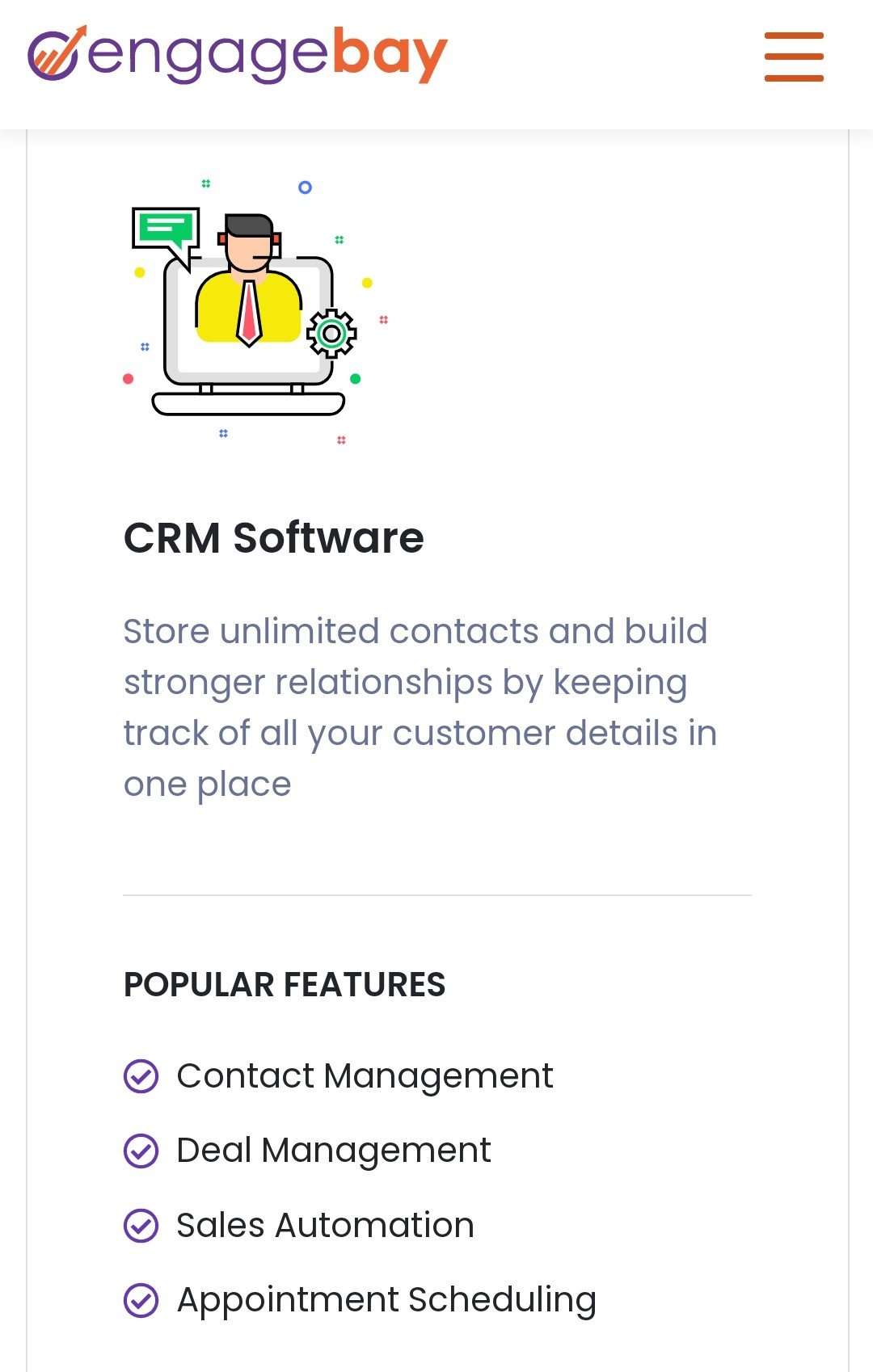 HubSpot - Best For Content Management
HubSpot is well-known in the digital marketing industry. The company's CRM software consists of five different modules, or hubs, each designed to make a part of your business better. You can use each hub separately or implement them all together.
Where It Excels
HubSpot's five modules are:
Marketing (lead generation, marketing automation, analytics, etc.)
Sales (CRM, quotes, appointment scheduling, etc.)
Service (customer feedback, tickets, and more)
Operations (data syncing, process automation, and more)
Content Management Software (drag-and-drop website builder, SEO optimization suggestions, video hosting, etc.)
The company's CRM features are competitive with other service providers, but the Content Management Hub is a major point of differentiation. With your website directly tied to your CRM system, you'll be able to use visitor data to help your customers and grow your business.
Where It Falls Short
The ability to pick and choose the HubSpot products you implement is a good thing. However, the number of possible configurations can be confusing when you're trying to compare your options. Plus, some users have noted that they'd like additional website insights and other features.
Pricing
The pricing below is for the Sales Hub.
For a full list of features, please see the HubSpot website. You can also opt for the Starter CRM Suite, which includes the Starter level of all five hubs, beginning at $50 per month with an annual commitment.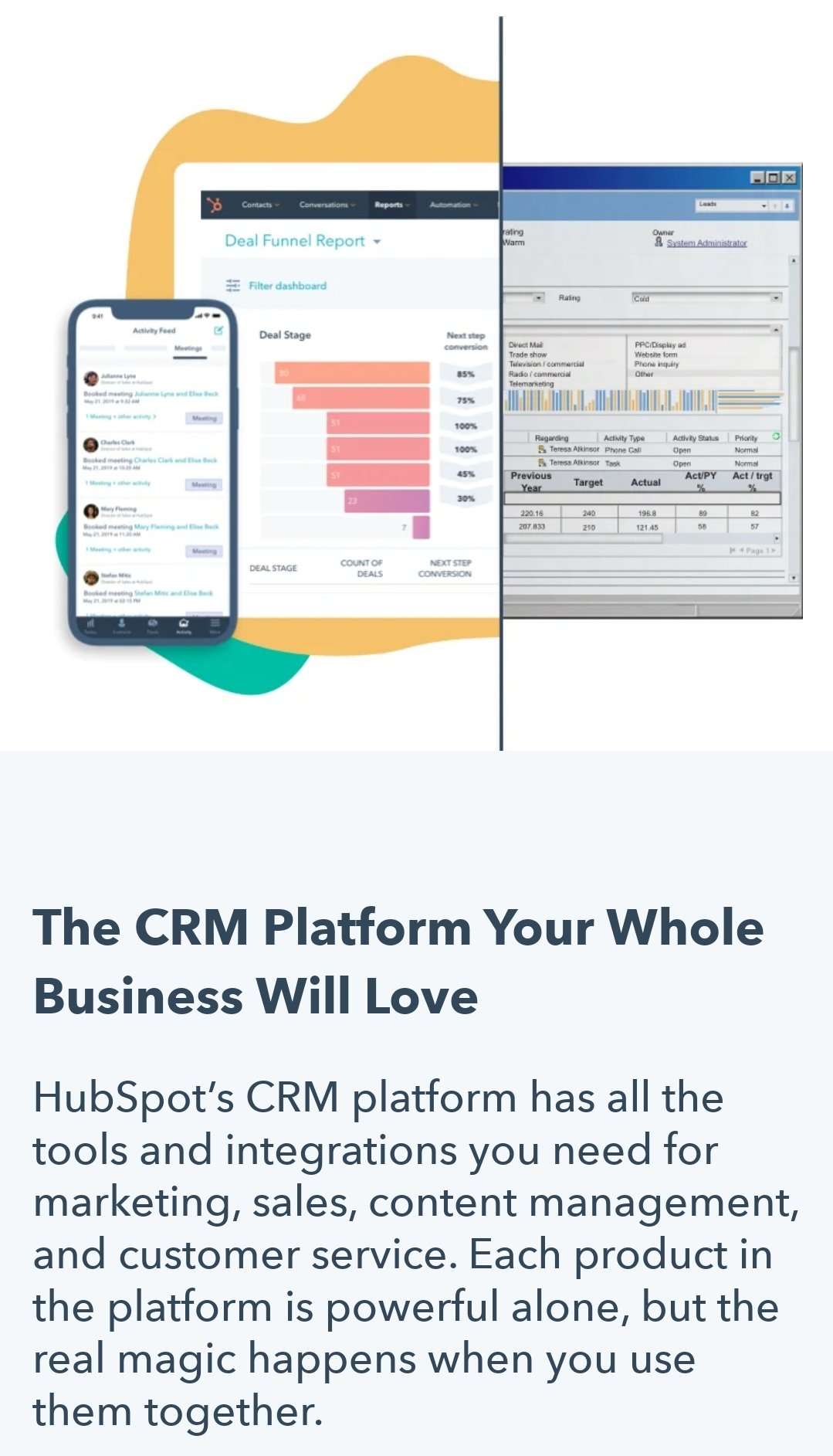 Pipedrive - Best For Ease Of Use
Pipedrive is an all-in-one CRM software that was designed by salespeople for salespeople. The system is intuitive and easy to use, which means you can get started in a few minutes.
Where It Excels
Pipedrive offers these key features:
Customizable visual pipeline, which keeps you informed and organized
Drag-and-drop prospect management, so you can easily move your leads through the process
Task prioritization, which helps you complete the activities that lead to sales
Communication tracking, so you have a record of your previous interactions
Automated task reminders, so you never miss a follow-up
Sales analytics, so you can keep refining your approach
Mobile accessibility, so you can manage deals from anywhere
Email, Google calendar, and other tool connectivity to streamline your work
You can also email your leads and customers directly through the Pipedrive system. If you need support, the company offers 24/7 online chat assistance in both English and Portuguese.
Where It Falls Short
Many customers have positive things to say about Pipedrive. However, some users indicated that they wished the software allowed for marketing campaign planning and offered A/B testing.
Pricing
You can try Pipedrive for free for 14 days. If you decide to buy the software, you can save up to 31% by selecting annual billing.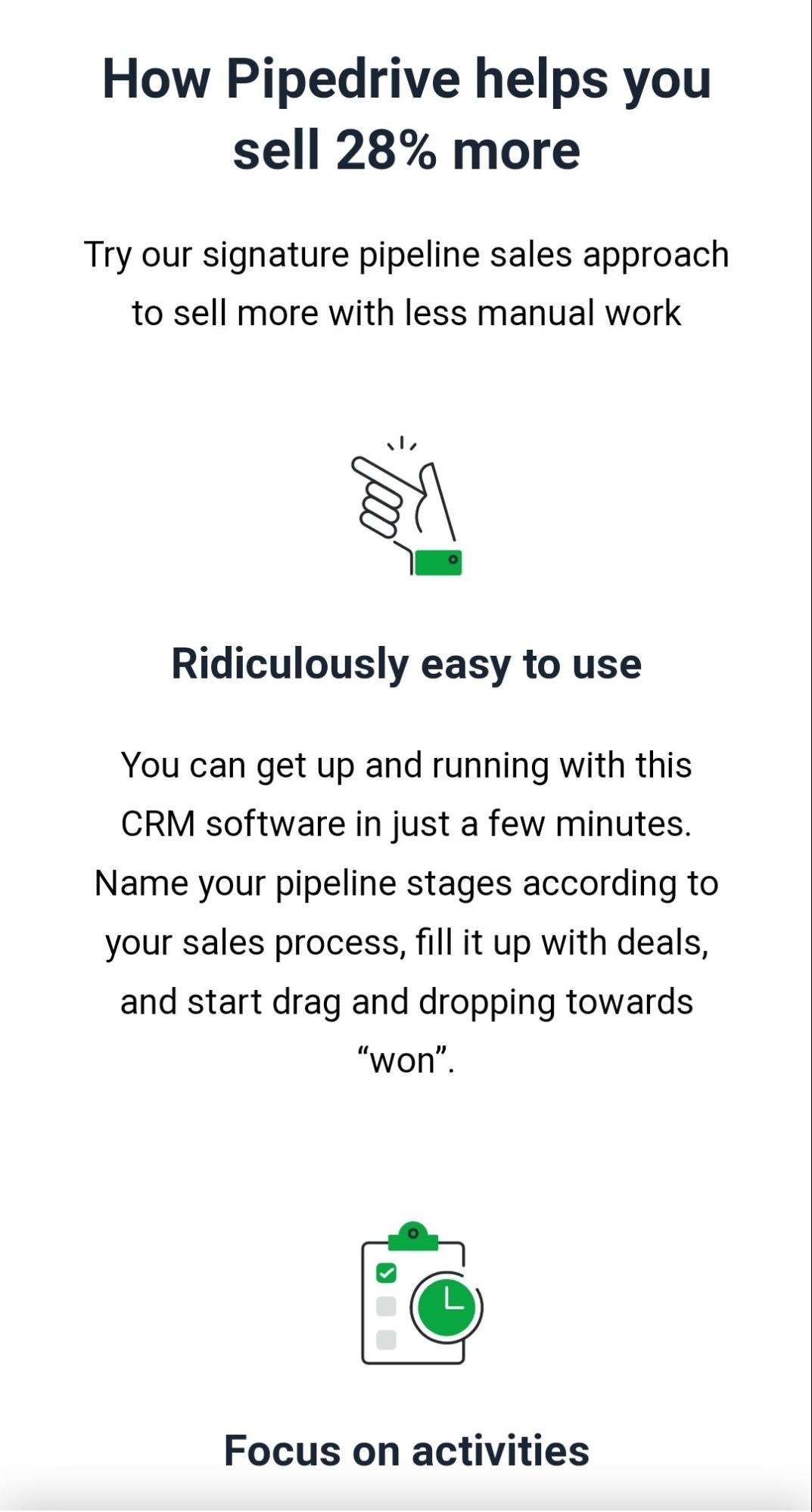 Benefits of Using CRM Software
There are several benefits to using CRM software, such as:
Every department in the organization has access to the same data, giving customers a consistent experience, no matter who helps them. This reduces frustration and increases satisfaction and retention.
All leads get captured in the system, so the sales team can't forget about them. This translates into more closed deals and higher revenue.
The interactive digital system is easier to use and more efficient than a spreadsheet or paper file. That means employees can resolve customer concerns faster and connect with more prospects.
Compiled data can get turned into useful reports, which helps your business determine what's going well — and where you can improve.
As a bonus, many CRM systems also integrate with other business software, which can further streamline your operation.
How To Choose A CRM Software
CRM software often offers a robust suite of features, which may include:
Contact management
Pipeline/lead management
Proposal and contract management
Customer activity tracking
Employee productivity and goal tracking
Workflow automation
Reporting
Sales and revenue projections
Email integration
Document management and storage
Mobile accessibility
Customization options
Before you shop for your solution, carefully think about your company's needs. Write down what the system must do and note any nice-to-have features. Then, keep this list handy as you compare your choices.
Please note: If you're really interested in tracking and increasing employee productivity, you might also want to shop for performance management software.
Frequently Asked Questions 
What is the easiest CRM?
Based on our research, Pipedrive seems to be the easiest CRM to use. However, your experience may vary.
Is CRM difficult to learn?
A new CRM software may be difficult to learn. It depends on how complicated the system is and how tech-savvy you are.
What does a good CRM look like?
A good CRM system offers all of the features your business needs, is easy to use, and is affordably priced.
How do you measure CRM effectiveness?
You can measure CRM effectiveness by determining if your close rate, revenue, and customer satisfaction have increased since you implemented the software.
The Bottom Line
The best CRM software can help you have better relationships with your existing customers, win new business, and increase employee productivity. Hopefully, this article is a great starting point for your research. Happy shopping!