Written By: Michael Gardon | Edited By: Mike Jelinek
If you're unsure about your resume having the right skills listed, you can always start by trying TopResume's free resume review.
Adding the right skills to your resume can make it stand out to recruiters and hiring managers. But, deciding which of your many abilities to feature can be challenging. Don't worry, though. We'll share what skills to include on your resume and how to do so. That way, you can impress the reader, get invited to an interview, and ultimately, land your next job.
If you're struggling with what skills to include on your resume and would like some professional help, check out our guide to the best resume writing services.
If you're on the hunt for a new job, give ZipRecruiter a try. You can get started for free and check out all the jobs that are available.
10 Areas Of Focus To Consider For Your Resume
Communication Skills
Effective communication is the cornerstone of any successful career. Highlight your ability to clearly express your thoughts, ideas, and concerns in both written and verbal formats. Also, emphasize your active listening skills, which demonstrate your ability to understand and empathize with others, fostering strong professional relationships.
For more information, check out our guide on how to include communication skills on your resume.
Teamwork and Collaboration
Employers value candidates who can work well with others to achieve common goals. Showcase your ability to collaborate, build consensus, and contribute to a positive team environment. Mention any projects or initiatives where you worked with others to reach a successful outcome.
Problem Solving and Critical Thinking
The ability to analyze situations, identify problems, and develop creative solutions is highly sought after by employers. Include examples of how you've tackled challenges or resolved issues by thinking critically and taking decisive action.
Adaptability and Flexibility
The modern workplace is constantly evolving, and employers need employees who can adapt to change. Highlight instances where you've demonstrated resilience and flexibility in the face of shifting priorities, new technologies, or unforeseen challenges.
Leadership
Even if you're not applying for a management position, demonstrating leadership skills can set you apart from other candidates. Showcase your ability to motivate, guide, and mentor others, as well as your experience in taking charge of projects or initiatives.
Time Management and Organization
Effective time management and organization skills are critical in today's fast-paced work environment. Highlight your ability to prioritize tasks, meet deadlines, and maintain a high level of productivity while staying organized and focused.
Technical Proficiency
In an increasingly digital world, technical skills are a must-have for most jobs. Include any relevant software or tools you're proficient in, such as Microsoft Office Suite, project management tools, or programming languages. Don't forget to mention any industry-specific software or certifications you possess.
Data Analysis
Data-driven decision-making is a valuable skill across various industries. If you have experience analyzing data, creating reports, or using data visualization tools, be sure to include these skills on your resume.
Creativity and Innovation
Employers appreciate candidates who can think outside the box and bring fresh ideas to the table. Showcase instances where you've developed innovative solutions, improved processes, or contributed to the growth of a project or company.
Emotional Intelligence
Emotional intelligence (EQ) is the ability to recognize, understand, and manage your own emotions and those of others. High EQ is linked to better job performance and improved workplace relationships. Share examples of how you've demonstrated empathy, self-awareness, or conflict resolution in your professional life.
Thinking Deeper About You And The Job
We bet you know how to do a lot of things. The problem is not every skill deserves a place on your resume. So, how do you decide what capabilities to showcase? Follow these three rules of thumb:
Match Your Resume Skills To The Job Description
The job description spells out what abilities and qualifications you need to succeed in the role. So, take a close look at it, and jot down the skills mentioned that you possess.
For example, in the below sample job description for a Sales Support Administrator, you'd pull out words and phrases like:
Salesforce
Written and verbal communication
Administrative record keeping
Budget management
Problem-solving
Word and Excel
These requirements should become the highlights of your skills section and get featured throughout your resume as you describe your experience and achievements.
Note: You'd be surprised how many job seekers skip this step. You're way ahead of many other applicants when you take the time to customize your resume to the job you want.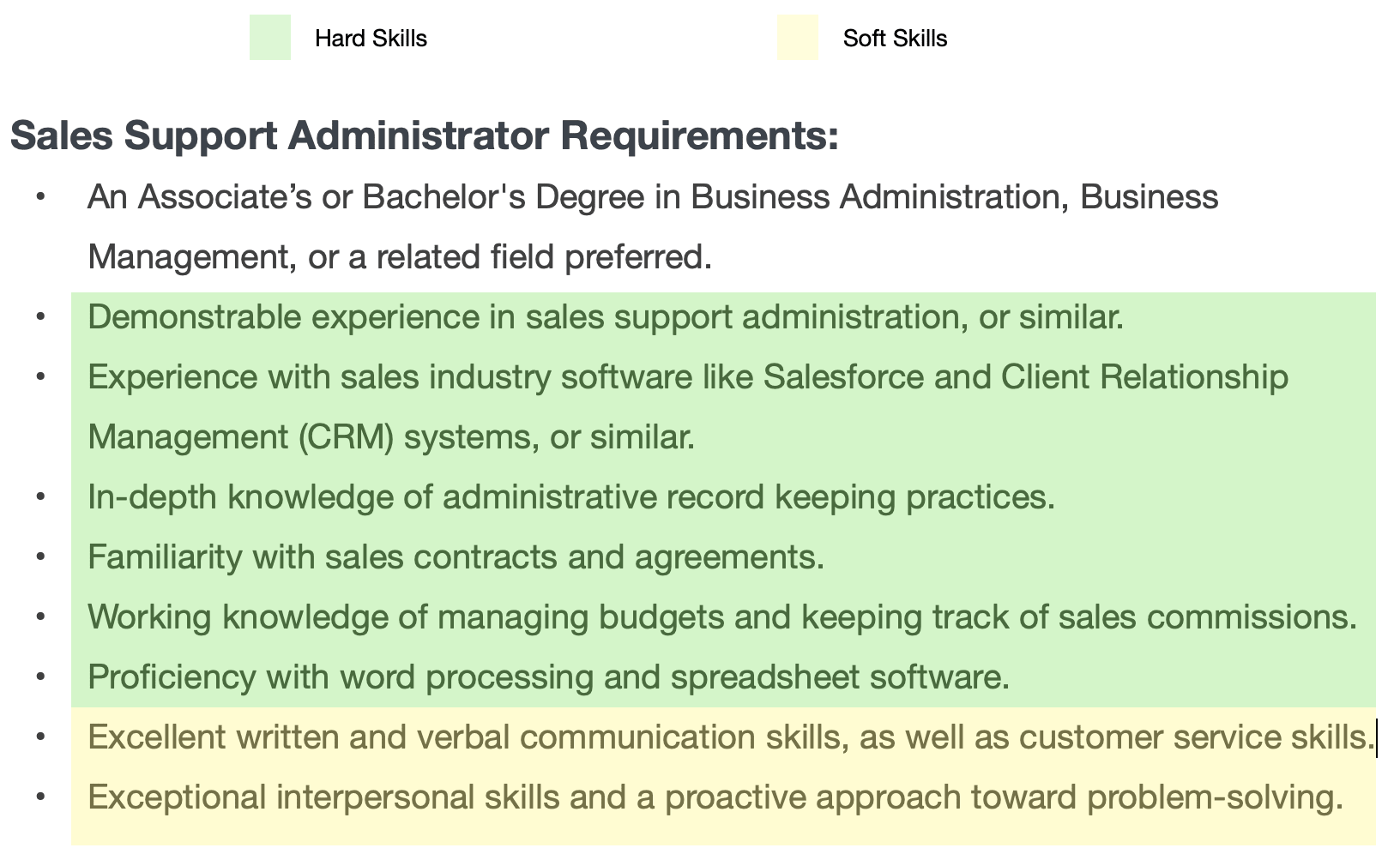 Include A Mix Of Hard And Soft Skills
You should include two types of skills on your resume: hard skills and soft skills. Hard skills are skills that you have acquired through experience, education, and training that are specific to a particular job. Not everyone possesses these.
Soft skills are skills that anyone can possess or develop that enable you to complete the job. Consider this: hard skills are what tasks you can do, and soft skills impact how you do them.
Based on the job description above, examples of hard skills include knowledge of Salesforce, budget management, and record keeping. Examples of soft skills include verbal and written communication, customer service, and problem-solving.
Related: How To List Communication Skills On Your Resume
In general, employers like to see a mix of hard and soft skills because it makes the job applicant appear more well-rounded. Of course, both types of skills are essential, but managers often hire candidates with better soft skills. That's because it's generally easier to train a new employee to complete a job-specific task than to become a more effective communicator.
Add Your Most Impressive Abilities
Most of the skills you include on your resume should get pulled from the job description. After all, you want to align yourself with the company's needs as much as possible. However, if you've got other specialized capabilities pertinent to your target role, it's wise to feature them, too.
For example, let's say the above Sales Support Administrator position is at a company that does a lot of business in Latin America. If you're fluent in Spanish, you need to list that in your skills section because your ability to speak that language could be a significant asset to the organization.
Remember: Your application will likely get screened by an applicant tracking system (ATS) before a human reads it. Adding impressive, relevant skills (also known as keywords) will help your resume make it past the software's filters.
When you're ready to seek out new roles, see where employers are posting jobs. Check out our guide to the top job posting sites.
What NOT To Include In Your Skills Section
As you choose which skills to feature on your resume, make sure you don't include the following:
Basic computer skills. Employers assume you can use word processing software, send an email, and use the internet, so there's no need to reference those skills.
Proficiency with outdated technology. To be frank, no one cares that you're a whiz at using software released 15 years ago.
Novice-level knowledge of a foreign language. Unless you can read, write, and speak a language well enough to conduct business or serve customers, leave it off your resume.
Personal social media use. You may have built a large following, but that doesn't necessarily mean you can achieve the company's desired results.
Irrelevant or joke skills. Unless you're applying to a basket-making company, you shouldn't include basket weaving as a skill on your resume.
Cliches and buzzwords. Don't state that you're "results-driven" or "eco-conscious." Demonstrate it through the accomplishments you list in your work history.
Remember: No matter what skills you include on your resume, ensure you're truthful. It's okay to brag a little, but don't exaggerate! It will ultimately come back to bite you.
How To List Skills On Your Resume
There are several different ways you can list skills on your resume. Here are four of them:
Develop a Simple Bullet List 
Join The Break Community
14000+ subscribers Breaking their careers to win at work and life.
This is the most straightforward way to highlight your skills. Insert the list right after your contact information and summary statement. By hitting all the key job requirements this way, you'll capture a recruiter's attention and rank high in a keyword search within an ATS.
But don't stop there. Add context for every skill elsewhere in your work experience. It doesn't matter that you have a skill if you can't back it up by communicating how and where you've applied it.
Best practice: Keep your list of skills to ten or fewer. That way, it doesn't take up too much space on the page. Plus, it forces you to highlight your most impressive and relevant capabilities!
Create a List with Expanded Bullets
You can expand the bullet points in your skills section to include context. This approach will offer more impact than simply highlighting your skills. However, it will also take up more space at the top of your resume. So consider trimming down the bullet list to four or five of your most relevant skills, and then work the remaining skills into your work experience.
List Additional Skills After Each Job
Use this option if you prefer a reverse chronological format for your resume. It will allow you to add shorter skill lists to each work experience.
It's important to note that fitting all your skills into a bigger text block might make things awkward for the reader. On the other hand, leaving them out could make the position descriptions too vague. Our best recommendation is to work some hard skills into your work experience and list others in a separate section. Doing so will make your resume easier to read while covering all your bases.
Break Your Skills Section into Categories 
Are you applying for a role that requires a broad skill set? If your work history fits the bill, consider categorizing your capabilities within the skills section of your resume. This method is often suitable for people transitioning into management roles who must demonstrate that they can work with individuals from various disciplines. It's also a great way to showcase applicable skills, such as technical savvy and soft skills.
Here's what that might look like:
Soft Skills
Communication
Customer service
Problem-solving
Remember: The best formatting option will become clear as you create your resume. However, we think it's worth experimenting with them all to see which gets you the best results!
Examples Of Hard Skills For Your Resume
Here are some of the top hard skills employers look for on your resume.
Office And Administrative
Specific examples of office and administrative hard skills include:
Data entry
Answering phones
Billing
Scheduling
MS Office
Office Equipment
QuickBooks
Shipping
Welcoming visitors
Salesforce
Calendar management
Sales, Retail, And Customer Service Jobs
Specific examples of sales, retail, and customer service hard skills include:
Product knowledge
Lead qualification
Lead prospecting
Customer needs analysis
Referral marketing
Contract negotiation
Self motivation
Increasing customer lifetime
Vale (CLV)
Reducing customer acquisition
Cost (CAC)
CRM Software (Salesforce, Hubspot, Zoho, Freshsales)
POS skills
Cashier skills
Nursing And Healthcare
Specific examples of nursing and healthcare hard skills include:
Patient assessment
Taking vital signs
Patient care
Recording patient medical history
Wound dressing and care
Urgent and emergency care
Record-keeping
Patient education
NIH stroke scale patient
Assessment
Electronic medical record (EMR)
Medicine administration
Blood pressure monitoring
Phlebotomy
Rehabilitation therapy
Hygiene assistance
Use of x-ray, MRI, CAT scans
Meditech
Glucose checks
Electronic heart record (EHR)
IT And technology
Specific examples of IT hard skills include:
Programming languages
Web development
Data structures
Open source experience
Coding Java Script
Security
Machine learning
Debugging
UX/UI
Front-end and back-end development
Cloud management
Agile development
Engineering And Technical 
Specific examples of engineering and technical hard skills include:
STEM skills
CAD
Design
Prototyping
Testing
Troubleshooting
Project launch
Lean manufacturing
Workflow development
Computer skills
SolidWorks
Budgeting
Technical report writing
Advertising And Marketing
Specific examples of advertising and marketing hard skills include:
SEO/SEM
PPC
CRO
A/B testing
Social media marketing and paid advertising
Social media advertising
Sales funnel management
CMS tools
Graphic design skills
Email marketing
Email automation
Data visualization
CPC
Typography
Print design
Photography and branding
General And Project Management
Specific examples of general and project management hard skills include:
Agile
Managing cross-functional teams
Scrum
Performance tracking
Financial modeling
Ideation leadership
Feature definition
Forecasting
Profit and loss
Scope management
Project lifecycle management
Meeting facilitation
Bottom Line
Writing a winning resume can be daunting, and even some of the most seasoned professionals struggle to showcase their experience and know-how. Hopefully, you now have a better idea of what skills to include on your resume and how to do it.
But, if you need additional help with your resume, our team recently reviewed the top resume writing services. Many of these services offer free resume reviews to get you started. Then, once you're satisfied with the document, head to ZipRecruiter to search for your next opportunity.