In this LinkedIn review, we're going to drill down into how to best use LinkedIn, whether you're an employer or a job seeker. In today's social media-driven world, LinkedIn is a must, whether you're an employer looking for promising candidates, or an employee, contractor, or freelancer looking for new employment and income opportunities.
This review will give you a good idea of all that LinkedIn offers. If you find that LinkedIn isn't a good fit for you, we recommend trying ZipRecruiter. ZipRecruiter is free for jobseekers and there is free for employers to get started.
What is LinkedIn?
LinkedIn bills itself as the world's largest professional network. It has almost 740 million members in more than 200 countries and territories around the world.
More than anything, it's an online platform that connects professionals. Job seekers can create personal profiles on the site, similar to, but not identical with, a resume. For example, you can include personal information, your occupation and skill set, current and previous work experience, education, and even endorsements from previous employers and coworkers. That will give you perpetual exposure on the biggest business network in the world.
Employers can do the same with their companies. They can create a profile page highlighting what the company is, what they do, and the kinds of talent they're looking to attract. To keep their profile current and compelling, they can also post regular updates of company developments, and even the rollout of new products and services.
LinkedIn For Employers
In addition to maintaining a company presence, employers can also post jobs on the site. Much like Indeed, you can post a job on LinkedIn free of charge, but also take advantage of their premium services for more aggressive candidate searches.
LinkedIn Features for Employers
As an employer, you'll want to actively participate on LinkedIn if only because it will give you access to the largest number of qualified candidates due to the social media component.
Employers should also view the platform as a way to promote their brand. Just as employers routinely investigate the social media presence of candidates, job seekers often search out the social media profile of employers they're interested in. And of course, the ability to post jobs for free is an added incentive.
LinkedIn Recruiter
This feature is designed for larger employers with many positions to fill on an ongoing basis. It gives you the ability to post an unlimited number of jobs. But it goes beyond basic job boards by taking advantage of more than 20 advanced search filters. Once you identify the people you're interested in, you can connect with them using LinkedIn's messaging system, InMail.
This is a premium service, and you will need to contact the sales department to determine pricing for your company.
Career Pages
Here's where you can build your employer brand, giving job seekers a closer look at what your company is all about it. The more they know about your business and company culture, the more likely candidates will be to respond to your job postings.
Work With Us Ads
You can use this feature to promote your company and open positions through your employee's LinkedIn member profiles. This is a way to leverage your LinkedIn presence through your employees, many of whom are already members on the site.
Job Posts
This is a service-level design for hiring managers at small or medium-sized companies who fill positions only occasionally. It makes use of individual job posts targeting the right people at the right time. This includes placement at the top of LinkedIn's job search results, as well as placement in personalized job seeker emails. It even provides mobile and desktop push notifications to relevant job seekers, and personalized targeting to qualified candidates based on the criteria of the job posted.
Related: How To Post A Job On LinkedIn
Services Marketplace
The LinkedIn Service Marketplace allows employers to hire freelancers. As of October 2021, LinkedIn Service Marketplace is not charging any fees. You can start using this feature by discovering freelancers and reviewing proposals from them. After reviewing a proposal, you can choose to hire them and move forward.
Job Slots & LinkedIn Recruiter
Both services are designed for talent acquisition teams at companies that hire multiple roles during the year.
LinkedIn Recruiter is a sourcing tool to identify and engage with talent and collaborate with your team. It provides advanced search builders and saved searches, job posts for remote workers, recommended candidate matches, past applicants views, and prioritization of candidates who are more likely to respond to your job post. You'll be able to engage candidates using up to 150 InMail messages each month.
Job Slots places your job ads at the top of LinkedIn job search results as well as in personalized job seeker emails. It makes use of both mobile and desktop push notifications sent to relevant candidates, with personalized targeting to the most promising candidates. It comes with direct messaging to candidates, recommending candidates based on your job posts criteria, and even rejects applicants in bulk with a customized message.
How To Post A Job On LinkedIn For Employers
The process starts by signing up for a LinkedIn account. That's as easy as providing your name and email, then creating a password.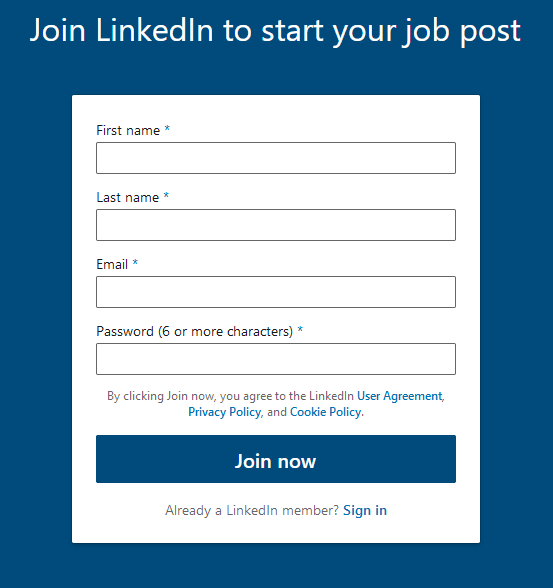 Posting a job on LinkedIn isn't much more difficult than creating an account. That's because you'll be provided with pre-populated templates for more than 130 of the most popular job titles. You'll also be able to add required questions for the job applicant. LinkedIn claims that 80% of jobs with screening questions get a qualified applicant within one day.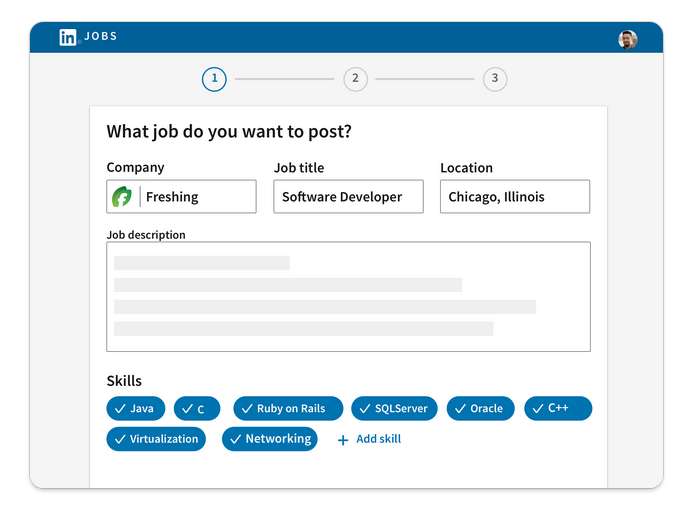 You can target relevant candidates by promoting specific search results and using email and text alerts. You can also get instant recommended matches of qualified candidates who have not applied. LinkedIn claims more than 25 million professionals view and apply for jobs on the site every week.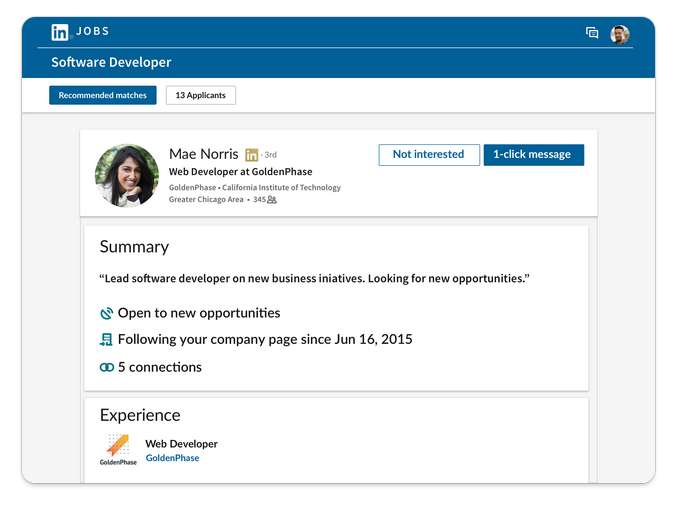 You can also add filters based on the criteria you determine to be most important for the position you're looking to fill. Notice the bottom line in the screenshot below: "2/3 required qualifications". That indicates this particular candidate meets two out of the three criteria you've set for the position.
For more information, check out our LinkedIn Job Posting Cost guide and our guide on how to post a job on LinkedIn.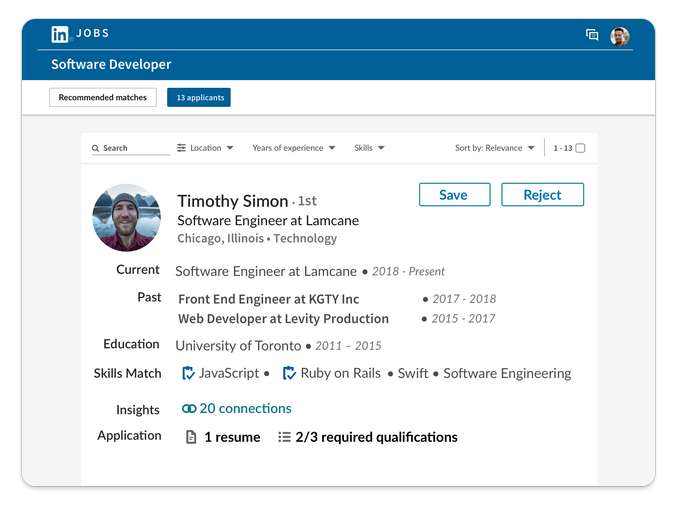 LinkedIn For Job Seekers
LinkedIn is a recommended strategy for anyone who is looking to create a personal billboard on the largest professional network in the world. As a job seeker, contractor, or freelancer, you'll be able to build a great LinkedIn profile that will be available for prospective employers. It will not only help your job search but may put opportunities in your path when you aren't even looking. Even if you are not actively job searching, LinkedIn is a great place to connect with fellow professionals.
Creating that profile is the first step in using LinkedIn. That starts with setting up your account. You can do that simply by providing your email and creating a password (or signing up with Google).
Related: How To Network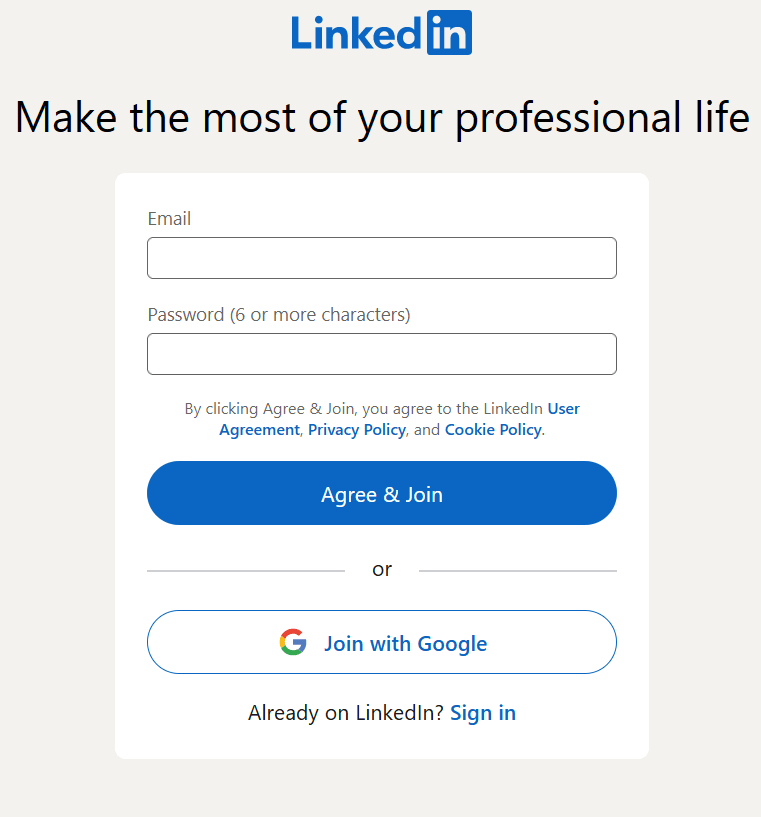 In creating your profile, LinkedIn makes the distinction between a profile, and a resume. For example, your profile should speak to all potential employers, and not to anyone in particular. It also gives you an opportunity to go into more detail with your specific skills, projects, and certifications. You can add recommendations and endorsements from previous employers, coworkers, or business partners. All help to strengthen your profile.
As you can see from the screenshot below, having a flattering photo can be an asset. LinkedIn claims members with photos receive up to 21 times more views, and nine times more connection requests.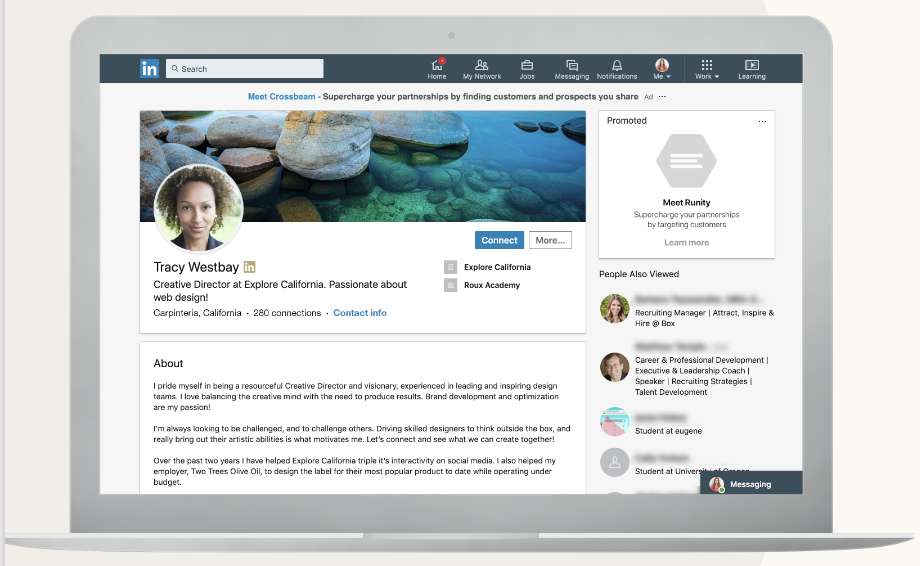 Don't worry if you don't feel you have the capability to create a winning profile. LinkedIn provides the tools to walk you through the entire process.
Once your profile is up and running, you'll be able to network with other people in your field, as well as to reach out to potential employers. You can also regularly post updates and useful information to your profile, to keep it current, and to demonstrate your skills and interests.
Your postings, as well as regularly following those of others in your network, have the potential to open communications with interested employers, as well as to gradually expand your network.
LinkedIn Premium
You can up your job searching game by taking advantage of this premium service. It will provide you with access to the full list of people who have viewed your profile within the last 90 days (the basic service allows only the past five days). You can also see the keywords that are being used to find you, as well as the industries and locations of your viewers. You can use this information to improve your LinkedIn profile.
Premium allows you to filter jobs by salary and provide you with salary information on the jobs you're seeking. This will help you to know if the salary you expect is consistent with what employers in the field are willing to pay.
Premium also gives you access to three InMail credits per month. Those will enable you to contact anyone on LinkedIn, even if you don't have a direct connection.
You'll also be able to take advantage of premium insights, to see how you match up with other applicants or with current employees of the companies you're looking to apply with.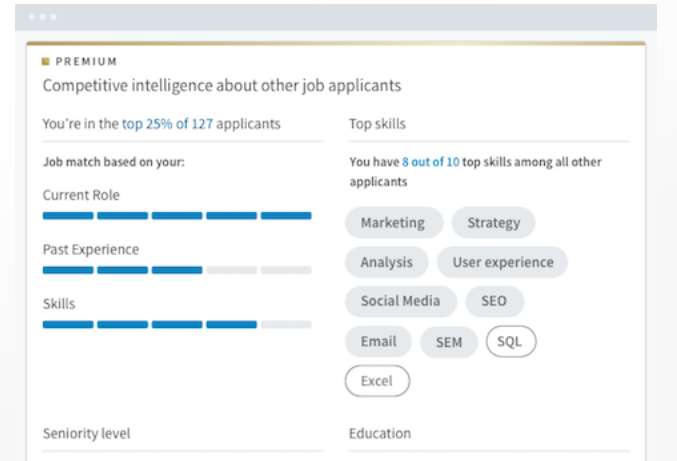 How to Find and Apply For Jobs On LinkedIn
You can search for jobs on LinkedIn by clicking the "Jobs" tab at the top of your profile page.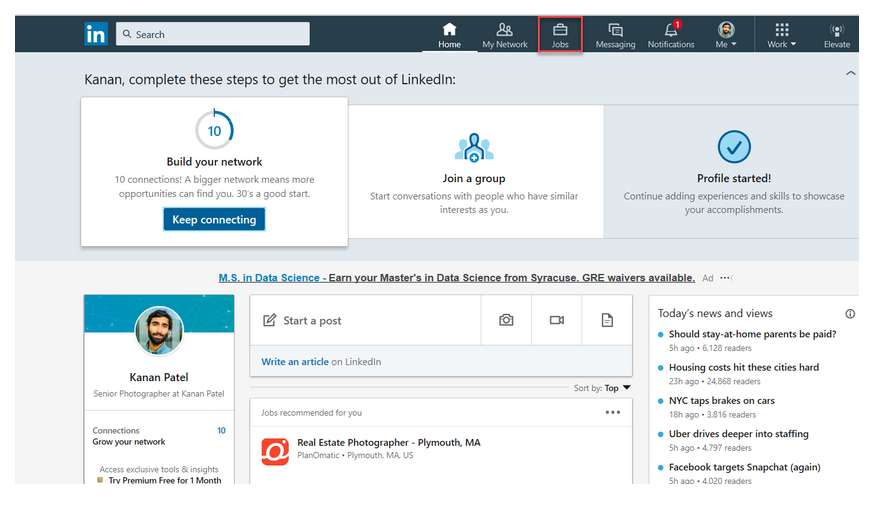 The next screen will display the "Search Jobs" box, where you can launch your search. Enter the position you're looking for, as well as the specific location.

Once you do, a search results page with job listings matching your criteria will appear. You can fine-tune the list by adding additional criteria, such as most relevant, date posted, LinkedIn features, company, experience level requirement, and other filters.

Once you find jobs that interests you, you can apply directly through LinkedIn. Job applications are hosted on LinkedIn, and you can apply using the "Easy Apply" button on the job postings, without leaving the site. This feature isn't available with all employers, but you'll want to take advantage of it where it is.
Application requirements will differ based on the job, and some may require you to click through and apply directly with the company that posted the job.
For applications completed on LinkedIn, you can review your input, then click "Submit application".
LinkedIn For Freelancers
You can also find freelance or contract positions on LinkedIn via LinkedIn Services Marketplace. To get started freelancing on LinkedIn, follow these steps:
Navigate to your LinkedIn profile.
Set up your services page. To do so, click "Open to" on your profile.
Then click "Providing services."
Click "Continue."
Enter the services that you offer.
LinkedIn then recommends sharing a post so that your connections are aware of the services you offer.
LinkedIn Learning
LinkedIn Learning is an educational platform helping candidates develop business, technology-related and creative skills. This is accomplished through expert-led video courses. There are more than 16,000 courses and personalized recommendations. You can choose the ones most relevant to your career objectives, and even add completed courses to your LinkedIn profile.
This is a premium service and when you sign up you'll have unlimited access to all available courses. What's more, you'll be able to learn what you want and on your own time. You'll receive a certificate of completion after each course.
The benefit of LinkedIn Learning for job seekers and employees is the ability to increase their knowledge and skillsets. But employers can make this service available to their employees as a training tool.
LinkedIn Pricing
LINKEDIN PRICING FOR EMPLOYERS
There is no cost for a basic job posting on the platform for employers. LinkedIn doesn't publish specific pricing of premium services on the website, but instead instructs you to contact sales for more information. The LinkedIn Jobs Pricing Tipsheet indicates plans are available on pay-per-click and cost-per-click pricing models.
There are no contracts, and you can pay for premium services with either a credit card or PayPal. You can begin posting with a three-day free trial, but you must be a new customer to be eligible.
Pricing
Basic Job Posting: Free
LinkedIn Premium for Employers: Contact sales
LINKEDIN PRICING FOR JOBSEEKERS
For job seekers, LinkedIn can be used free of charge. But premium services are available through LinkedIn Premium have fees ranging from $29.99 to $59.99 per month.
LinkedIn Learning is available with a subscription of $29.99 per month. If you pay on an annual basis, the effective cost will be $19.99 per month. Both subscription types come with a one-month free trial.
You should also know that a LinkedIn Learning subscription gives you full access to LinkedIn Premium.
Whether you are an employer or a job seeker, premium services will only be worth paying for during an active job/candidate search. In between, you can maintain the basic, free account.
Pricing
Basic LinkedIn Account: Free
LinkedIn Premium: $29.99-$59.99 per month
LinkedIn Learning: $19.99-$29.99 per month
LinkedIn vs. The Industry: What to Expect 
There is a large and growing number of employment-related websites, but LinkedIn stands out as one of the most unique. This is due to the social aspect of the platform. Yes, you can apply for jobs directly from the site. But the primary value is in creating a compelling personal profile that will be available for interested employers to review. If you fit the criteria of the job you're looking to fill, you may find employers looking for you, rather than needing to look for a job.
But like most employment-related websites, you should never rely entirely on LinkedIn. It tends to work best for professionals looking for very specific positions.
You should use LinkedIn in conjunction with other sites. For example, Indeed is the largest job board in the world. But because it is, you should also expect the competition for jobs to be much heavier there.
A better choice might be ZipRecruiter. It's another of the largest job boards, but it will give you access to more than 100 other job boards. It's free to use for job seekers. Employers will pay for the service, but in doing so their ads will provide targeted exposure and a predictable price.
Frequently Asked Questions 
IS LINKEDIN REALLY WORTH IT?
Absolutely. LinkedIn is one of the best ways for an employer or a job seeker to stand out from the crowd in a very competitive employment environment.
CAN LINKEDIN BE TRUSTED?
LinkedIn is a platform where both job seekers and employers strive to put their best foot forward. That can lead to idealized profiles, which are typical in social media. For both employers and job seekers, LinkedIn should be viewed as a starting point in the search for prospective employers or employees.
DO EMPLOYERS REALLY LOOK AT LINKEDIN?
Whether employers look specifically at LinkedIn when searching for candidates may be less important than the reality that most do check candidates' social media profiles as part of the hiring process. According to one survey, 90% of employers do. Your social media profile definitely includes LinkedIn.
HOW DO I WRITE A REVIEW ON LINKEDIN?
It's a multi-step process, as follows:
Find the organization's page.
Click Products on the left side.
Click the correct featured product.
In the Reviews section, click Review this product.
Click No or Yes, to indicate if you use the product (you can only submit a review if you use the product).
Then, follow the prompts to complete the review.
Click Submit and your review will display on the Product Page immediately.
Bottom Line
Though it does offer a job board, LinkedIn is also a social media business site, enabling you to continuously and passively draw employment and income opportunities to your profile.
For employers, it functions more as a backdoor recruiting tool. It shouldn't be the only strategy you use to find qualified applicants. For that, check out ZipRecruiter. It can help with all of your hiring needs. If you are ready to add to your team, consider listing your job opening on ZipRecruiter!