You've heard that social media can be a gold mine of job candidates, but you're not sure how to recruit on Facebook. Don't worry - we'll walk you through the social media platform's various recruiting options. You'll be filling your open positions in no time!
If you are looking to recruit talent outside social media, we recommend ZipRecruiter. 4 out of 5 employers who post a job on ZipRecruiter get a quality candidate within the first day.
Why Recruit On Facebook
Facebook hosts 2.7 billion active users every month, which means the talent you need is probably hanging out there. As a recruiter, you must meet your prospective employees where they are so you can initiate the conversation. If you leverage Facebook correctly, you'll gain access to a vast pool of human capital that you can turn into raving fans of your business - and later devoted employees.
How To Recruit Employees On Facebook 
Facebook gives you several tools to find and engage with top talent. Your company's needs and budget will determine which strategies will work best. But, in general, here's how to recruit employees on Facebook:
Create A Facebook Business Page
Most of your Facebook recruiting activities will originate from your Facebook business page. If you haven't done so already, follow these steps to create one:
Click "create" on the top of your Facebook homepage.
Select "page" from the dropdown menu.
Enter your business name as the name for your page.
Add a business category to help people find you.
Fill in the other fields, such as website, contact information, and location.
Upload a profile photo, like a company logo.
Upload a cover photo of your company location, products, services, promotions, or something else that conveys the nature of your business.
Click "continue" to see your new page. You're done!
You can edit your Facebook business page at any time. If you'd like, you can also add up to two more business categories or change the page template that Facebook provided.
Regularly Share On Your Facebook Business Page
Your company needs a robust online presence to attract both customers and employees. Most people will research your company before making a purchase or applying for a job. By regularly sharing captivating content on your Facebook business page, you'll build brand awareness and help prospective employees like and trust your organization.
To entice the talent you need to apply, you should post content that makes them daydream about working for your company. Some post ideas include, but aren't limited to:
Testimonials, stories, and motivational quotes from current employees
Videos or photos of fun or impactful company events, like eating at an annual picnic or volunteering for a local charity
Awards your firm has won - especially if they're about being an amazing place to work or making a difference in the world
Employee benefits - particularly unique perks
Here's an example of an effective Facebook business page post: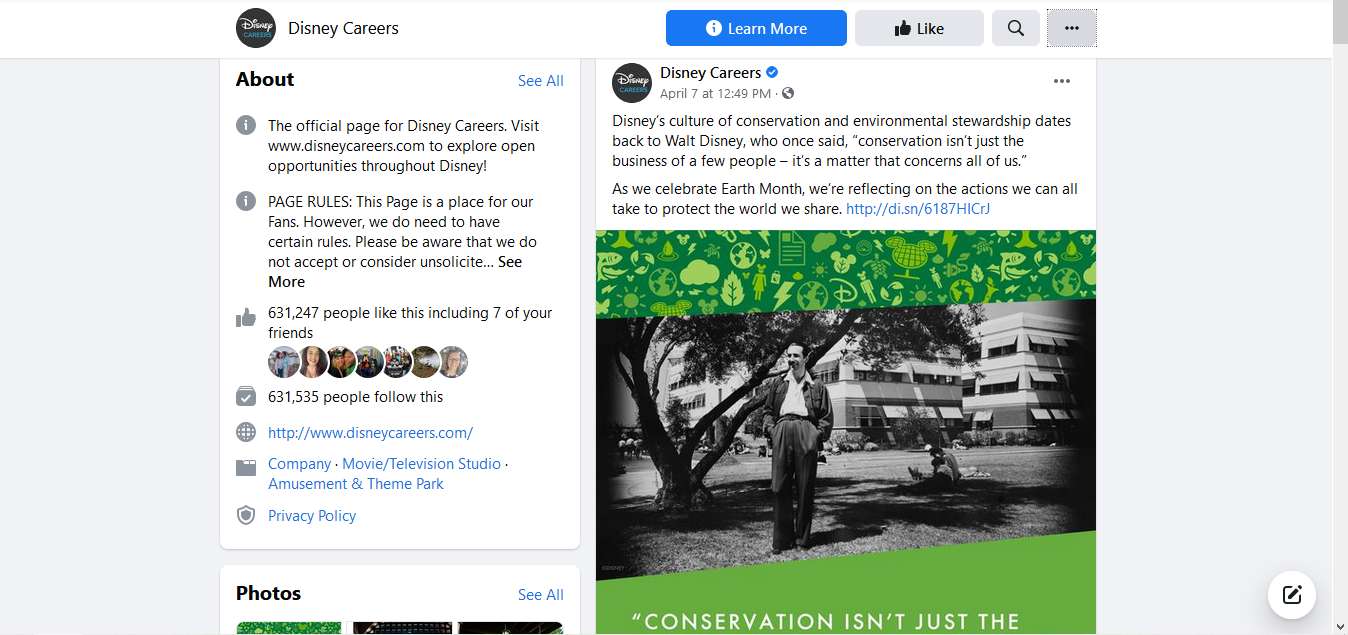 This post works because it appeals to the many people concerned with environmentalism and green living. If they believe strongly in it, they'll want to work for a company that does, too.
Create A Job Post
Posting a job on Facebook is a simple - and free - process. To begin, go to your Facebook business page. Click on "manage jobs" and then "create job." Next, fill in each of the fields with information about the open position. Make sure your post is engaging, detailed, and easy to read. Once you're satisfied with your listing, hit "post."
Boost Your Job Post
While a free job post helps your recruiting budget, the listing's visibility will be limited. But, if you pay to boost your job post, you can get it in front of more people. You can also set targeting parameters to give the post a better chance of being seen by your ideal candidates.
Here's how to boost your job post:
Find your job post on your Facebook business page.
Click "boost post" in the lower right corner.
Set your target audience, budget, and boost duration.
Check your payment method.
Hit "boost."
After you boost the post, you can't edit the copy or imagery. But, you can tweak some settings, like the audience, to improve your results.
Be Active On Facebook and In Local Groups
If you're active on Facebook, you'll have a better shot of finding employees on the platform because you'll notice people who consistently interact with your brand. Any one of those fans could be a future superstar at your company. So, for best results, be sure to respond to any comments and messages you receive. Potential candidates will appreciate your time and attention, which puts your firm in a positive light.
You can also find employees by participating in Facebook groups. Consider joining groups based on industry expertise or location. Alumni and student groups can also be potential sources of candidates. To find appropriate groups, search for a keyword plus the word "groups." For example, if you type in "human resources career groups," you'll see a long list of groups where human resources professionals hang out - and possibly look for new jobs.
But, before you post your job in any group, read and adhere to that group's rules. You may be prohibited from promoting your job or only allowed to post it on certain days of the week. Even if there are no posting restrictions, be careful not to share the job too often. Doing so could make your company look spammy. Remember, every action you take on Facebook should help your organization's image and increase the firm's desirability as an employer.
Start An Ad Campaign 
Boosting an existing job post on your Facebook business page can be a great way to increase visibility fast. But, the recruiting strategy has its limitations. For more customization options and the ability to edit the post's creative elements at any time, you should consider starting a Facebook ad campaign.
Here's how to launch your ad campaign:
Go to the Ads Manager, and click "create."
Fill in the fields to name your campaign, set your campaign goal, establish your budget, choose an ad duration, determine ad placement, and target your ideal candidate.
Choose the special ad category "Employment Opportunity."
Write the ad copy and add eye-catching images or videos.
Include a link to the job post, so interested people can learn more and apply.
Click "publish."
Once published, you can track, pause, or change the campaign within Facebook Ads Manager.
For best results, be sure:
The ad is well-targeted. Look through and select all applicable parameters from categories like demographics, interests, education, experience, and more.
The copy and imagery really pop and capture your company's culture. It should entice people to learn more - and accurately represent what it's like to work for the firm.
To consider A/B testing. This allows you to compare the performance of two versions of the same ad with just one variant (i.e., a different image).
To track the ad's performance. You can tweak anything in the campaign to see if it gets more candidates to apply.
Running Facebook ads involves some trial and error. But, you can control how much you spend. Plus, when you get them right, they can be a significant boost to your recruiting efforts.
Encourage Current Employees and Friends To Share Your Job Ad
Social media works because people amplify the messages of others by sharing their content. Your job ad is no different. You should ask friends, family, and current employees to share your company's job ads. This simple practice is a cost-effective way to boost ad visibility. You can also try offering employees financial incentives for sharing - especially if doing so leads to a hire.
Pro Tip: Never force employees to share your job ad. Participation should always be voluntary.
Create A Job Tab On Your Facebook Business Page
When a prospective employee lands on your Facebook business page, make it easy for them to find your open roles by adding a job tab. Here's how:
Go to your Facebook business page.
Click "more" (from a series of words under your profile picture).
Select "edit tabs."
Scroll down, and hit the button to turn on the job tab.
That's it! Now, visitors will be able to see your current positions by toggling to the job tab on your page.
Frequently Asked Questions 
Is Facebook good for recruitment?
Facebook can be great for recruitment because it gives you access to billions of potential job seekers worldwide.
How do I do recruitment on Facebook?
You can recruit on Facebook by posting jobs on your Facebook business page, boosting your job posts, running recruiting-focused ad campaigns, and being intentionally active on the platform.
Is it always a good idea to boost job posts? 
It's usually a good idea to boost job posts on Facebook because doing so results in increased visibility. However, if you don't have room in your recruiting budget, free job posts can still help you attract candidates.
When should employers choose to boost posts? 
Employers should choose to boost Facebook posts if they have the budget and want to attract more applicants faster.
The Bottom Line
If your company wants to stay competitive for top talent, recruiting on social media is a must. After reviewing and implementing the strategies discussed in this article, you should know how to recruit on Facebook. But, if you want to post job ads on other platforms, ZipRecruiter can help.
If you are ready to add to your team, consider listing your job opening on ZipRecruiter!