Written By: Michael Gardon
With more than 930 million members, LinkedIn is the largest and best-known professional networking site. According to the site's data, it's rated No. 1 in increasing quality of hire thanks to its broad reach and automated job targeting. If you want to get your job posts in front of as many skilled applicants as possible, LinkedIn is an obvious first step. 
Wondering how to post a job on LinkedIn? The first step is to figure out which hiring product is right for you. LinkedIn provides three different talent solutions: LinkedIn Jobs (free or promoted), Jobs + Recruiter Lite for job posting and basic sourcing, and LinkedIn Recruiter for advanced analytics and hiring at scale. Here's what you need to know to get started posting jobs on LinkedIn. 
This article will focus on LinkedIn however, if you are looking for other options, we would recommend ZipRecruiter. ZipRecruiter offers free job searching for job seekers and a free trial for job seekers. You can also check out our round-up of the best job posting sites.
How To Post A Job On LinkedIn
Posting a job on LinkedIn is easier than you might think. Follow the 9 simple steps below to post a job on LinkedIn.
Step 1: Create A Company Page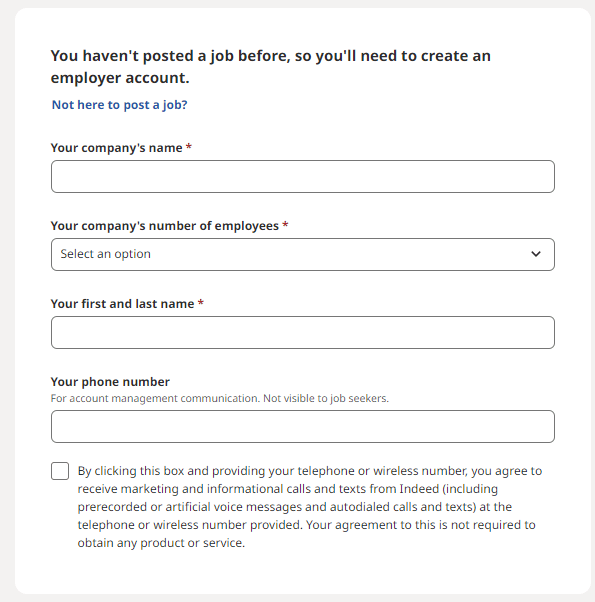 Step 2: Click The Jobs Icon
This is located at the top of your LinkedIn page.
Step 3: Click The Post Job Button
For recruiters, expect to possibly be taken to a different page with contract options. If you get this option, click Continue next to Your Name's LinkedIn Job Posting.
Step 4: Complete These Fields On The Job Details Page
Description: This is the job description that you'll write for the job posting.
Add skills: These are job skills required for the job. To add multiple job skills, click the Add Skill icon.
Step 5: Click Continue
Step 6: Complete These Fields On The Applicant Options Page
How would you like to receive applicants: Choose how you want to receive applicants.
Review screening questions: LinkedIn recommends at least three screening questions. The screening questions help you choose top applicants who meet your minimum and/or preferred qualifications.
Step 7: Click Promote Job Button
In this step, you'll add your payment details to pay for the job listing. Note: If you've previously stored your payment details, your default payment information will be shown.
Step 8: Review Your Order Details
This review includes looking over your budget and other information.
Step 9: Click Post Job
This should take you a few minutes and you'll be ready to publish your job posting on LinkedIn!
LinkedIn Job Posting Pricing
Here's how LinkedIn job posting pricing works.
They have a pay-per-click pricing model. You can set a daily budget or a total budget, then let your promoted job posting run.
Here's an example of how the daily budget pricing would work:
$10/day pricing for 30 days
Total cost of $300 ($10 X 30 days)
Here's an example of how the total pricing would work:
Set a total price of $300 with no timeline. When the budget is exhausted, the campaign ends, so you don't have to worry about turning off the campaign.
If you don't know what kind of budget to set, LinkedIn does give you a recommendation in the job posting pricing setup. They look at:
Job title
Location
Market activity
They consider competition as well and make a recommendation on budget based on these factors.
What To Know About LinkedIn Job Posting Pricing
Here are some things to keep in mind if you promote your job posting with LinkedIn:
Your charges accrue daily
If you set the daily budget option, the campaign will continue to run until you turn it off
You only pay for job views by applicants
Can You Post Jobs For Free?
Yes, you can post jobs for free on LinkedIn. Free jobs posted expire 30 days after the job listing date. There's also an option to promote your job listing which helps you get more qualified applicants to your job posting.
Are There Benefits To Paying To Post A Job?
Yes, the benefits of paying to post a job are a better qualified and tailored talent pool applying to your job. You can opt to promote jobs by setting a budget or by upgrading to Jobs + Recruiter Lite or LinkedIn Recruiter. Here are some of the features of each product:
Jobs + Recruiter Lite:
30 InMail messages per month to connect with candidates
20+ search filters 
Recommended candidates
Standard InMail reporting features 
LinkedIn Recruiter: 
150 InMail messages per month
Unlimited views of candidate profiles
Bulk messaging
ATS integrations
Additional targeting and reporting features
Are There Different Ways To Post A Job? 
Yes, you can post a free or promoted job posting. As you go through the process of listing your LinkedIn job posting, you can decide which job posting option to select.
You can post your job for free or pay to promote your job listing, which gives you the benefits highlighted above like getting access to LinkedIn's Talent Insights and having unlimited access to send up to 150 messages per month to LinkedIn members.
Do you want to learn more about LinkedIn? Read our full LinkedIn Review.
7 Tips For A Great Job Posting On LinkedIn
Do you want to know how to make your job posting stand out? These are some best practices to keep in mind to publish a great job posting on LinkedIn and attract top talent to your job vacancy.
1. Keep Your Job Posting Short
Keep your job posting short and sweet. Highlight the important stuff, talk about what candidates are looking to learn like the day-to-day details and salary information, and cut out the fluff.
According to LinkedIn, keeping your job postings to 150 words or less has resulted in better performance than 450 to 600 word job postings.
2. Use #HIRING
The #hiring feature allows you to create a new job post or share an existing post via mobile or desktop. This will add the #hiring frame to your profile photo and share your hiring status with your LinkedIn network.
3. Share Information Candidates Want To Know
This can include:
Day-to-day operations
Salary
Qualifications
This is the information candidates are interested in. Some applicants only spend a few seconds on a job listing, so you want to grab their attention by including the information they're looking for.
4. Avoid Bragging About Your Company Too Much
According to this source, job applicants rated company culture and mission less important in job postings. People are interested in the company they may work for but they're not necessarily looking to learn about them in the job posting.
Applicants get more information about a company through the company's LinkedIn page, website or in the interview.
You want to keep your job listing short anyway, so save that prime real estate space for other important highlights you want to share about the job.
5. Share Expectations Upfront
Sharing job metrics can be extremely helpful to job candidates. Sharing measurable goals lets applicants know about your expectations upfront and may contribute to a more qualified talent pool that applies to your job.
6. Post The Job Posting Early In The Week
Early week job postings can produce more applicants as many prospects apply for jobs on Monday, Tuesday, and Wednesday.
7. Embrace Diversity By Using Gender-Neutral Language
Did you know that how you word your job listing can be geared more toward one gender than others?
Recent surveys and evidence suggest that job advertisement wording made one gender feel less interested in applying.
LinkedIn suggests avoiding using words in your job posting like these:
Should Employers Be Using Keywords In Their Job Postings?
Keywords are important to use in job postings. LinkedIn has said that they recommend using keywords in your job posting. If you include these words in your job posting, you'll be more likely to attract talent looking for jobs like yours.
Additionally, one of the best ways to find employees through a LinkedIn job posting is by promoting the job posting.
While this is optional, it's a great way to expand your search and find the qualified candidates 3X faster than if you did a free LinkedIn job posting.
Frequently Asked Questions
Is posting a job on LinkedIn free?
You can post a single job for free on LinkedIn. You can also choose to promote a single job or multiple jobs with a budget that varies depending on factors like the job title and location. 
How does LinkedIn Recruiter work?
LinkedIn Recruiter offers advanced search, messaging, and analytics features to HR professionals who need to hire more than five employees per year or have hard-to-fill jobs. Recruiter includes 150 InMail messages per month, templates, bulk messaging, and ATS integration. 
How can employers use LinkedIn? 
Employers can use LinkedIn to source candidates, post jobs, connect with potential hires, and develop their employer brand. LinkedIn offers a range of talent solution products including LinkedIn Jobs, LinkedIn Recruiter, LinkedIn Career Pages, and LinkedIn Talent Insights. 
What is the difference between LinkedIn Recruiter and Recruiter Lite?
LinkedIn Recruiter offers additional search filters, unlimited profile views, and advanced reporting and analytics tools. Recruiter Lite is a scaled-down version of the same; for example, Lite includes 30 InMail messages per month compared to Recruiter's 150 InMail messages per month.
The Bottom Line
LinkedIn offers a wide network of potential candidates and talent solution tools for just about any budget (including free job postings for small businesses). It's a solid choice for employers who are looking to post jobs, access talent tools and analytics, and gain insight into the job market in their area. 
If LinkedIn doesn't have what you are looking for, we recommend ZipRecruiter as another option.