In this Glassdoor review, we're not only going to provide the features, plans and pricing the site offers, but also highlight specifically what the job board can do for employers and employees and – in some cases – what it can't.
This review will focus on Glassdoor, however, if you are looking for other options, we would recommend ZipRecruiter. ZipRecruiter offers free job searching for jobseekers and a free trial for job seekers.
For employees, Glassdoor serves not only as a site to search for jobs, but also one where you can enter reviews on your employer. And if you're looking for a job, you can take advantage of the employer reviews provided by other employees. That'll give you a view of prospective employers from people who are already working there.
What is Glassdoor?
Glassdoor is an online job board where jobseekers can come to find available positions in their respective fields. But it's special niche is that it's a platform where employees can rate their employers. That gives jobseekers an opportunity to find out what's going on in a company from those who are already there.
For employers, Glassdoor no longer accepts direct job postings. Instead, it's a site where employers can help build their brand. This is important because of the Glassdoor employee reviews. Employers can establish their brands on the platform, giving job seekers another opportunity to evaluate their companies.
Glassdoor For Employers
For employers, Glassdoor is a platform where you can manage your employer brand. That's important because it's a popular site where employees post reviews on employers, possibly including yours.
Properly branding your company can help you stand out among the many that are being reviewed. But it may also provide an opportunity to evaluate employee reviews of your business, and where you may be able to make improvements.
Glassdoor Features for Employers
Managing your employer brand is accomplished through the following tools:
Providing basic company information and your mission statement – Glassdoor gives you an opportunity to display these on a popular job board, giving jobseekers a closer view of your company and what it's all about.
Review requests and responses – this is your opportunity to respond to,  and address employee reviews, particularly those that are negative.
Even though you can't post jobs on Glassdoor, you may want to take advantage of the free plan for the review requests and responses feature. That will enable you to respond to, and ask for more reviews, with custom email templates and shareable link tracking features.
Access employer profile analytics – determine how your brand is perceived by job seekers, by filtering ratings and reviews by job title, location and employment status.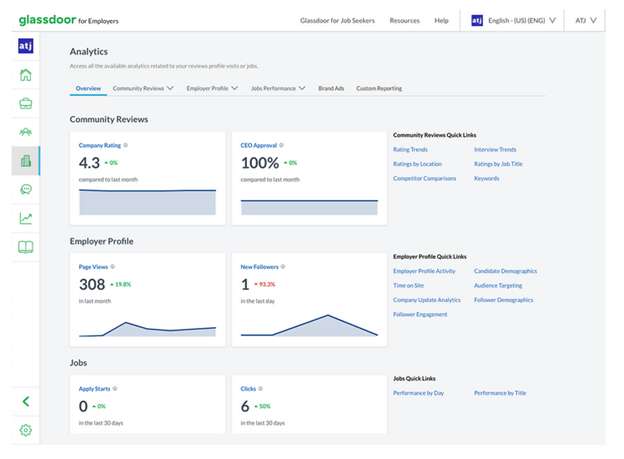 How To Post A Job On Glassdoor For Employers
At one time, Glassdoor did accommodate job postings by employers. But since their partnership with Indeed, you'll be directed to post jobs on that site instead. For more detailed instructions, check out our guide on how to post a job on Glassdoor.

Glassdoor For Job Seekers
As a job seeker, you'll want to use Glassdoor not only to search for job opportunities, but also to take advantage of the many tools offered to help you in that search.
For example, Glassdoor has detailed reports on employment-related categories, like the best jobs in America, best places to work, top CEOs, and best cities for jobs.
But perhaps what Glassdoor is best known for in connection with job seekers are their employer reviews. Reviews will give you an opportunity to see what the company and its culture are like from the inside, by people who work there every day. That includes an overall rating (based on a scale of 1 to 5 points), the percentage of reviewers who would recommend the company to a friend, and the percentage who approve of the company CEO.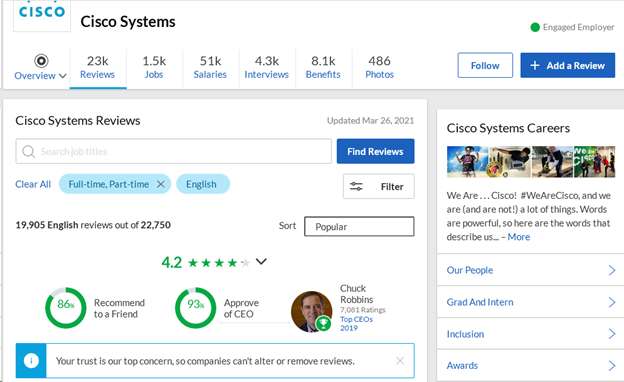 How To Find And Apply For Jobs On Glassdoor
To begin applying for jobs on Glassdoor you'll start by creating an account. You can sign up with Facebook or with Google, or you can enter your email address and create a password to make that happen.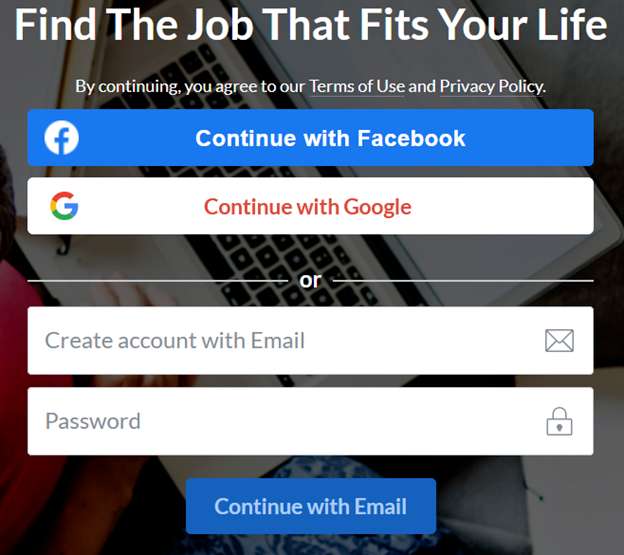 Once you sign up for the site, you'll be able to access all posted jobs. As you can see from the screenshot below, you'll be able to choose specific jobs, companies, salaries, distance, and other criteria to narrow your job search.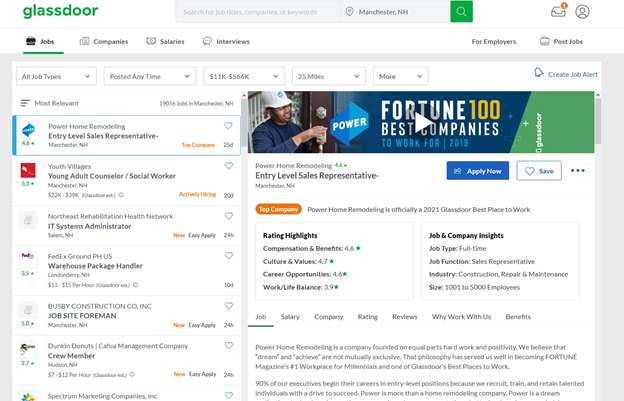 Each job you pull up will not only include a basic description of the company, but also the ratings. Those include ratings on compensation and benefits, culture and values, career opportunities, and work/life balance. All will give you the ability to look beyond position and salary, to do a deep dive into the company, its culture, future potential and the ability to blend working at the company with your lifestyle.
Glassdoor Pricing
Glassdoor is vague on pricing. They offer a free plan for employers, as well as two premium packages. But the only way to get pricing on those plans is to contact the sales department.
As to the free plan, it includes basic company information and mission, company logo, company updates, review requests and responses, promotional badges, and community submitted photos. They also provide rich analytics. This includes employer profile activity, candidate demographics, rating and interview trends, and company update analytics.
Once again, however, the ability to post jobs on Glassdoor no longer exists. You'll be directed to post those ads on Indeed.com instead.
Glassdoor is free for job seekers. 
Glassdoor vs The Industry: What to Expect 
Since the partnership with Indeed, Glassdoor is a much more limited platform. Since they no longer accommodate job postings, the primary purpose of the site for employers is employer branding. Jobs must be posted through Indeed, which has the benefit of being the largest job board in the industry, as well as an opportunity to post jobs completely free of charge. (That said, since Indeed is such a vast job posting board, you will likely need to pay a fee to have your job post moved to the top of the list.)
If you're looking for a more comprehensive and predictable job board, ZipRecruiter – also one of the largest job boards available – will post your job on more than 100 different job boards. It is a pay-for-posting service, but your ads will get the exposure you need them to have at a predictable price.
As an employee, either ZipRecruiter or Indeed will be the better choices for your job search, since they include many more job listings. The primary benefit of Glassdoor is for employees is the ability to either post reviews of your employer, or read the reviews of other employees in choosing the company you want to work for.
Frequently Asked Questions 
How much does it cost to post a job on Glassdoor for a one-time posting?
Back when Glassdoor did accept job postings, they charged $64.90 per ad. But with the partnership with Indeed they no longer accept job postings.
Does Glassdoor post a job to other job boards too?
Yes, through it's alliance with Indeed.com. Since Indeed.com is the most popular job board there is, a job posted there will appear on multiple platforms.
Is Glassdoor free for job seekers?
Yes it is. There's no fee for job seekers to use the platform, whether to seek employment opportunities or to rate current or former employers.
Is Glassdoor legit?
Absolutely. Glassdoor is one of the most respected online job search resources in the industry. In addition to the ability to find a job, which ultimately is through Indeed.com, Glassdoor is a critical platform where employees can rate employers. It's a legitimate opportunity for job hunters to evaluate employers from the people who are working there, or have in the past.
Now that it's partnered with Indeed.com, what is Glassdoor used for?
For employees, it's an opportunity to both post reviews of employers, as well as a source of salary information, and for job hunters to read employee reviews in evaluating prospective employers. For employers, Glassdoor offers an opportunity to manage their profiles on the site and improve company branding.
The Bottom Line
If you're an employer looking to post a job, you'll be doing that through Indeed.com, but not Glassdoor itself. But it will be important to take advantage of the employer branding feature on the site to present the best image of your company.
If you're looking for a more comprehensive site to find qualified candidates, check out ZipRecruiter. It can help with all your hiring needs. If you're ready to add to your team, consider listing your job opening on ZipRecruiter!