Spoiler alert: Breezy is our top pick for recruiting software. It's intuitive, easy to use, and has extensive reporting features.
If you still need to post a job online, we recommend ZipRecruiter (it rated as our best overall job board again this year.)
If you're looking to simplify and automate the recruitment and hiring process, recruitment software can be a game-changer. It offers benefits like improved efficiency, better tracking of applicants, and freeing up time for more critical tasks. Our comprehensive list of the best recruitment software can help you find the right fit for your needs and ensure you make the most of this valuable tool.
To make hiring simple, ZipRecruiter integrates with many different applicant tracking software (ATS) options. You can seamlessly post jobs to ZipRecruiter from your ATS. Get started with your free trial of ZipRecruiter today!
Best Recruiting Software of 2023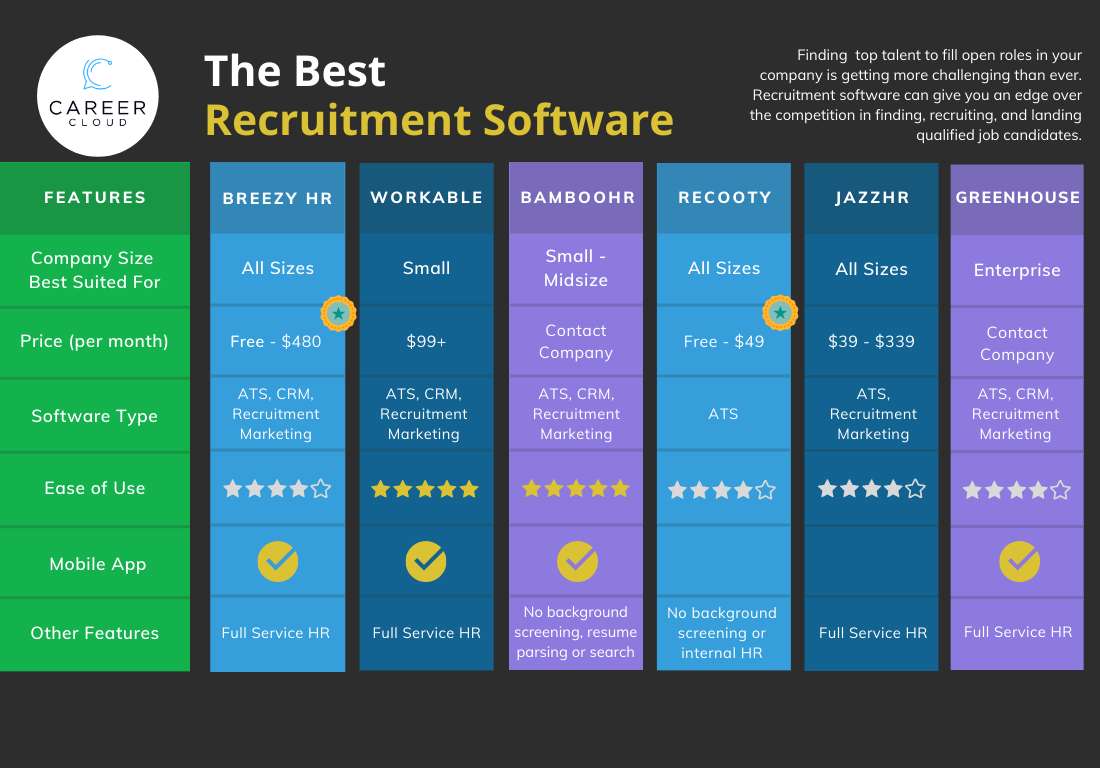 Reviews Of The Best Recruitment Software
New recruitment software is constantly popping up as the need for quality recruitment help grows. Here is a look at the best recruitment software right now.
Breezy is a dream ATS software for individuals involved in recruiting. Used by over 10,000 companies, Breezy gives you access to a laundry list of recruitment tools to automate, track, and analyze the entire process. Features include:
Customized reports on every aspect of recruiting
Candidate management tools
Automated communication, including email and text messaging
Interview scheduling and management
Sourcing help via a candidate database and sourcing extension
Job posting advertising on over job boards with one click
Team access for collaboration
Breezy features a clean, intuitive interface that's easy for anyone to use. The software is great for beginners and more experienced recruiters. It also allows for email and calendar integrations.
Many Breezy users found the intuitive interface and handy mobile app sped up their company's hiring process as their teams could collaborate quicker on decisions. Some users found that Breezy helped them reduce unconscious bias from their hiring process. They also noted that promoting openings on the software's job board was simple and quick.
Not everything about Breezy is positive. Some users found certain features clunky, like the email integration and the software's search function.
Pricing
Bootstrap: Free
StartUp: $171/month, $143/month (paid annually)
Growth: $299/month ,$249/month (paid annually)
Business: $479/month, $399/month (paid annually)
Workable - Best Scalable Recruiting Software
Workable is geared towards small businesses that are hiring new employees. It's a comprehensive recruiting software with mobile recruiting and collaboration. Workable streamlines every part of the recruitment process. It easily integrates with tons of other recruiting tools.
Employers have access to hundreds of job description templates and email templates, and a host of other helpful resources. Workable allows recruiting staff to collaborate in one central spot. Another positive is that many companies didn't require much training to get employees up and running in the software. The thoughtful design and intuitive nature of Workable makes it easy to employ quickly.
Most HR professionals using Workable didn't need much help from support, but when they did, Workable's staff typically responded quickly to solve the issue.
Pricing
Free 15 day trial available
Paygo: $99 per job, per month
Core: Contact company for a customized quote
Growth: Contact company for a customized quote
Premier: Contact company for a customized quote
BambooHR - Best For Midsize Businesses
BambooHR offers recruitment software for small to midsize businesses. It is considered human resources software but also comes with a host of recruiting features that makes it one of the most versatile recruitment software tools around.
BambooHR users get access to:
ATS capabilities
Mobile hiring app
Employee analytics and reporting
Onboarding
BambooHR is great for companies looking for recruiting help and have other HR needs to fill.
People seem to like BambooHR's centralized homebase for team announcements and other vital data. The software is intuitive for users and administrators and the ATS feature is easy to use.
Some users found BambooHR's interface tricky to navigate. Others found the payroll feature difficult to use, specifically the time-keeping component. Overall, though, most HR professionals thought the simplicity of using the software outweighed any issues they encountered.
Pricing
Free trial period available
BambooHR Essentials: Contact company for a customized quote
BambooHR Advantage: Contact company for a customized quote
Add-on features: Available for an additional cost
Recooty - Best Value
Recooty is an all-in-one recruiting solution. It's also one of the few recruitment software companies that offer a completely free plan.
With Recooty, employers can create ideal job descriptions and post them to the top online job boards, social media accounts, and your career page with one click. Recooty helps you build a custom career page to attract the best talent.
Recooty also comes with ATS features like candidate importing, interview scheduling, and a handy dashboard for reviewing job applications received.
Recooty's user interface makes it easy for teams to collaborate during the hiring process. Some users felt using Recooty helped increase productivity among their team. Also, it allows you to quickly post job openings on your own site or platform with just a few clicks. Overall, Recooty earns high marks for packing a huge amount of value for less than many competitor software companies.
Pricing
Basic: $0
Pro $29/month, $299 annual plan
Ultra: $49 / month, $499 annual plan
JazzHR - Best For Small Businesses
JazzHR is a high-powered recruiting tool that does basically everything. Depending on the package you sign up for, you'll have access to tools for almost every part of the recruiting and hiring process, including:
Employer branding
Candidate sourcing
Applicant tracking
Collaborative recruiting
Offer management
E-Signatures
Compliance and reporting tools
HR professionals using JazzHR currently love how easy the program is to navigate, especially when posting open job positions. Several user reviews mention that aggregating resumes and scoring job candidates was a breeze with JazzHR.
Another popular feature was the software's search function, which allows you to search candidates by name, email address, or phone number. The ability to customize your workflow also makes JazzHR a popular choice. With that said, some users received poor training sessions. Also, depending on your onboarding process, JazzHR may not jive with other platforms, like drug testing or background checks.
JazzHR is a great tool for companies who want to streamline the hiring process and want recruiting tools their whole team can use.
Pricing
Hero: $39/month (paid annually)
Plus: $229/month (paid annually)
Pro: $339/month (paid annually)
Greenhouse - Best For Enterprise Customers
Greenhouse is an applicant tracking system geared towards enterprise customers. It comes with an incredible catalog of recruiting and onboarding tools. Greenhouse helps your team from the beginning of the recruiting process to the end and beyond. Features include:
Candidate sourcing
Customized reports
Recruiting and event mobile apps
CRM talent database
Candidate measuring tools
Customizable email templates
Surveys to measure candidate experience
Greenhouse may be overkill for small business customers, but larger companies will love all of the extra tools and features included with Greenhouse. This ATS is known for extensive program integrations. It also allows HR staff to view hiring progress across the board. Tracking job candidates is a breeze with Greenhouse.
For the most part, Greenhouse is a star among ATS on the market, but it's not perfect. Some companies felt that there was a lack of good training resources during the implementation period. The learning curve can be steep for some new users.
Pricing
Essential: Contact company for a customized quote
Advanced: Contact company for a customized quote
Expert: Contact company for a customized quote
Types of Recruitment Software
Several different types of recruitment software exist to help employers and recruiters manage the hiring process. Here's a look at some of the most common types of recruitment software.
Applicant Tracking Systems (ATS)
Applicant Tracking systems help you organize, assess, and make quicker decisions on job candidates. Different ATS types exist that perform other functions.
Candidate Relationship Management (CRM)
CRM recruitment software helps to automate and personalize communication with potential job candidates.
Recruitment Marketing Software
This software helps employers create attractive branding, including a compelling career page to promote your company to top talent.
Sourcing Software
Sourcing software helps source the best job candidates available.
Benefits of Using Recruitment Software
Finding top talent to fill open roles in your company is getting more challenging than ever. Recruitment software can give you an edge over the competition in finding, recruiting, and landing qualified job candidates.
Improve Productivity 
Recruitment software is also a time-saver for you and your company.  Having a central process and spot for all of your recruitment efforts saves time and money. Many of the best recruitment software comes with mobile access, giving you access to recruiting on the go from almost anywhere.
Using software cuts down on time spent filling out forms and paperwork. It can also cut down on lag time when communicating with other staff involved in the hiring process. Recruitment software automates many of the tasks during the recruitment process.
Find Better Talent 
Perhaps most importantly, recruitment software can help you find the best possible candidates for jobs at your company. Recruitment software allows you to analyze sourcing efforts to determine the best methods for you to use to find employees online. It also helps you narrow the field down through tailored searches and other tools.
Increased Time Recruiting 
Another benefit is that recruitment software works outside of regular office hours, so you don't have to. It works 24/7 whether you're at the office or sound asleep in your bed at home.
How To Know If Your Company Needs Recruitment Software
Recruitment software is becoming more popular among big and small businesses. The value provided typically outweighs the cost involved, especially if you end up filling crucial roles in your company with top talent. But how do you know if your company needs recruitment software? Here are three signs that your company should think about investing in recruitment software.
Your recruitment process is primarily manual
If you still post jobs, fill out paperwork, and send rejection letters manually, you should think about adding recruitment software to your process. The extra time spent doing menial tasks could be spent on more important parts of the recruitment process, like connecting with recruits, assessing talents, and collaborating with your recruitment team.
Using software can automate many of the tasks that bog down your day and keep you from making real progress filling job openings.
Communication between you, your team, and job candidates is lagging behind
Recruitment software allows you to communicate directly with candidates and recruitment staff without relying on ten different forms of communication. Everything is housed within the recruitment software. Candidates appreciate excellent communication throughout the process, even if you ultimately don't choose them for the job. It also keeps your team on the same page and lets you trade notes on possible candidates.
You're missing out on the best job recruits
Without recruitment software in place, you could be missing out on some of the best candidates. Recruitment software keeps you on track with candidates who apply. Some even help you find qualified candidates before they even apply for a job online. Recruitment software can streamline the process, so you don't lose out to competitors because of slow response times and poor communication.
Frequently Asked Questions 
WHAT IS RECRUITMENT SOFTWARE?
Recruitment software is software designed to help employers and recruiters manage and streamline the employee recruiting process. Using recruitment software allows companies to track candidates and the entire hiring process from start to finish.
WHAT IS THE BEST RECRUITING SOFTWARE?
There are several different types of recruiting software, and the best one depends on your specific needs, the size of your company, and your budget.
HOW IS ATS USED IN RECRUITMENT?
Companies and recruiters use applicant tracking systems (ATS) to manage job applicants during the recruiting process. ATS automates many of the tasks required during the hiring process and creates one place online for your team to collaborate on hiring.
WHAT'S THE DIFFERENCE BETWEEN ATS AND OTHER TYPES OF HR SOFTWARE? 
Applicant Tracking Systems (ATS) are specifically designed to track job candidates in the pre-hiring phase. Features include sorting, tracking, and grading candidate resumes and CVs, scheduling interviews, collaboration between HR team members, and other aspects of the hiring process. Other human resource software deal with integrating job candidates after they've been hired.
WHAT'S THE DIFFERENCE BETWEEN RECRUITING SOFTWARE AND OTHER HR SOFTWARE? 
Recruiting software focuses on attracting candidates for open positions and other aspects of the pre-hiring phase. Features included with recruiting software include job opening templates and creation, one-click job posting, marketing and promotion of job openings and more.
WHAT IS A CRM FOR RECRUITING?
CRM stands for candidate relationship management. It helps employers and recruiters automate and personalize communication efforts with job candidates. Check out our guide to the best CRM software.
The Bottom Line
Using the best recruiting software could revolutionize your company's recruiting efforts. You can integrate the most popular recruiting software with Ziprecruiter to increase your recruiting success even more. If you are ready to add to your team, consider using ZipRecruiter services for employers.
Related: How To Create A Recruitment Process