If it's time to go into job search mode, you may be wondering how to put volunteer work on your resume. Don't worry — we've got you. We'll explain when you should list your service (and when you shouldn't), discuss which details you should include, and show you where you should put the information. That way, your noble contributions to society help you land your next position.
Why Include Volunteer Work On Your Resume
Before we get into resume writing techniques, let's explore the rationale behind including volunteer work on your resume. The reason is simple: it helps you stand out, which is the purpose of any information you list.
Including your community service experience paints you in a positive light because your commitment to helping others indicates that you embody empathy, compassion, and generosity — all traits a hiring manager would love to see in a new team member. Plus, you may have gained skills and achieved goals that align with your next career move during your service.
Related: How To Write A Resume
When To Include Volunteer Work On Your Resume
You should include volunteer work on your resume when:
It directly ties to the paid position you're pursuing. It all comes down to relevance, so if there's a connection between your volunteer job and your next professional opportunity, make it obvious in your application.
You don't have much (or any) paid work experience yet. Even though you didn't get a paycheck, your achievements in the role count just as much.
You have a gap in your resume. Potential employers will like seeing that you stayed busy, continued to learn new skills, and spent your time away from the office helping others.
You want to get hired at a non-profit. The hiring manager at a charitable organization will like seeing you have a heart for service.
Your target organization prides itself on giving back to the community. Your volunteer work will signal that you're a good fit for the company's culture.
On the other hand, you probably want to leave volunteer work off of your resume when:
You completed your service years ago. Since then, you've learned and achieved other things, so you should focus on your recent experience.
Listing it would mean omitting other, more impactful information, like current paid experience, education, professional certifications, industry awards, etc. You only have so much space and time to impress the hiring manager, so choose what you include wisely.
Remember: What you include on your resume is a personal decision. Sometimes, you have to go with your gut, regardless of conventional wisdom.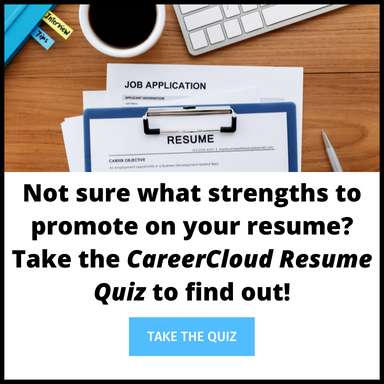 How To Include Volunteer Work On Your Resume
You can include volunteer work on your resume in one of two places — within your professional experience section or under a separate heading. If your volunteer work is highly relevant to your target position, or you have little to no other employment history, you should write about it in your professional experience section. But, if your charitable efforts have no direct tie to the job you're pursuing, or you've been employed for many years, it's best to describe your volunteer work in its own segment.
Under Professional Experience
Let's say you're applying for a paid Social Media Manager position. If you list your relevant volunteer work within your professional experience section, it should look something like this:
Volunteer Social Media Manager
ABC Organization, Anytown, USA
January 2019-present
Established the organization's presence on five social media platforms (Facebook, Twitter, Instagram, Pinterest, and TikTok) within one month.
Join The Break Community
14000+ subscribers Breaking their careers to win at work and life.
Created and posted new content on each platform three times per week.
Grew average Facebook post likes from one to 50.
Doubled the dollar amount of donations received through social media marketing campaigns to $250,000.
Under Volunteer Experience
But, if you write about your volunteer work under its own heading, it should look something like this:
ABC Organization, Anytown, USA
January 2019-present
Created and executed the organization's first social media marketing strategy.
Generated an additional $125,000 in donations through social media posts.
As you can see, both of the options above look similar. However, you'll want to provide more detail within the professional experience section — especially if this is the only item in your work history.
If you've done various volunteer work for multiple organizations, you could also represent your experience like this:
Served lunch at my local soup kitchen once per week for the past three years.
Built a five-page website for an area women's resource center.
Picked up trash at my local park every Earth Day since 1995.
While the above points may or may not be related to the job you're applying for, including them shows a commitment to service, which most employers will find attractive.
How To Get Your Volunteer Experience Section Right
Follow these best practices to maximize the impact of your volunteer experience on your employment prospects.
Think like a hiring manager
Ask yourself: Why would a company care about my volunteer work? Then, be sure to tailor what you include (and what you don't!) to that answer.
Include specific, quantifiable achievements whenever possible
Numbers help tell a vivid story — and sell your capabilities — to a hiring manager.
Find the relevance
Sometimes, the tie between your volunteer experience and your target position may not be obvious. But, with some creativity, you can make the connection.
For example, let's say you volunteered at a nursing home and coordinated various activities for the residents while you finished up your Bachelor's degree. Now, as a recent graduate, you're applying for a paid position as an Events Coordinator at a hotel. On the surface, the two roles don't have much in common.
But, you could list your volunteer work like this to wow the hiring manager:
Volunteer Lead Activities Coordinator
ABC Nursing Home, Anytown, USA
January 2019-present
Created a monthly activities schedule, which included at least two different events each day. (Demonstrates the ability to plan and schedule.)
Worked within an established annual budget to purchase goods and services to enhance recreation and entertainment programming. (Demonstrates the ability to manage money and work with vendors.)
Oversaw a team of five other volunteers and dispatched them to run various activities. (Demonstrates leadership and management skills.)
Hosted at least four events per week, documenting resident attendance and participation. (Demonstrates people skills and the ability to do paperwork.)
Remember: If you look hard enough, you can identify hard and soft skills you learned while volunteering that will benefit your career.
Where To Get Help With Your Resume
There are lots of resources out there to help you DIY your resume. But, sometimes, you may want a little more guidance. If you'd like expert assistance during your job search, check out our list of the best resume writing services. Each service provider can help you convey your volunteer work experience in the best way.
The Bottom Line
Your charitable efforts can be an impressive addition to your next employment application. But, you have to include them strategically to be effective. Hopefully, you now have a better understanding of how to put volunteer work on your resume.