Time tracking software solves a common problem many businesses face. According to this study, 30% of business professionals say manual time tracking is one of the most time-consuming processes. More than half of workplaces are victims of time theft, where employees are reporting hours on their timesheet that they didn't work.
Time tracking can be managed easily, so accurate time reporting can happen and employees can effortlessly clock in the right time. In this article, we will review the best time tracking software options to help you making time tracking easy and automated.
What is Time Tracking Software?
Time tracking software is online software that allows employees to track the time they work. This is helpful when you want to look at metrics like:
Total time spent on the project

Time tracking for specific tasks

Total time worked for pay
Employers can use it for tracking the time employees work so they can accurately pay them for the hours worked. Freelancers use time tracking software to bill their clients for the time worked on the project. And, time tracking software can be useful for individuals who want to manage the time worked on personal or business projects.
Here are 5 of the best time tracking software tools online.
The Best Time Tracking Software
Reviews Of The Best Time Tracking Software
1. TIME DOCTOR - BEST FOR ALL-IN-ONE TIME TRACKING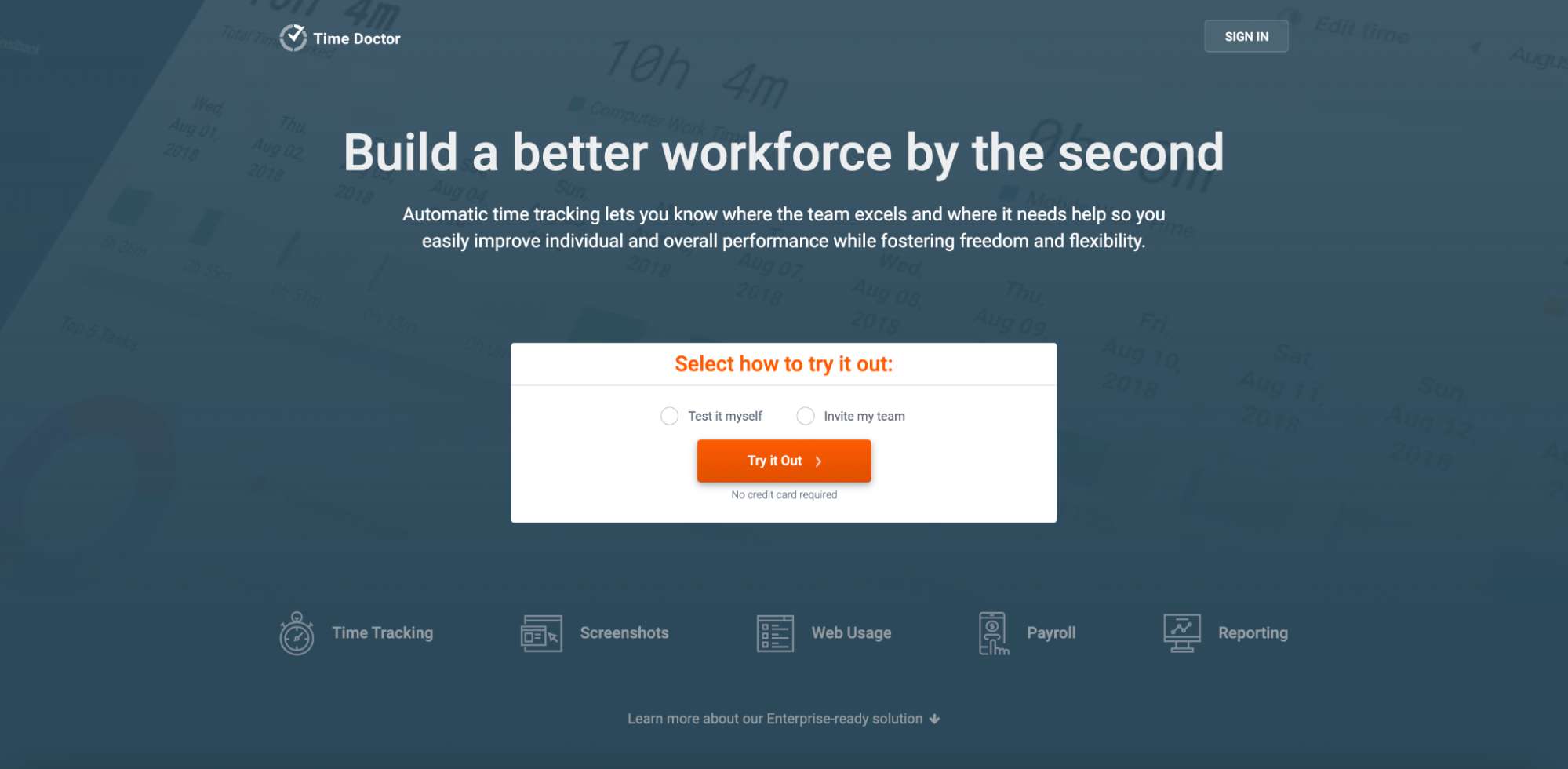 Time Doctor is one of the best time tracking tools on the internet. It's a total solution for managing projects and payroll.
Time Doctor lets you:
Get valuable insights about productivity in real-time
Analyze how your team spends their time
Track program/app usage
Set alerts for time use
Process payroll automatically
Where It Excels
Ease of use
Affordable
All-in-one solution providing time tracking, reporting, and more
Where It Falls Short
Distracting alerts
The user interface is not sleek and modern
Inaccuracies in reporting, according to some users
Pricing
Time Doctor has 3 billing plans ranging from $7 to $20 per month, per user. Each plan comes with a free 14-day trial to test drive the software.
The main difference between each of the 3 billing plans is the number of features available.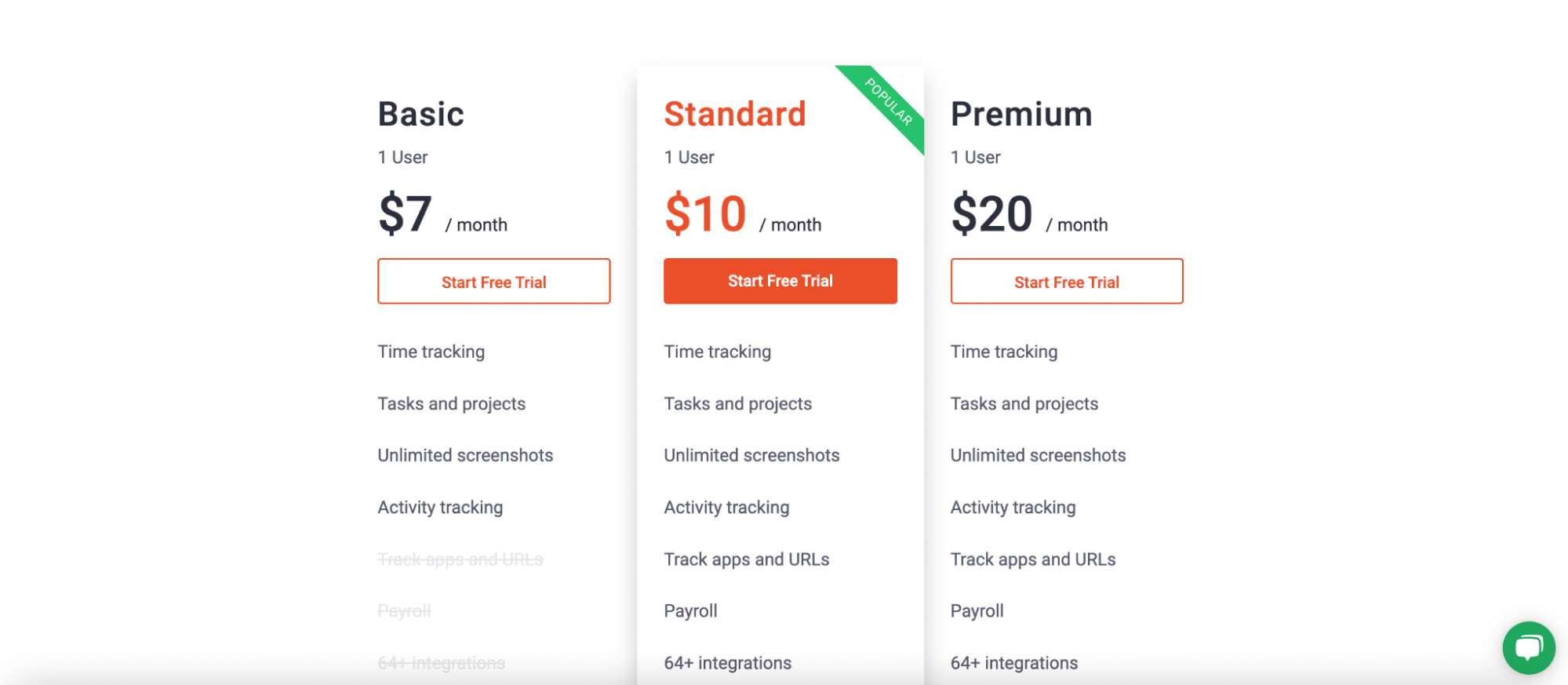 The Basic Plan for $7/month per user gives you access to features like basic time tracking for 1 group or department and a 3 day turnaround time for support.
The Standard plan for $10/month per user is the most popular plan. You get everything in Basic plus the ability to track apps and programs, manage payroll, daily email notifications, and features like managing up to 3 groups or departments and a 24 hour turnaround time for support.
Premium is $20/month per user and gives you full access to all the tools and features available by Time Doctor. You get everything in Standard plus client login access, VIP support, concierge account setup, managing unlimited groups or departments, and a 24 hour turnaround time for support, among other features.
Start your free 14-day trial with Time Doctor.
2. Toggl Track - Best for Managing All Workflows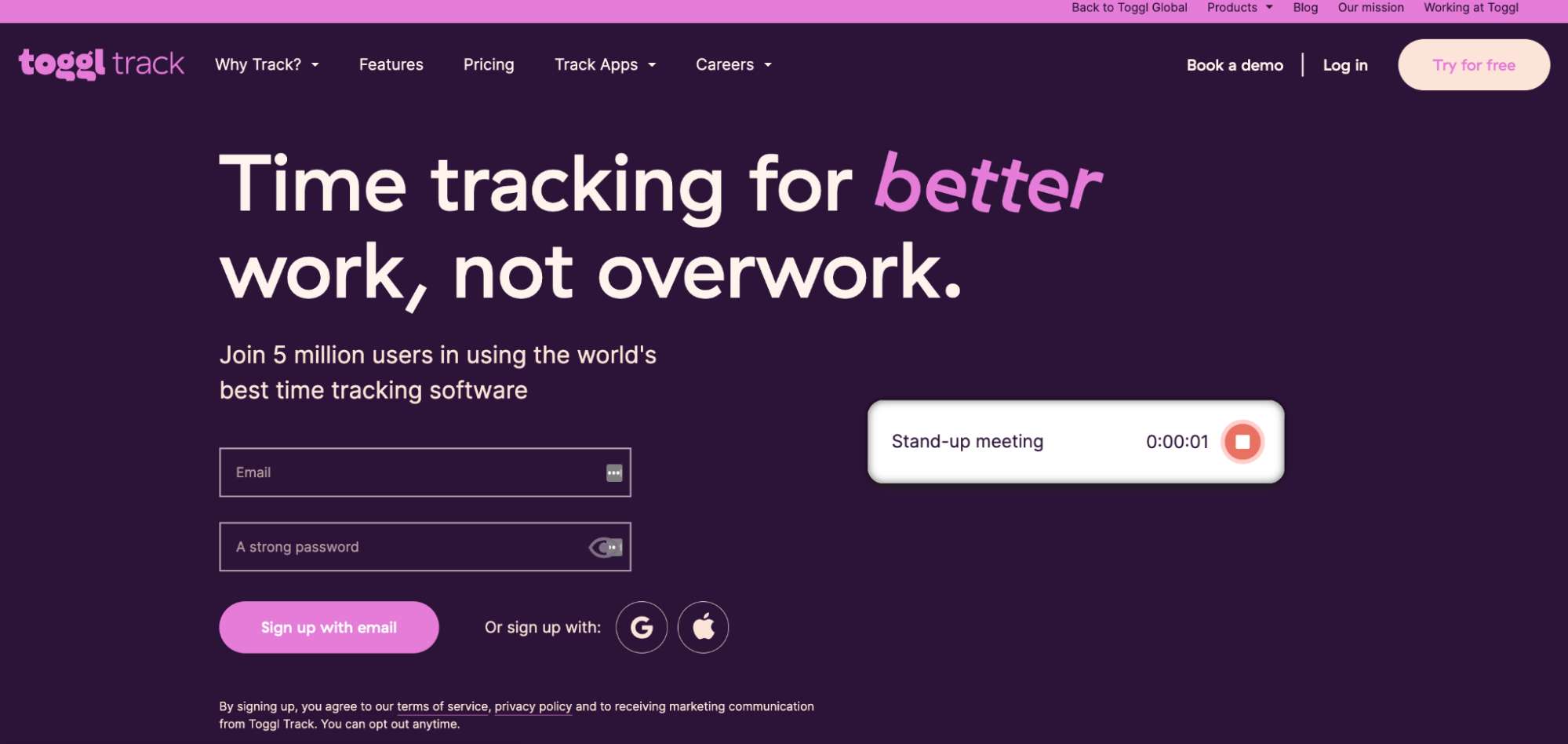 Toggl Track calls itself the world's best time tracking software. They offer a variety of options to help you track time for yourself or employees along with features like professional custom reporting, profitability calculation tools, with free and paid plans available to suit every budget.
They are highly rated and used by over 5 million users worldwide.
Toggl Track is great for managing your workflow whether you're working on your own or working on a large team.
Some of the features include:
Intuitive time tracking
Tracking reminders
Security and compliance
Available on web, desktop, and mobile app
Support team
Where It Excels
Free plan available
Affordable
Easy to use
Where It Falls Short
Limited features
Expensive
Pricing
Toggl Track includes a 30-day free trial. There are four plans available on monthly or annual billing, your choice.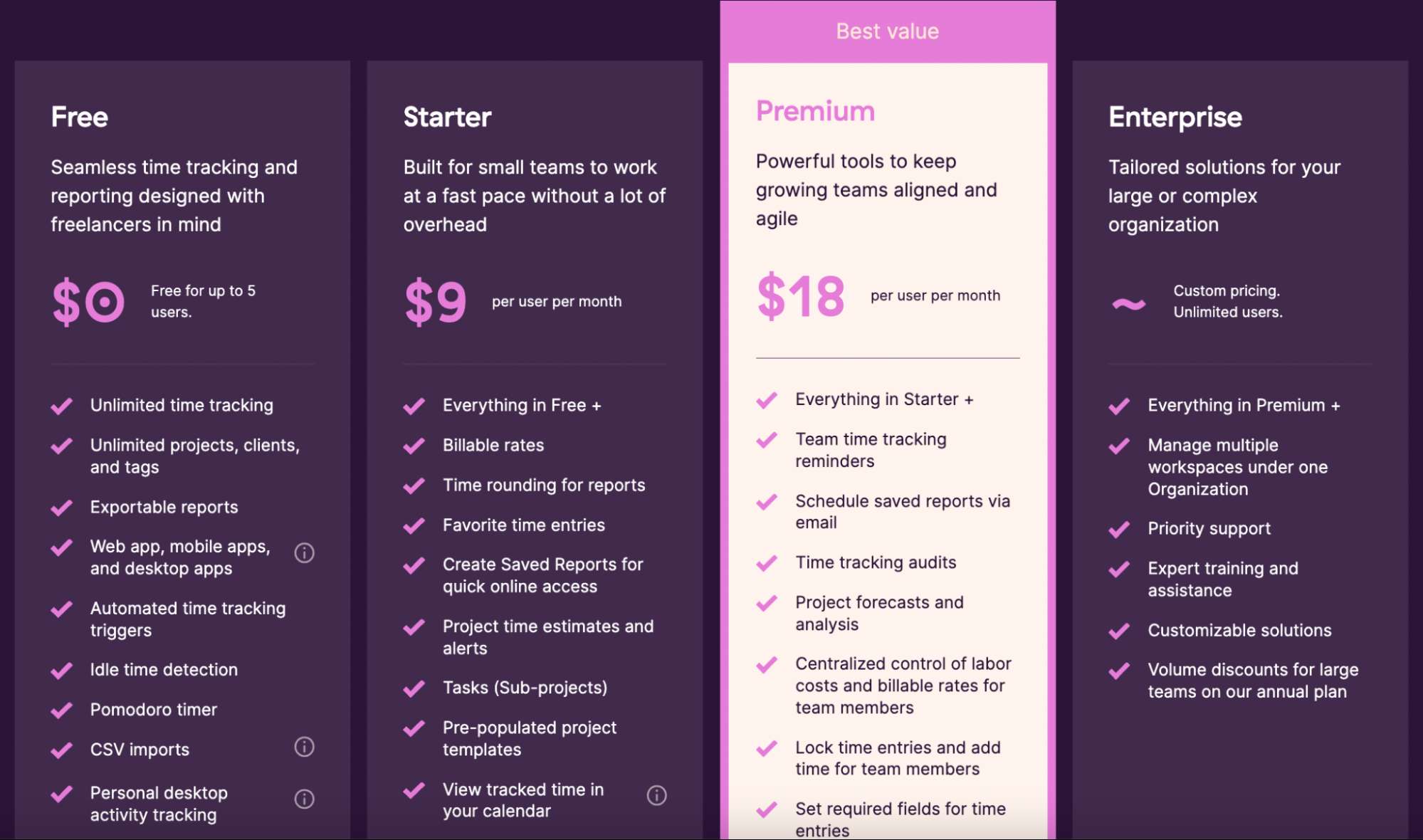 The Free plan is free for up to 5 users and gives you a lot of features for zero out of pocket expense. You get features like:
Unlimited time tracking, projects, clients, and tags
Pomodoro timer
Idle time tracking
CSV imports
Exportable reports
The Starter plan is $9/user per month (annual billing) and it's good for small businesses and small teams that need a little more than what the Free plan offers. It comes with everything in the Free plan plus features like:
Billable rates
Favorite time entries
Project templates
Project time estimates and alerts
The Premium plan is the best value for your money. It runs $18/user per month (annual billing). It's a great option for growing teams and includes everything in the Starter plan plus features like:
Team time tracking reminders
Project forecasts
Lock time entries
Single sign-on
The Enterprise plan is for large organizations. It comes with unlimited users and a custom price. This plan includes everything in the Premium plan plus features like:
Priority support
Expert training
Customizable solutions
Learn more about Toggl Track pricing and start your 30-day free trial.
3. Desktime - Best for Monitoring Your Own Productivity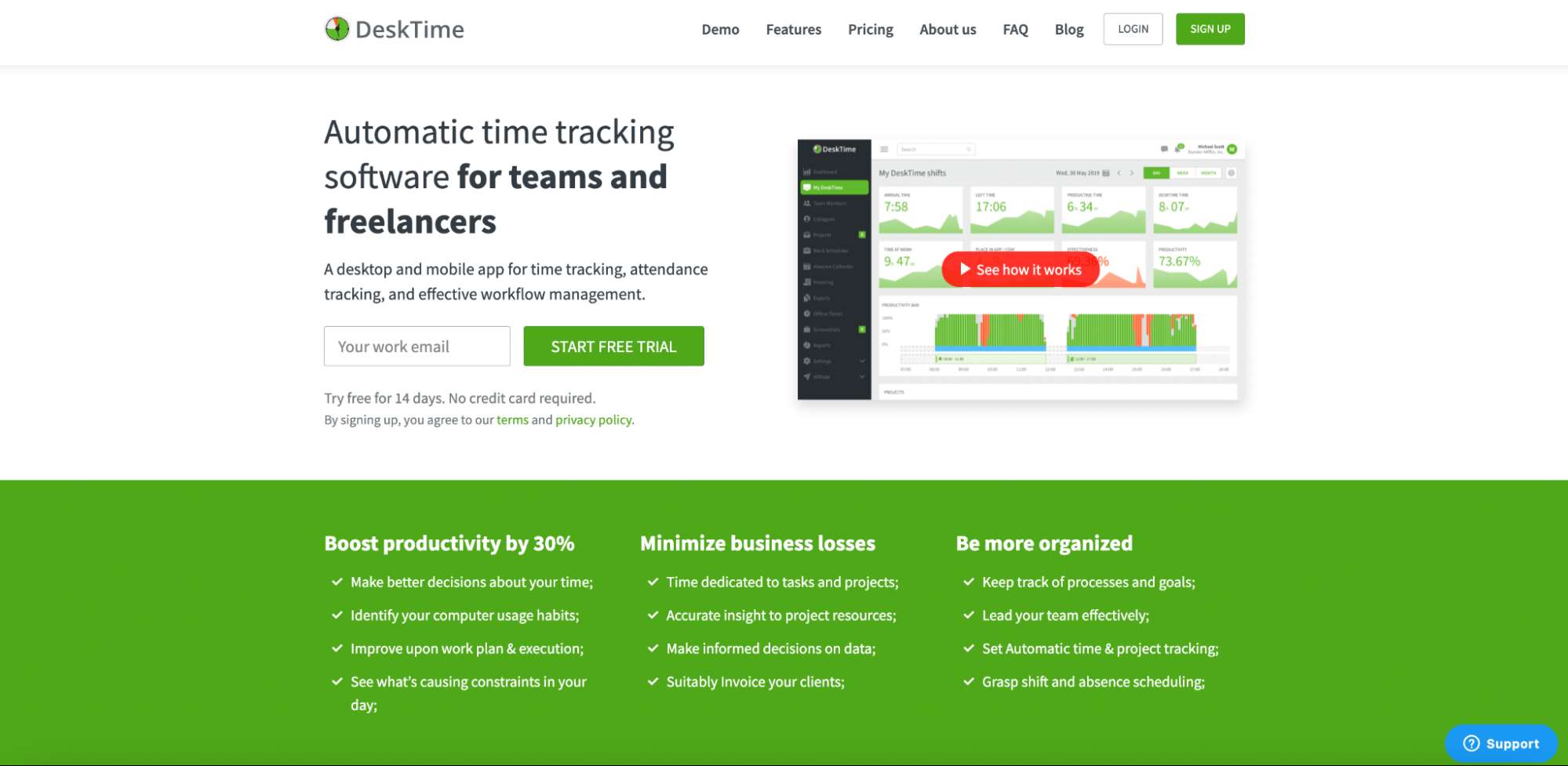 While many time trackers are designed for the employer or client to measure the time and analyze the productivity of their workers, Desktime works a little differently.
It's best for workers who want to track their own time.
Whether they want to measure how long it takes to complete a project, figure out how many hours they're actually working per week, or take a closer look at their productivity levels, Desktime is a solution.
This automatic time tracker is designed for teams and freelancers. So, it works both for self-measuring your own time and productivity as well as monitoring your team's performance.
You'll get features like:
Invoicing
Pomodoro timer
Absence tracking
Custom reports
Shift scheduling
Web timer
Join The Break Community
14000+ subscribers Breaking their careers to win at work and life.
Cost calculation
And, more!
One of the best features is the automatic time tracker which starts when you start and stops when you stop.
If you've ever stopped working and forgot to pause your work timer or you started work but forgot to turn on your time tracker, you won't have to worry about that with Desktime.
Where It Excels
Affordable
Great customer support
Easy to use
Where It Falls Short
Some features lag
App failures
Pricing
Desktime is free for 14 days and then you will get your choice of four billing plans, paid monthly or annually, your choice.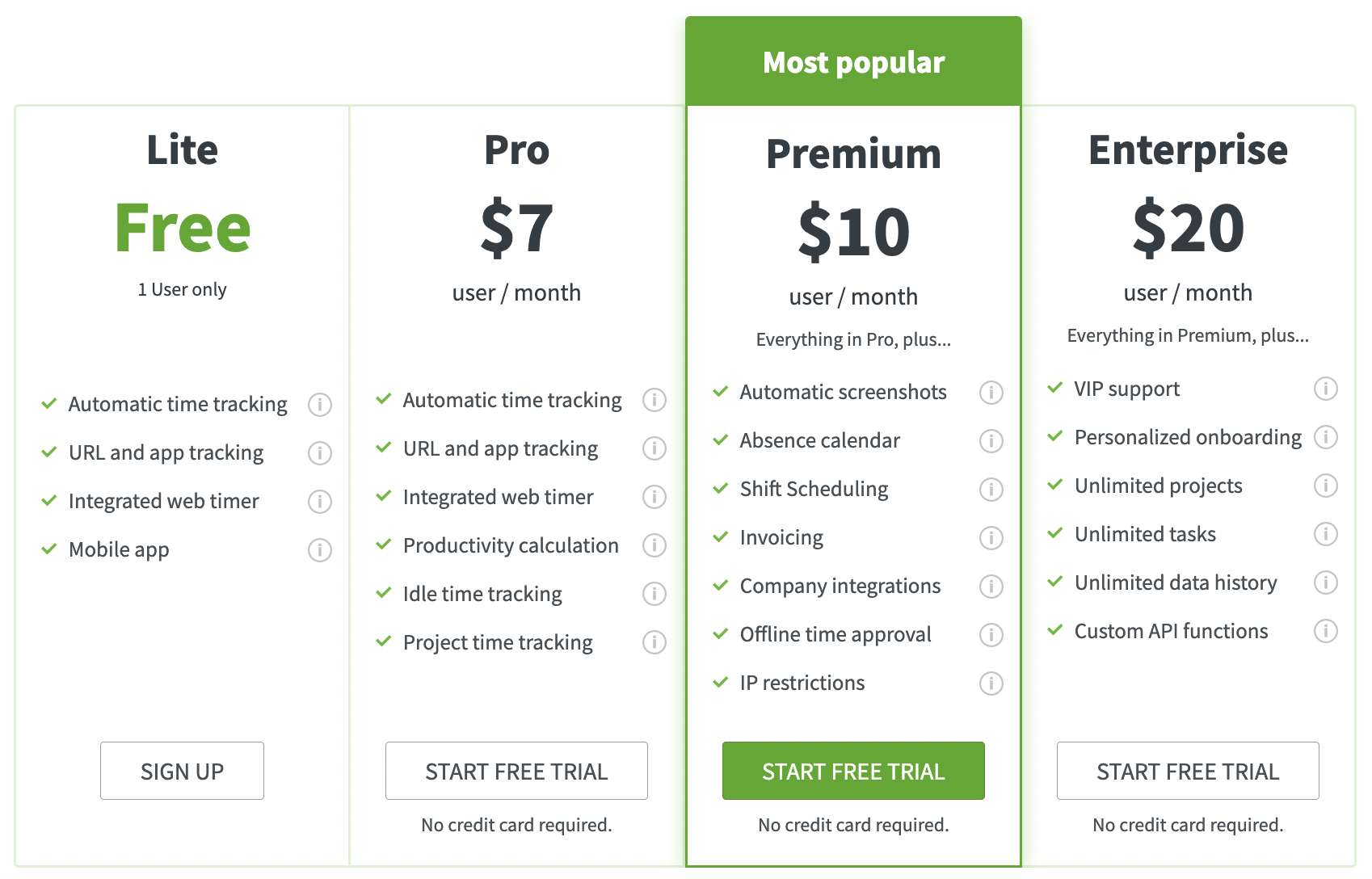 Lite - Free
One user
Auto time tracking
URL and app tracking
Integrated web timer
App
Pro - $7/month per user
Everything in Lite plus,
Productivity calculator including idle time tracking
Project time tracking
Premium - $10/month per user
Everything in Pro plus,
Absence calendar
Automatic screenshots
Shift scheduling
Invoicing
Company integrations
Offline time approval
IP restrictions
Enterprise - $20/month per user
Everything in Premium plus,
Unlimited projects, tasks, and data history
VIP Support
Custom API functions
Read more about Desktime pricing and get started.
4. Quickbooks Time - Best for Quickbooks Users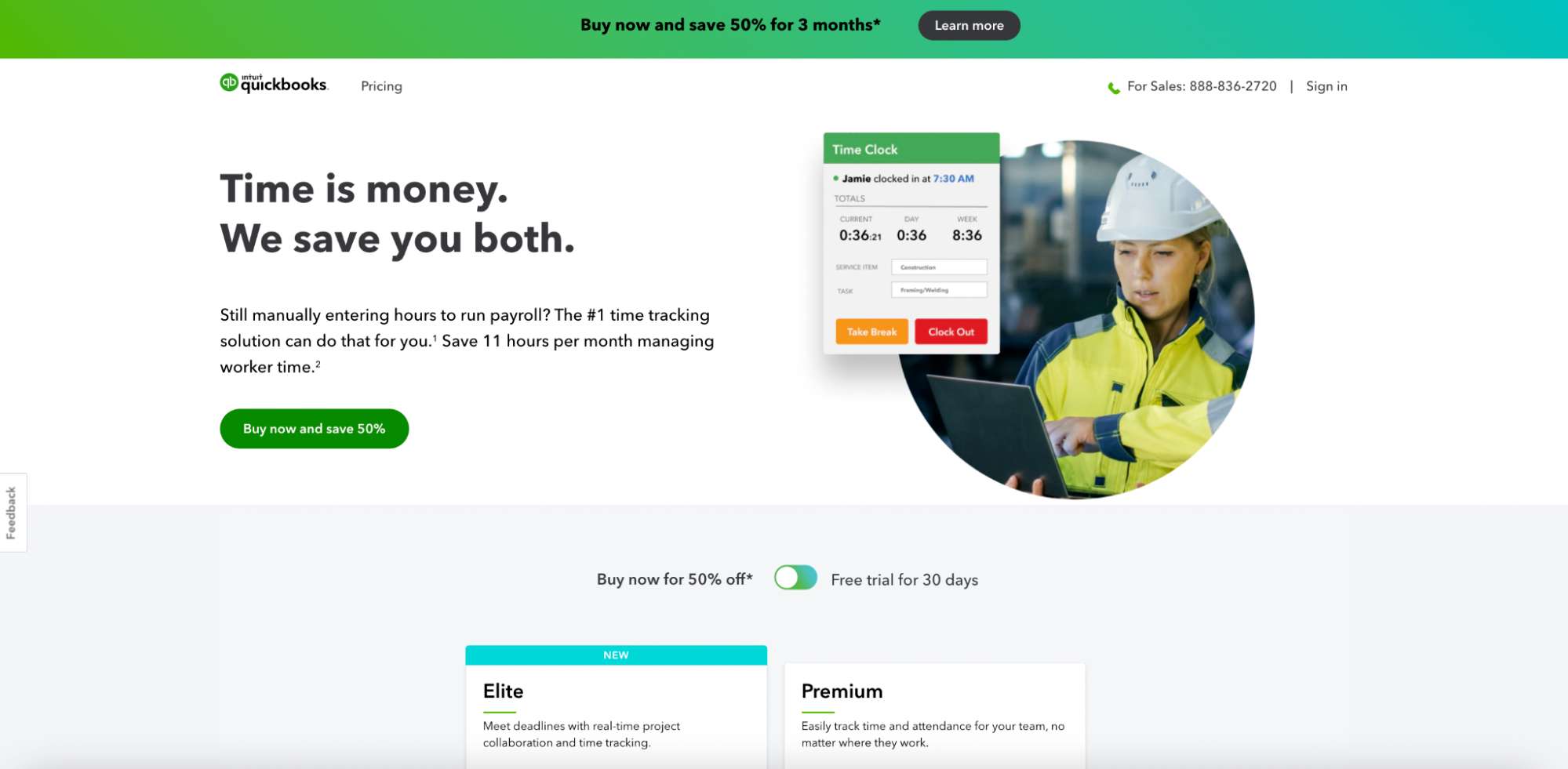 If you're already using Quickbooks or thinking about making the switch to this tool, Quickbooks Time is an online timesheet tracker you can add to your suite of tools.
It's great for:
Online time cards
Project time tracking
Mobile time tracking
Payroll and accounting integration
Overtime alerts
Users rave about the ease of use and when you first log in you'll be given the opportunity to get more familiar with the software with a self-guided tour and webinar.
Quickbooks Time can be used over the web, mobile, or kiosk and can be integrated with Quickbooks and other software tools.
Where It Excels
Affordable
Easy to use
Responsive and accurate
Where It Falls Short
Some features are manual (like payroll mapping)
Poor customer service
Pricing
You will get a 30-day free trial with either account.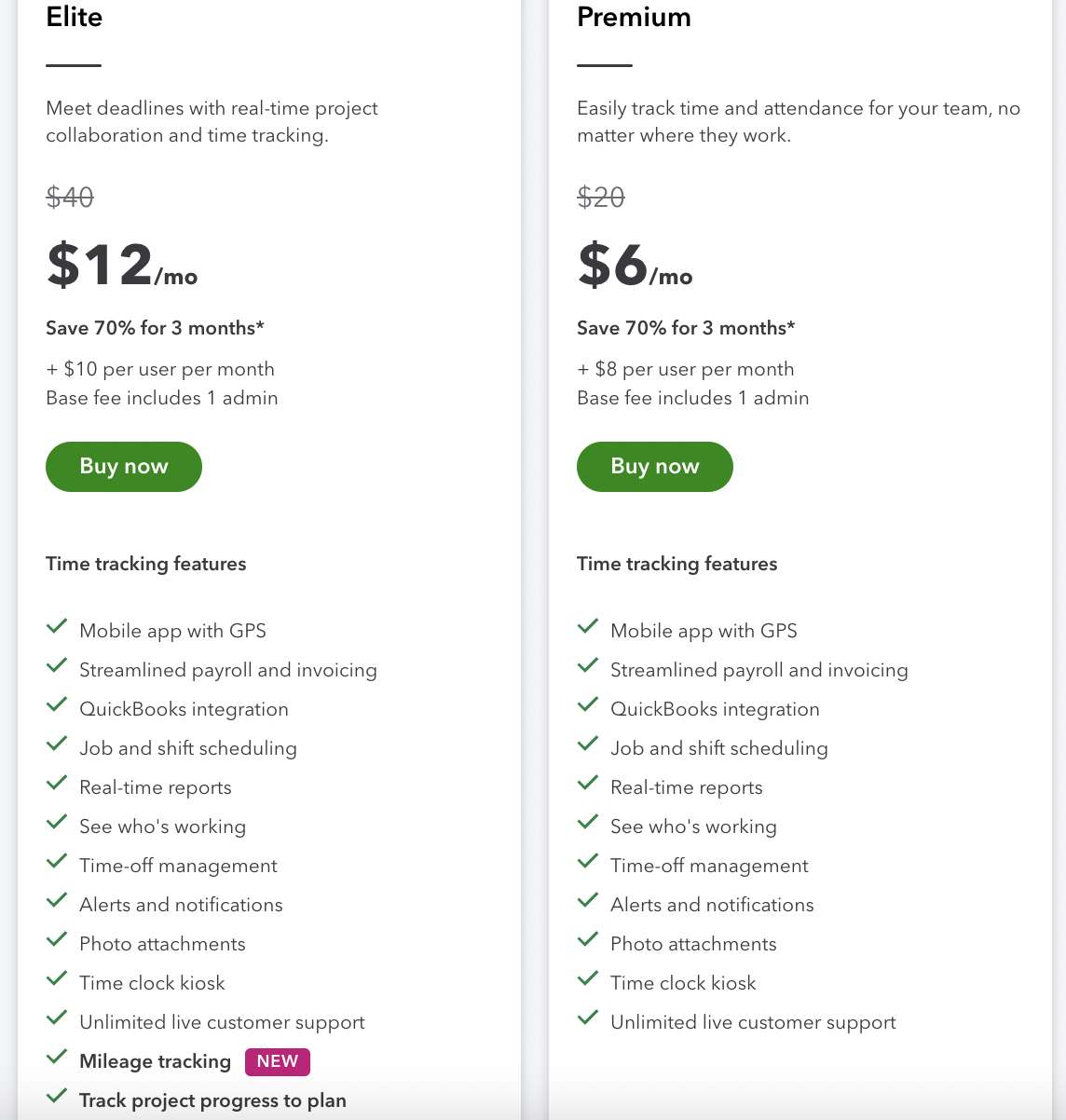 The pricing starts at $20/month base fee + $8 per user per month for the Premium Plan. The Elite plan is $40/month base fee + $12 per user per month.
Both plans offer a lot but Elite will get you additional features like mileage tracking, timesheet signatures, geofencing, and project estimates/tracking.
Start your 30-day free trial with Quickbooks Time.
5. Timely - Best for Online Task Planning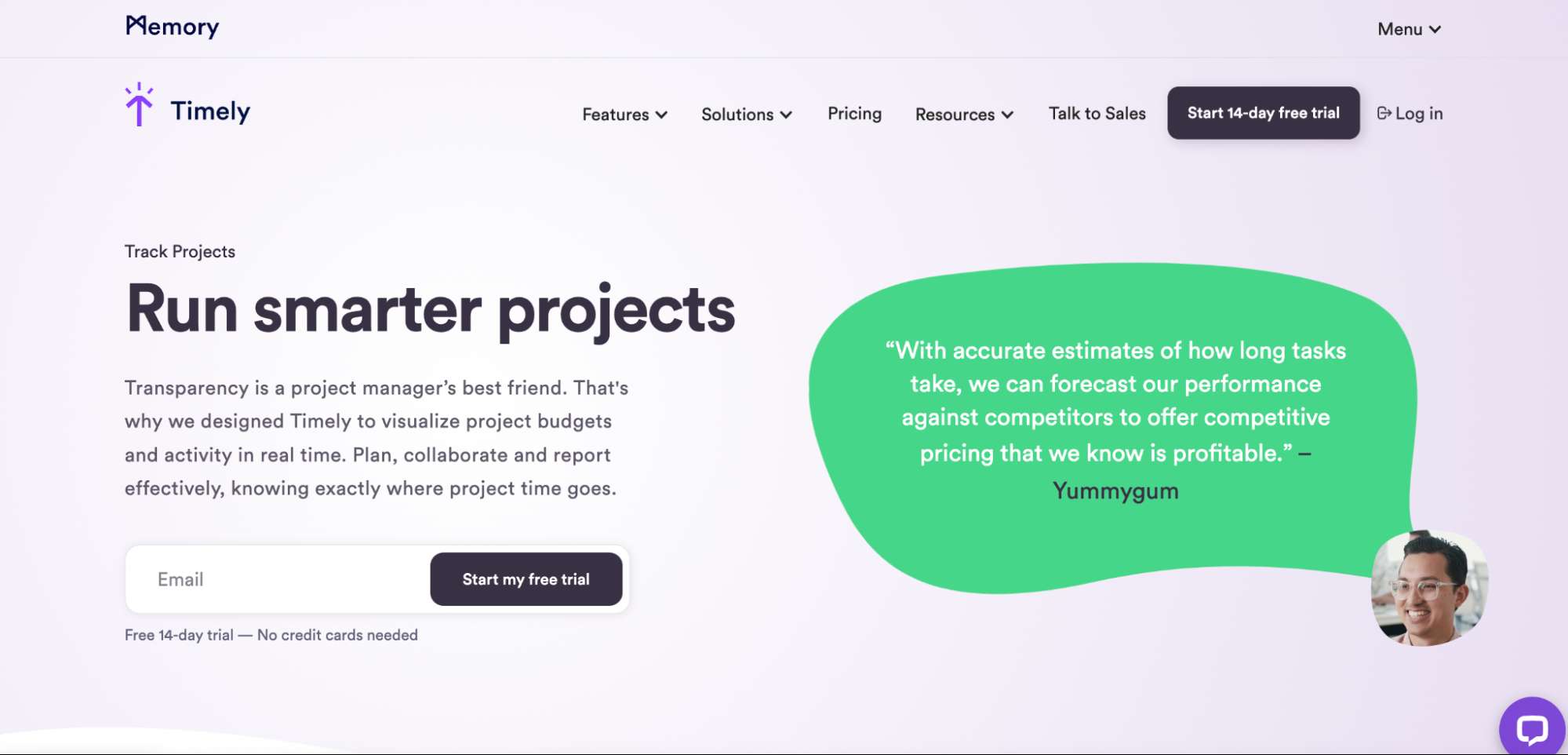 Timely is an AI-powered automatic time tracker that lets you:
Track time
Track projects and teams
Team planning
Timely can be used on the go, compatible with desktop, mobile, and app. You can connect it with tools you are already using so it can be seamlessly integrated with Zapier, Trello, Zoom, Quickbooks, and others.
Where It Excels
Ease of use
Project management features
Helpful reporting
Where It Falls Short
Difficulty with some integrations
Expensive
Pricing
After the free 14-day trial, pricing starts at $8/month (paid annually). You will have a choice of a monthly or annual plan for billing with discounts for annual billing.

Here's a look at some of the features included in each plan:
Starter plan ($8/month, paid annually):
Unlimited users
Max 50 projects
Timesheet drafts
Auto reminders
Premium plan ($14/month, paid annually):
Unlimited users and projects
Real-time project dashboards
Recurring budgets
Employee capacity adjustments
Lock billed hours
Unlimited ($20/month, paid annually):
Unlimited users, projects, and teams
View employee activity
Assign team leads
Send live reports to clients
View more on Timely pricing
What does an employer need to know about time tracking software?
There are several things to consider when choosing the right time tracking software:
Cost
Number of users
Features and ease of use
With the right time tracking software in your toolkit, you can ditch the stress of manually tracking time, monitoring, and measuring productivity.
This list of the best time tracking software will help you find the right time tracking solution for your organization.
Employers save money with the right systems in place to pay employees the hours they work. Employees are happier because there's an automated, easy-to-use process for time tracking, which can lead to higher retention levels in the organization.
How We Chose The Best Time Tracking Software
To find the best time tracking software, we thoroughly researched the internet, sifting through many time tracking software tools to identify the best ones, which we named in this article.
We reviewed the features, services, pricing, customer reviews, customer service, and other factors to determine which software tools are the best for time tracking. What you'll appreciate about these five time tracking software tools is that they all overdeliver.
You'll get much more than just time tracking, with features like:
Online, mobile, and automated tracking
Project tracking
Team planning
Timers
Reporting
What are some features of CRM software?
Common features of CRM software include:
Employee tracking
Automation
Third-party integrations
Customization
Employee Tracking
This is about tracking activity and performance. When it comes to employees being responsible for tracking their time, you want the process to be as streamlined and easy as possible.
Employees should be able to easily learn the system, input their time worked, and look at reports to review activity. It's also important for management to have access to a hub or dashboard so they can review individual employee performance for goal setting, task management, and productivity.
Automation
Automations that are built-in or can be customized help you save time on manual tasks that the software can handle for you.
You should be able to set "if-then" rules which will trigger when an event happens like if a lead doesn't reply to your email, a reply email is automatically sent.
Third-party integrations
Third-party integrations save you time and money by being able to integrate with tools and software that you're already using. This is a consideration when looking at CRM software because there isn't compatibility across all tools. You want to choose the software that has integrations with the software you're using.
Customization
Every business is different and has unique needs. That's where customization comes in so you can choose which features your company needs for time tracking, for example. The best CRM software providers offer customization to their customers so they can cater to their needs.
What other things employers should consider when choosing?
A good time tracking software system should make time tracking easier for your organization. It should provide benefits that justify the cost, like saving time and saving money. It should also be easy to use, be accurate, and offer features and integrations that are a good fit for your company.
Frequently Asked Questions
What is time tracking software?
Time tracking software is a tool employers can use to automate time tracking for employees and freelance workers. Time tracking software is great for companies of all sizes in every industry and can help save them time and money by accurately reporting the time their staff works.
What are the common features of time tracking software?
Common features of time tracking software include:
Task timers
Project management
Invoices
Dashboard
Reporting
What is the best free time tracking software?
The best free time tracking software is Toggl Track. You get the most features for free, compared to competitors and it's freelance-friendly.
What is the best time tracking software for freelancers?
The best time tracking software for freelancers is Toggl Track. It was built and developed with freelance workers in mind and you get services like unlimited time tracking, exportable reports, Pomodoro timer, web, mobile, and desktop apps, and other features.
The Bottom Line
As the saying goes, time is money. Using time tracking software is a must for your company, regardless of size or industry.  These time tracking software options will help you find the right solution for your organization. For more resources, check out our review of the best HR software.