MyPerfectResume is a comprehensive resume-building service that enables a job seeker to quickly and easily build a professional-grade resume. Their services include an online resume builder, a cover letter creator, and professional resume writing services. MyPerfectResume's Resume Builder services and accompanying resume assistance tools and extras make it a stand-out option for job seekers looking to quickly and easily showcase their unique skills to potential employers.
In this review of MyPerfectResume, we'll highlight the positives and negatives of their services, including what they are best at, and where they fall short. We'll also suggest other products and services that might be a better option if MyPerfectResume isn't a perfect fit for your customized needs.
MyPerfectResume Review
Who is MyPerfectResume Best For?
Inexperienced Job Seekers who are looking for a suite of supporting tools and services
Those looking for a fresh professional resume design without much work
A big advantage of MyPerfectResume's resume builder is the ease of use. They allow a user to enter information into an interactive online template or upload an existing format and the service will incorporate it into a selected template. MyPerfectResume boasts that a resume can be easily created in just 3 easy steps:
Template selection from professional template library
Resume construction with industry-specific keywords
Easily Downloadable
Who Is MyPerfectResume Not Ideal For?
Those looking for free resume options
Executive job seekers who desire a higher level of design customization
For executives we recommend checking out our guide with the best executive resume writing services.
MyPerfectResume is also not the ideal choice for users who want to start out with a professional template but also have the option to customize the fonts and color scheme.
MyPerfectResume Product Features
Features Available for all Subscription Levels
Download & save in multiple formats (PDF, Word, TXT)
Cover Letter Builder
Resume Check- Scan for mistakes
14-day money-back guarantee
MyPerfectResume Subscription Pricing Structure
| 14 Day Trial Subscription ($2.95) | Monthly Access Subscription ($5.95) |
| --- | --- |
| Unlimited printing and downloading for 14 days | Pay $71.40 up-front and save 45% |
| After 14 days, auto-renews at $9.95 billed every 4 weeks. Cancel anytime | Full access to all features including cover letters |
| Create unlimited resumes and cover letters | Automatically renews each year, cancel anytime |
| | Pay once, use all year long |
ATS Compatibility
Recruiters use Application Tracking Services (ATS) software to help them to sort through resumes and surface the most qualified candidates. This software utilizes keyword identification in this process.
resume builder as a top choice for job seekers. offers pre-written text examples and suggested keywords and bullet point ideas based on your specific industry to help get past the ATS software.
Most Resume Builders focus on the creation process and don't have added bonuses like keyword suggestions. This helps to position MyPerfectResume's resume builder as a top choice for job seekers.
14-day Guarantee
MyPerfectResume's terms state that they will issue a full refund to any user who is not happy with their purchased services, given they report this within the 14-day timeframe. Some resume services don't ever offer a full refund, so it's nice to see one is offered here. Customers can cancel through their Settings or by reaching out to customer service directly.
Resume Assistance and Bonus Tools
MyPerfectResume leads you through all steps of the resume creation process, making improvement suggestions along the way. It even begins with some important questions regarding experience and work history to best align the template with the unique job seeker.
There are available resume examples and samples that can be reviewed as well as helpful articles and videos. They even have a free error check that runs to help prevent small typos from slipping through the cracks. Their tools help you to become better prepared for any interview questions or situations.
Professional Writing Services
MyPerfectResume also offers professional resume writing services. For those who are looking for a custom experience, a certified professional resume writer can create a personalized resume and cover letter for you in 3 business days. They offer different experience levels including Early Career ($99), Experience Pro ($199), and Leaders and Specialists ($299).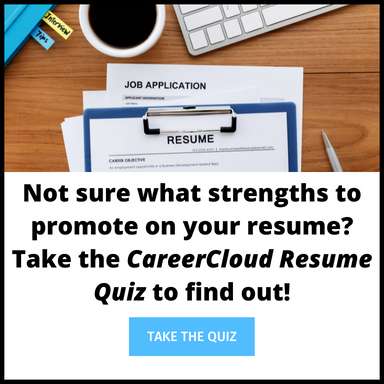 Potential Drawbacks
Cost-There isn't a decent free option with MyPerfectResume. A trial period usually indicates free trial usage, but that is not the case here. You can build your resume and download it, but the only free choice is to download your resume in .txt format. That is a waste of your important time since the professional format is generally what you want with a resume builder!
MyPerfectResume provides a lot of help and suggestions but you are still in charge of the end result. Their resume builder tool is still just a tool and can't compete with the originality and experience of professional resume writers. Resume Writing Services are best if you want to place the decision making in the hands of professional writers.
MyPerfectResume vs. The Competition: What To Expect
Resume writing services are another tool in the resume creation arsenal that can help give job seekers an advantage. A resume writing service will typically gather information from you and the existing resume you have to then create a new resume for you. They will also take your current resume and give it a fresh look and feel, but it can come at a higher cost.
These services typically facilitate conversations with industry-specific, professional writers. They take your input, your skills, and create the resume for you. It takes the bulk of the work off of your plate so that you can focus on the job search.
Resume builders help job seekers to create a professional resume quickly. The big differentiator with the resume builder is that the job seeker is making all of the data and format decisions themselves. They plug information into a selected interactive online template and build a resume from the data pieces they choose to include. A user can also upload an existing format and the service will incorporate it into a selected template.
MyPerfectResume offers an entire suite of services for job seekers whether they are just looking to build their resume themselves or want to leave the decision making to the pros and utilize resume writing and cover letter creation services. They offer a money-back guarantee for dissatisfied customers and offer top-notch resume assistance and extra tools. With over 1,000,000 resumes made and counting, their experience speaks for itself.
Check out how MyPerfectResume compares to TopResume by checking out the CareerCloud TopResume Review.
Final Thoughts
According to The Ladders Eye-Tracking Study, recruiters are spending an average of 7.4 seconds on each resume they receive. That certainly isn't much time to make an impression. So it's very important to design a resume that gets past the company's ATS algorithms and also impresses the humans who are making the decisions about who to bring in for the next step in the hiring process.
Working with professionals or utilizing professional resume services like resume builders might be just the thing needed to create an eye-catching resume that secures the job. Your end result is that you come away with a neat and presentable resume in no time. Job searching can be difficult enough. Why risk being passed up for your dream job because your resume isn't well written or formatted correctly?
If you are looking to broaden your horizons and explore more job opportunities, our guide to the top free job posting sites is a valuable reference.
If you are interested in comparing and contrasting options, our team also researched the best resume writing services.