Discover the best job board software options to add value and increase revenue for your company.
Have you been considering adding job board software on your website? If you run an organization or association, adding a job board might be a smart move. It's a great way to add more value to your website, create an engaged audience, increase your website traffic, and be a potential revenue stream for your company.
In this article, you're going to learn about the best job board software. When you're done, you'll have a clearer idea of how job board software works and if it will be a good choice for you.
If you are looking to for some job board inspiration, check out ZipRecruiter! ZipRecruiter is one of the leading job boards and is free for job seekers to use.
8 Of The Best Job Board Software Platforms
What Is Job Board Software?
A job board is a web page that posts open job vacancies. Job seekers that are looking for a job visit job boards to find employment.
Job boards typically show:
Job openings
Company information
Job description
Work hours and salary details
Some examples of job boards include ZipRecruiter, Indeed or CareerBuilder.
There are many job boards published on the web. Some are for industry-specific jobs, like tech careers, others are for regional positions, remote jobs, and many job boards feature all jobs they can source worldwide.
If you need to hire some help before implementing job board software on your website, check out our guide to the best free job posting sites.
Reviews Of The Best Job Board Software Platforms
1. Niceboard - Best Overall
Niceboard calls themselves the modern job board. This easy-to-use software can be set up in minutes. They accommodate a variety of customers from niche creators, to SAAS companies, associations, universities, and more.
They offer three pricing plans starting with a minimum of 3,000 jobs, including a dashboard where you can manage the job board, there's no coding needed, no domain or extras you'll need to buy, and it comes with a 7-day free trial!
Additional features include:
Job seeker accounts
Job seeker email alerts
SEO-optimized
Job board customization
Filters
Backfill jobs
Resume submissions (for pro members)
Where It Excels
Niceboard is one of the most affordable job board software solutions in this roundup. The quick setup only takes 5 to 10 minutes, according to Niceboard, with full customization available to match the look and feel of your brand. It caters to all audiences: creators, associations, etc.
Where It Falls Short
To call themselves "the modern job board," Niceboard is missing some modern features that job seekers would appreciate, like:
In-app messaging
Analytics
Pricing
Essential: $99/month
Pro: $149/month
Business: $229/month
2. SmartJobBoard - Best For Ease Of Use
SmartJobBoard's job board software is a flexible, easy-to-setup system trusted by hundreds of users. They offer a free 14-day trial that gives you two weeks to test drive the software to get to know it better before you make your decision to get it.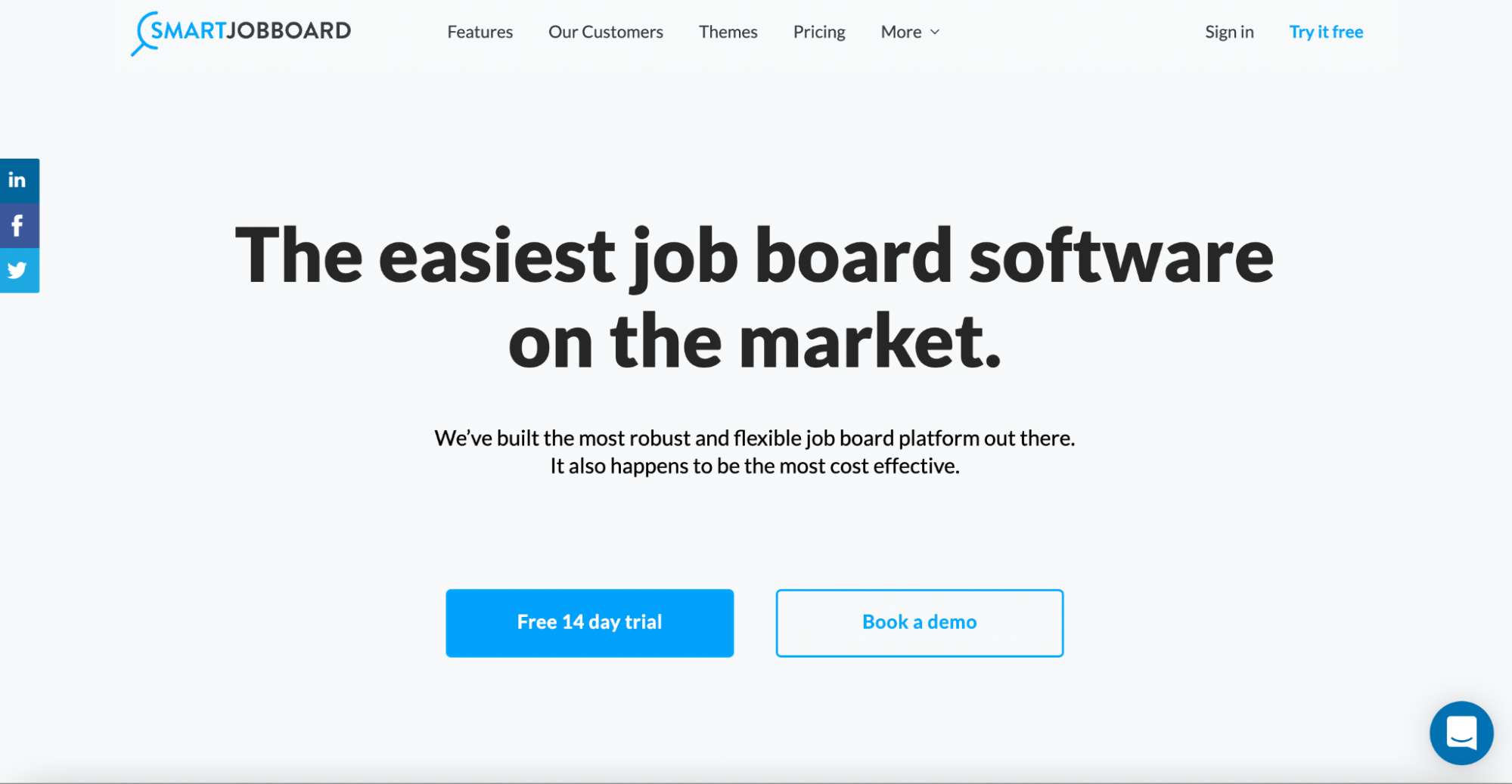 The features include:
Job alerts
Resume parsing
Applicant tracking
Resume alerts
Employer dashboard
Admin dashboard
Discounts
Automatic job import
There are 5 different job themes to choose from, whether you want your job board to have a sleek, modern appearance or more of a classic look. Job themes are free and included with your plan.
Two pricing plans are available, starting at $299/month. After your free trial, you can upgrade to one of the two paid plans. There are no additional setup fees, no hidden costs, and no cancellation fees.
Where It Excels
Easy to navigate
Good customer support
14-day free trial included
Where It Falls Short
Lack of reporting features
Limited customization
Pricing
Premium: $299/month
Enterprise: $599/month
3. TrueJob - Best For Associations
TrueJob is a job board platform for associations and economic development organizations. The goal is for them to provide opportunities for their members to search jobs online.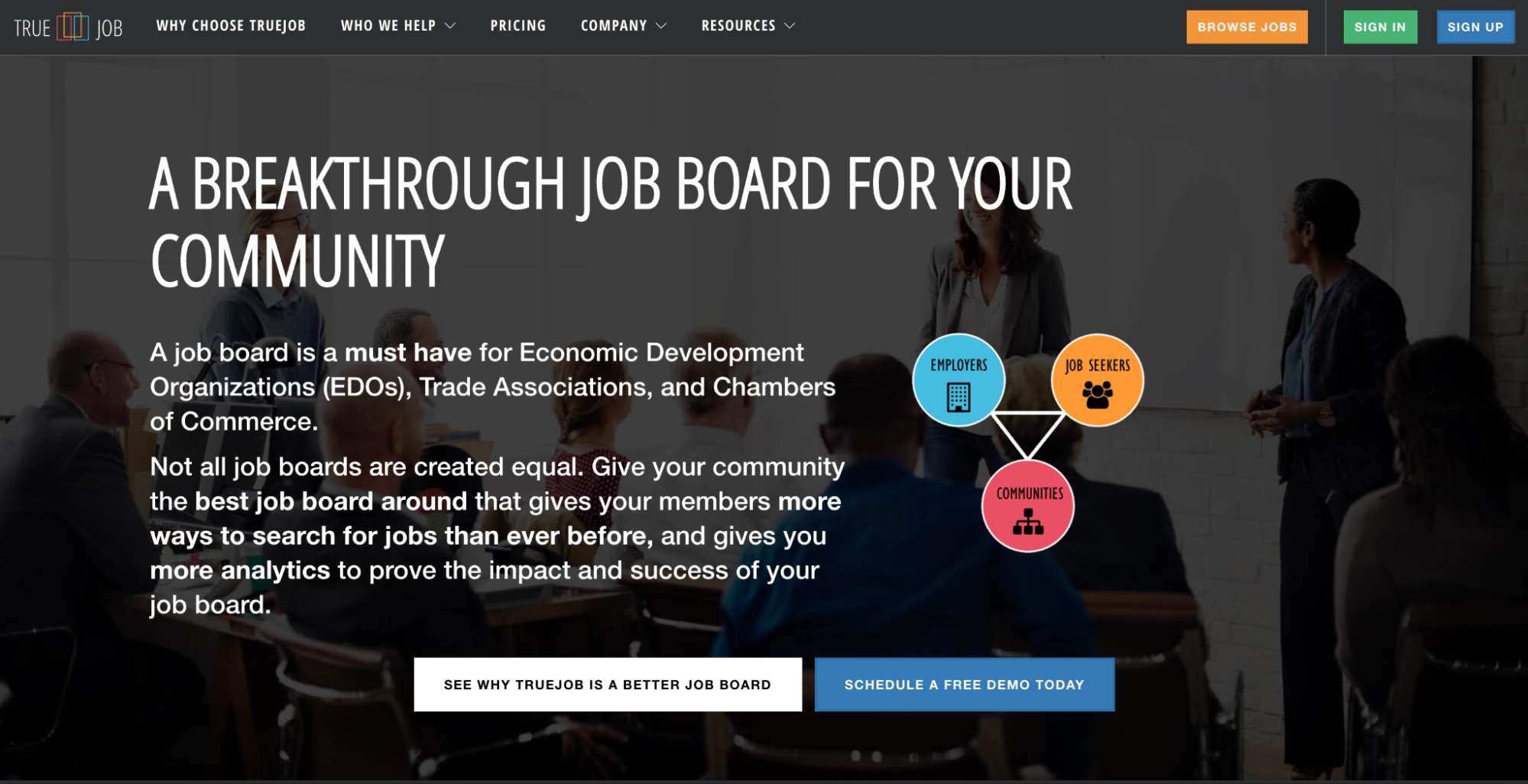 The features include:
Easy-to-use user interface
Job postings can be directly scraped from company websites
Fast automated review and approval process
Fully hosted
Styled to match your brand
Analytics
Where It Excels
Ease of use
Good customer service
Analytics are available
Where It Falls Short
Lacking features
No mobile app
Join The Break Community
14000+ subscribers Breaking their careers to win at work and life.
Pricing
Implementation fee $850 + $425/month (billed annually)
4. Boxwood GO - Best Budget Option
Boxwood GO is a job board platform built for associations. The user-friendly job board will be set up and published with content from the start. You have the flexibility to use your own gateway and earn 100% of revenue. You get social sharing features, analytics, and more.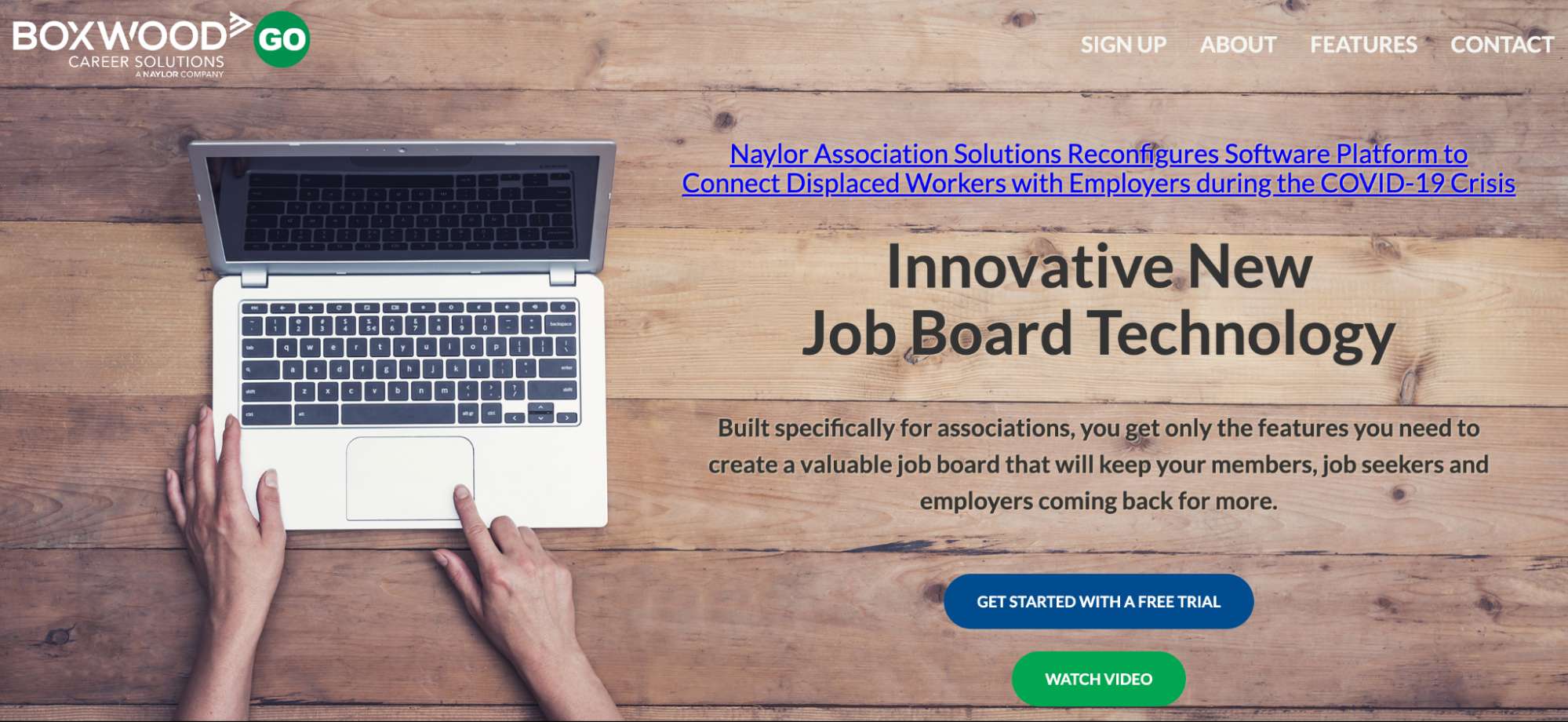 Here are some additional features offered:
White label design options
Responsive
Automated alerts
Continuous enhancements
Where It Excels
Free 30-day trial
Feature-rich
Easy to use
Where It Falls Short
Pricing
5. Careerleaf - Best For Enterprise-Level and Corporate Organizations
Careerleaf is an easy-to-use, integrative job board software solution. They offer four options to fit your needs, whether you're looking for an additional income stream or a corporate-level full job board platform. They integrate with Facebook, Mailchimp, LinkedIn, and more.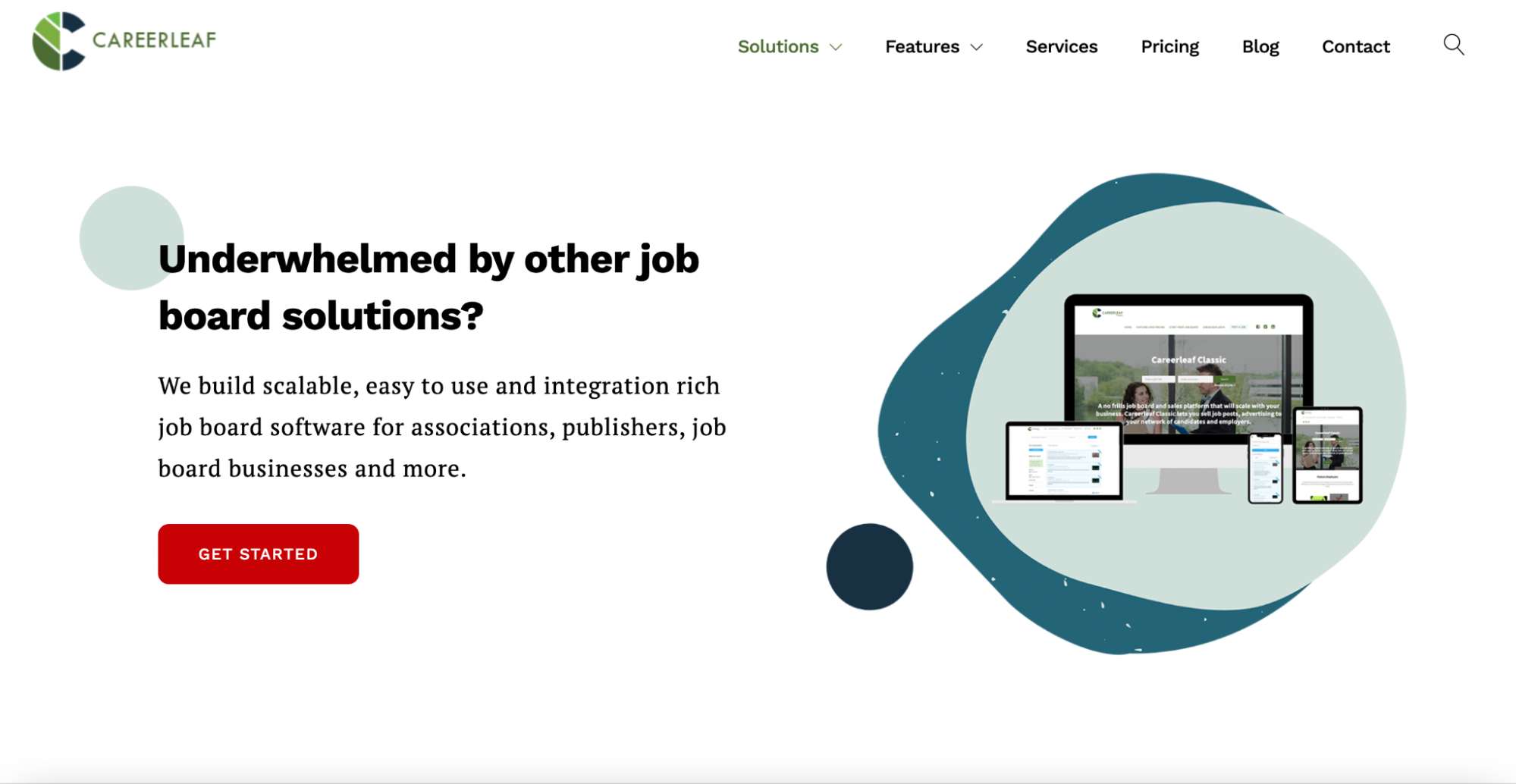 Where It Excels
Careerleaf is a scalable job board platform that can grow with your business. They offer multiple plans to fit your needs. Your job board can be syndicated, integrated, and the e-commerce feature lets you monetize your job board by selling job listings, offering promotions, and more.
Where It Falls Short
The pricing is one of the most expensive on our list. This is a solution for serious publishers that are ready to invest in top-tier job board software.
Pricing
Publisher: $750 one-time + $300/month
Classic: $850 one-time + $349/month
Community: $5,000 one-time + $549/month
Corporate: Contact Careerleaf for a quote
6. HiringOpps - Best For Features
HiringOpps offers a powerful job board platform job board software built by job board experts, offering advanced customization and tools to help you scale as your business grows. They offer some interesting features that competitors haven't made available yet, like video interviews and SMS messaging.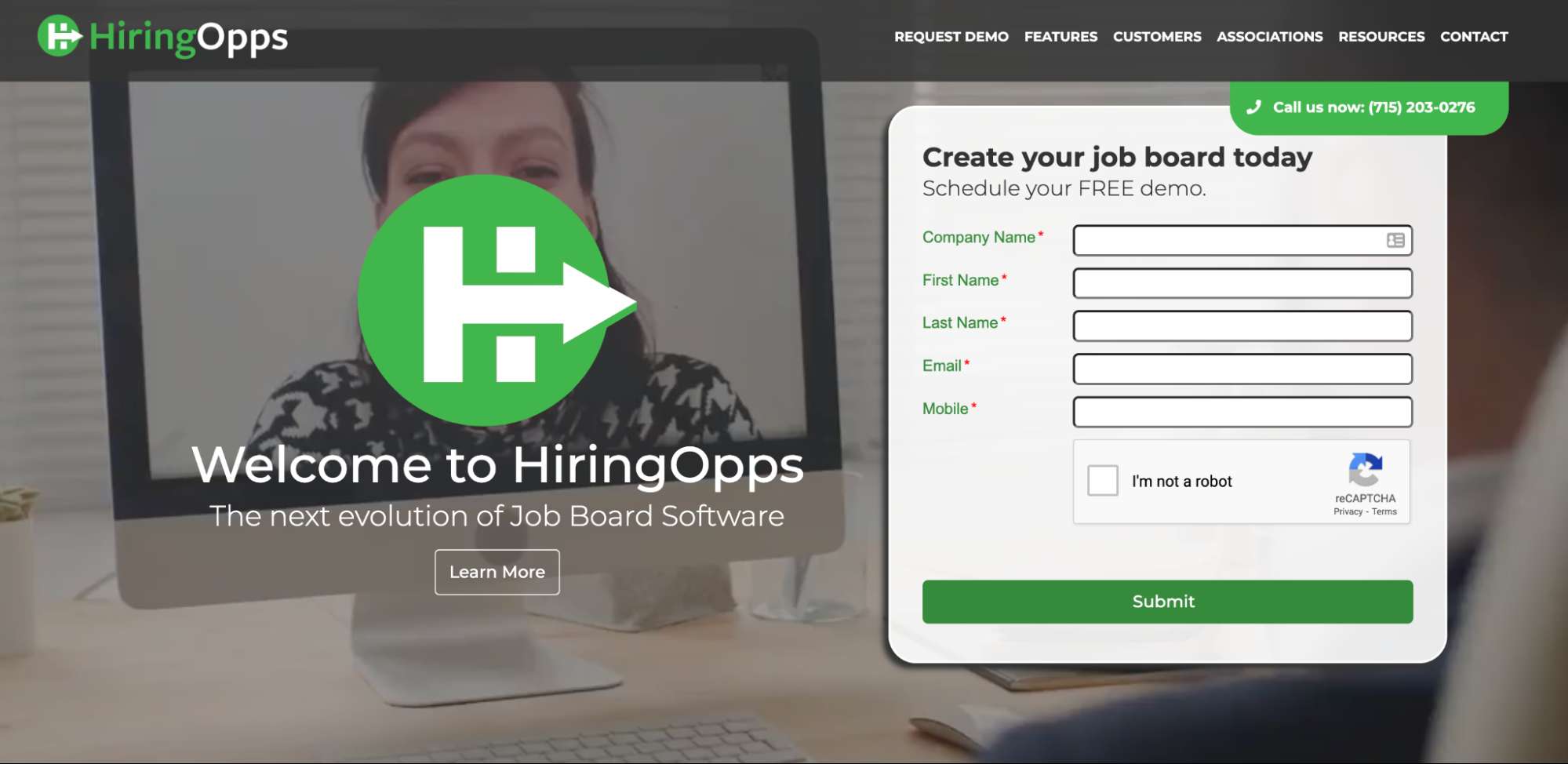 Some additional features offered include:
Custom pages
Responsive
Employer profiles
Social sharing
Automatic candidate alerts
Job importing and scraping
SEO-optimized listings
Integrations
Where It Excels
HiringOpps is one of the first job boards to offer video interviews. SMS messages, integrations, and other features are available which make this software incredibly feature-rich.
Customer testimonials sing high regards about:
Good customer service
Professional, advanced user capabilities
Flexibility
Ease of use
Where It Falls Short
The chief complaints around HiringOpps from online reviews are about coding requirements that may need to be done by the user, which can be confusing for people who aren't comfortable with tech.
Additional feedback was around the ability to block users but not delete them, which was a missed opportunity that users would like to see on the platform.
Pricing
Pricing available by request
7. Web Scribble - Best Customer Support
Web Scribble offers job boards to help their customers grow their association. If you're trying to serve your association's members, achieving that with a job board can help maintain and increase member engagement.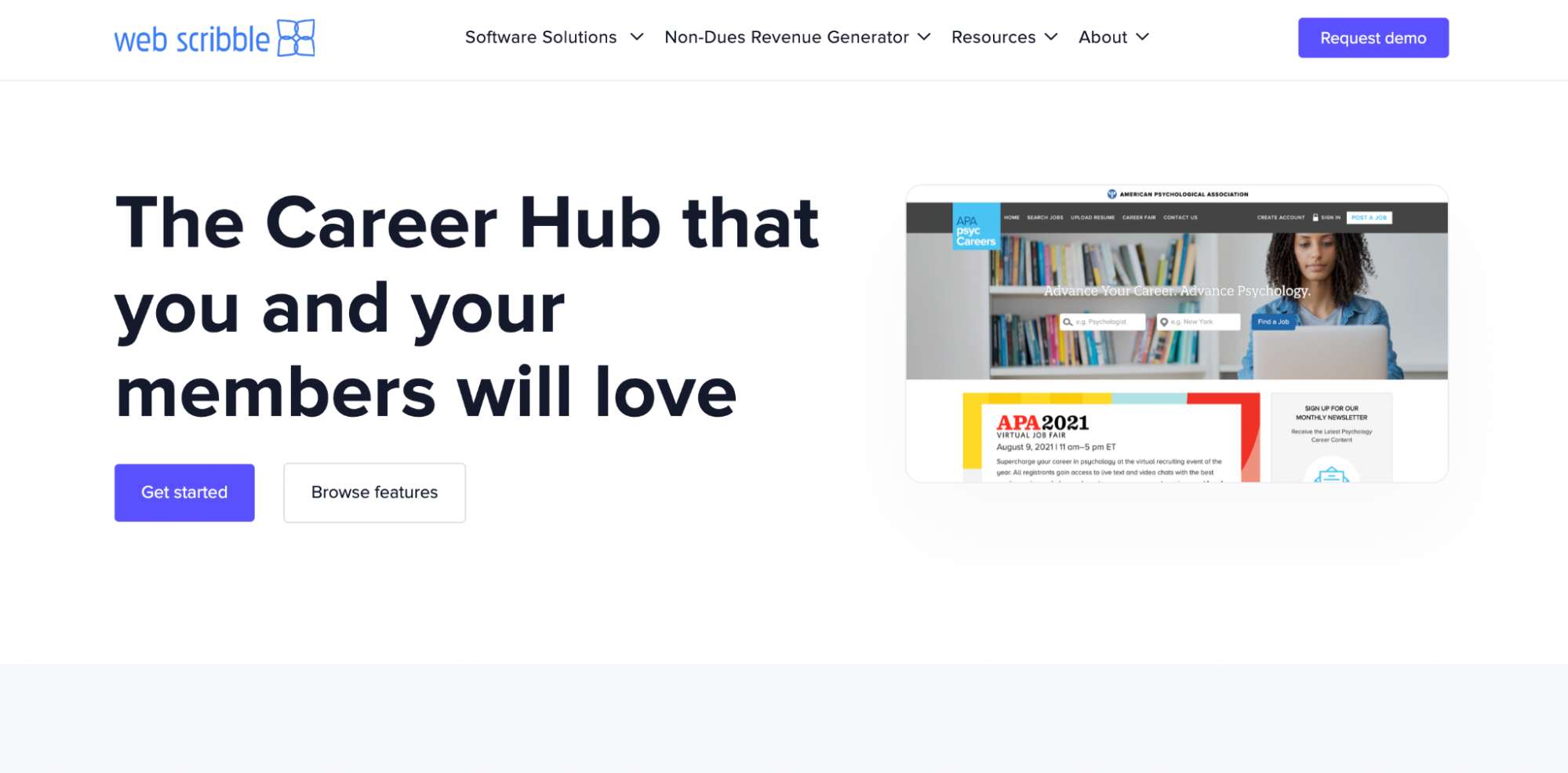 Some of the features are:
Single sign-on
Robust search
AI job matching
SEO-optimized
Candidate tracking and management
Data analytics
Where It Excels
Where It Falls Short
Pricing
Pricing available by request
8. Job Board by Personify - Best For Non-Profit Organizations
Job Board by Personify can help you bring together employers and job seekers to fill job vacancies for non-profit organizations. It integrates with your AMS, helps you boost revenue, provides a value-driven experience for web visitors, and helps jobs get filled.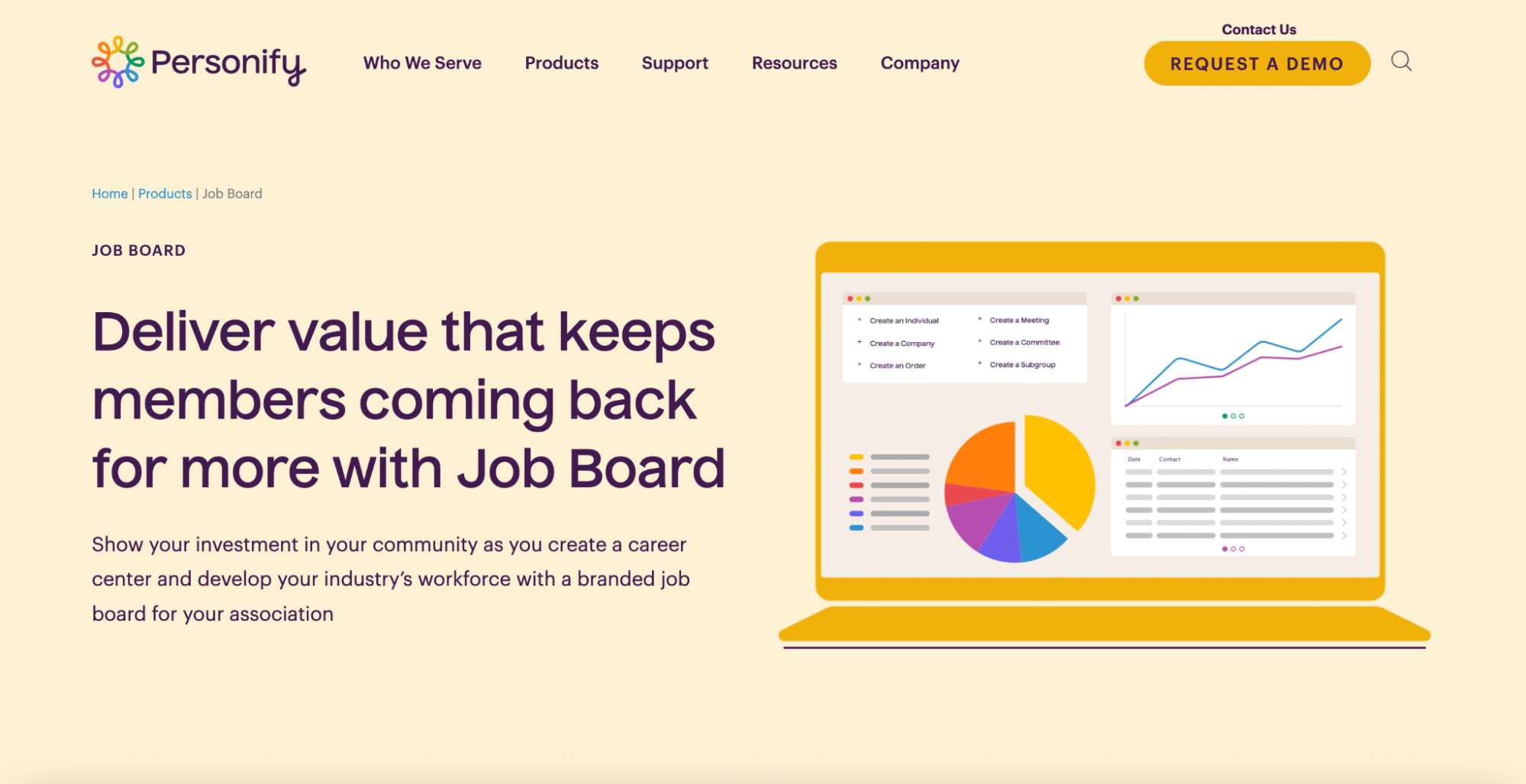 The features include:
Job alerts
Keyword search
Mobile responsiveness
Automatic social sharing
Resume bank
Employer renewal notifications
Where It Excels
Feature-rich
User-friendly
Continuous improvements happening
Where It Falls Short
Limited audience (non-profits companies only)
Pricing is not displayed publicly
Pricing
Pricing provided upon request.
What Features To Look For In Job Board Software? 
The purpose of job board software is for employers to post their job vacancies and for job seekers to find those jobs to apply for.
Job posting software should provide those capabilities and many go above and beyond that. To have the best experience running your job board and have employers and job seekers enjoy the process, consider these additional features which can make a big difference:
Admin dashboard: For employers, this can be a central hub where they manage the job postings they published and review the job applications that have been submitted. Job seekers can use the dashboard to review applications they submitted, upload resume and cover letter, and more.
Job notifications: This is a great feature to have. It can help employers get notified when people are applying to their job posting and job seekers can be alerted of when jobs closed, when their application is being reviewed, when new jobs matching their search criteria are available, and more.
Job favorites: This simple feature gives job seekers that opportunity to favorite the job postings they'd like to come back to and review in the future.
Social sharing: Job postings can be shared over social media easily.
Mobile friendly: 72% of active job candidates use mobile to search jobs so ensuring your job board is mobile friendly (responsive) is something to keep in mind.
Why Add Job Board Software To Your Website?
Companies can choose to install job board software on their website for a variety of reasons:
To create a career search website
For an additional revenue stream
To serve their audience, improve member engagement, and provide valuable information that complements their website
For example, ProBlogger is a website that helps people make money blogging. They have their Problogger Jobs board which posts writing/blogging jobs.
This job board can help their audience find writing jobs, which is in line with the purpose of the site, making money blogging. It's also an opportunity for ProBlogger to earn money. They charge $80+ per job posting.
How We Chose The Best Job Board Software
These job board software platforms made it in our roundup based on several factors we evaluated:
Overall solution
Features/options
Customer reviews
Overall Solution
First, it was important that each job board platform offered a total solution for customers. Employers should be able to post jobs easily and job seekers should be able to browse, find, and apply for jobs.
At the most basic level, if a job board can meet that need, it provides a solution to both employers and job seekers.
Features And Options
Next, looking at features, services, and options available determined if the job board software was one we could recommend and feature in this article.
Going beyond the basic use of the job board and the ability to provide a solution to employers and job seekers, features like platform responsiveness, an automated or semi-automated process for job fill, and a dashboard for employers and job seekers to review are some additional features we were looking for in a job board to provide an above-average experience.
Customer Reviews
Lastly, we looked at customer reviews online to get an unbiased look at what customers were really saying. The reviews really point to if the platform is worth it or not, from a consumer perspective.
The Bottom Line
Ready to start your own job board using one of these job board software platforms? Making the decision to implement a job board can be a smart decision that benefits you, employers, and job seekers.
To get an idea of how you want your job board to look and what kind of functionality you need, check out of the leading job boards online, ZipRecruiter!