If you've never done it before, you may be wondering how to post a job on Indeed. The well-known job board and aggregator gets 300 million visitors a month, so there's a good chance your ideal candidate is among them. We'll show you everything you need to know to post a job there quickly and easily. That way, you can hire the right person fast and get back to business.
This review will focus on Indeed, however, if you are looking for other options, we would recommend ZipRecruiter. ZipRecruiter offers free job searching for jobseekers and a free trial for job seekers. For more options, check out the best free job posting sites.
4 Ways To Post a Job On Indeed
There are four ways to post a job on Indeed:
Post jobs directly on Indeed for free
Post jobs directly on Indeed as Sponsored Jobs
Post jobs from your career site (or applicant tracking system) for free
Post jobs from your career site (or applicant tracking system) as Sponsored Jobs
Let's explore each of them.
1. Post A Free Job Ad Directly On Indeed
If you're on a tight budget, posting a free ad via your Indeed account can be a great, budget-friendly way to advertise your open position. Plus, posting your job is easy. The website walks you through the process by asking simple questions, and you can have your ad up in minutes.
Here's what you'll need to do:
Log in to your Indeed Employer account and click "post a job."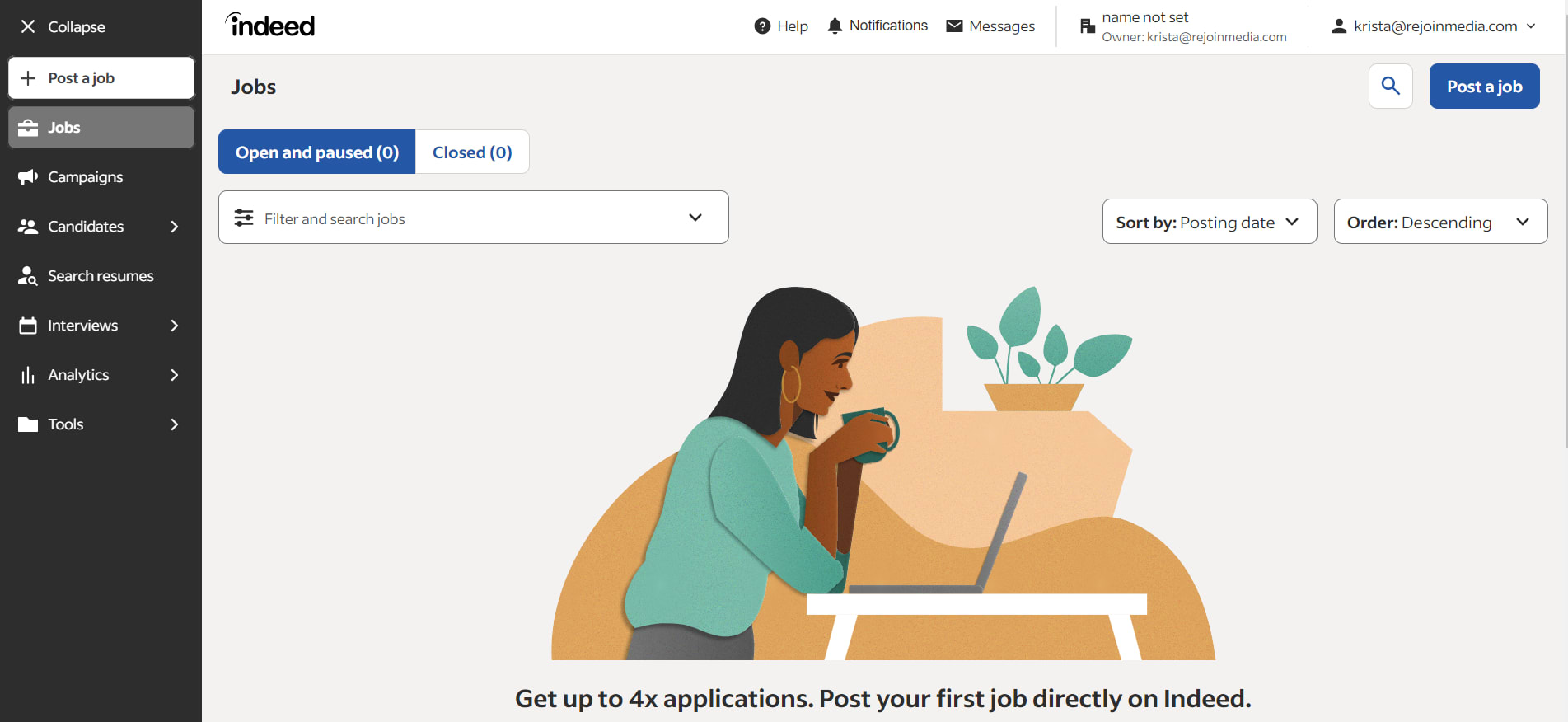 Add job details such as job type and shift schedule.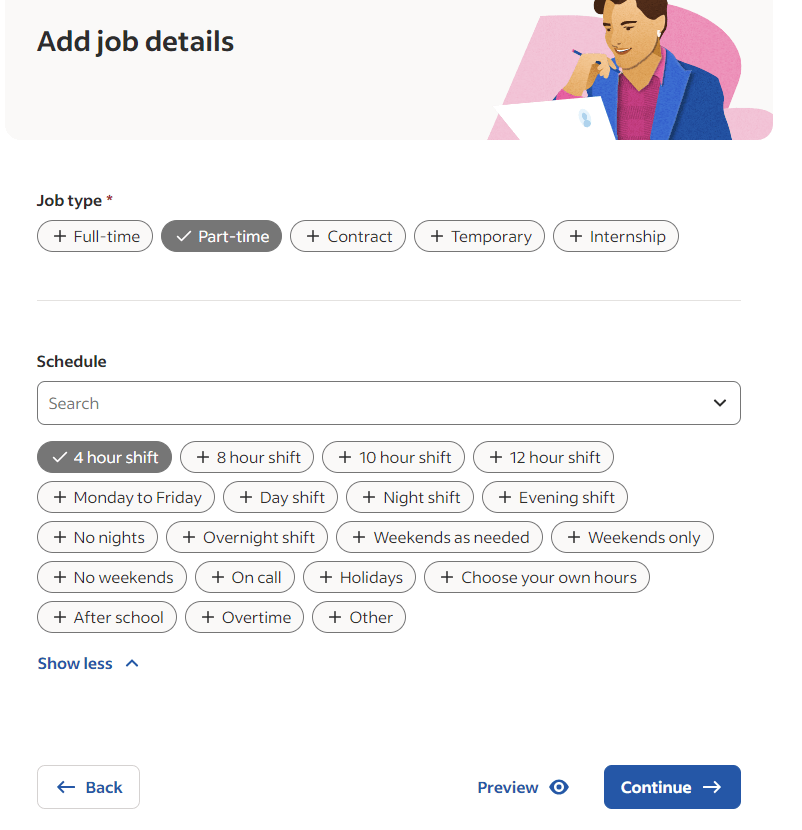 Select if you want to complete the job post on your own or use Indeed's smart recommendations.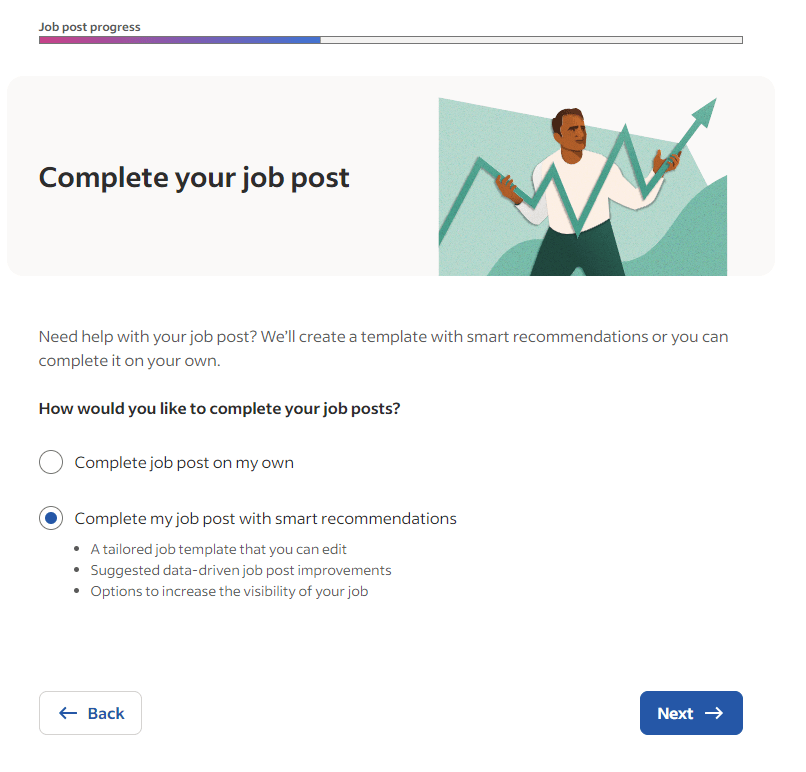 Provide basic information about the role, such as the job title, location, and pay.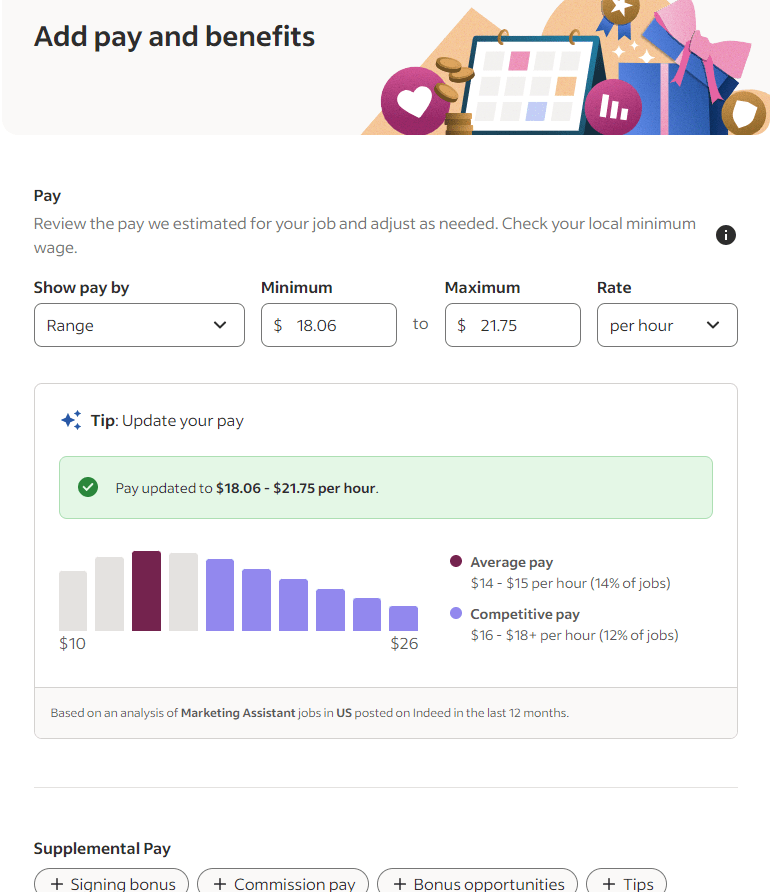 Include the job description by uploading a file, writing it in, or using one of Indeed's templates.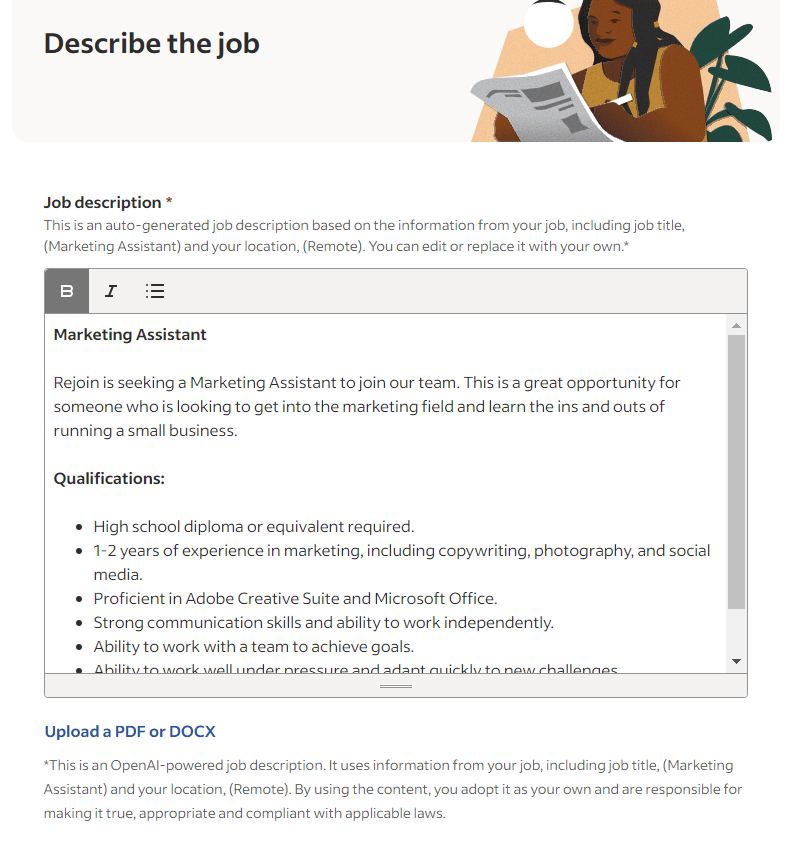 Choose your settings, such as who should receive submitted applications.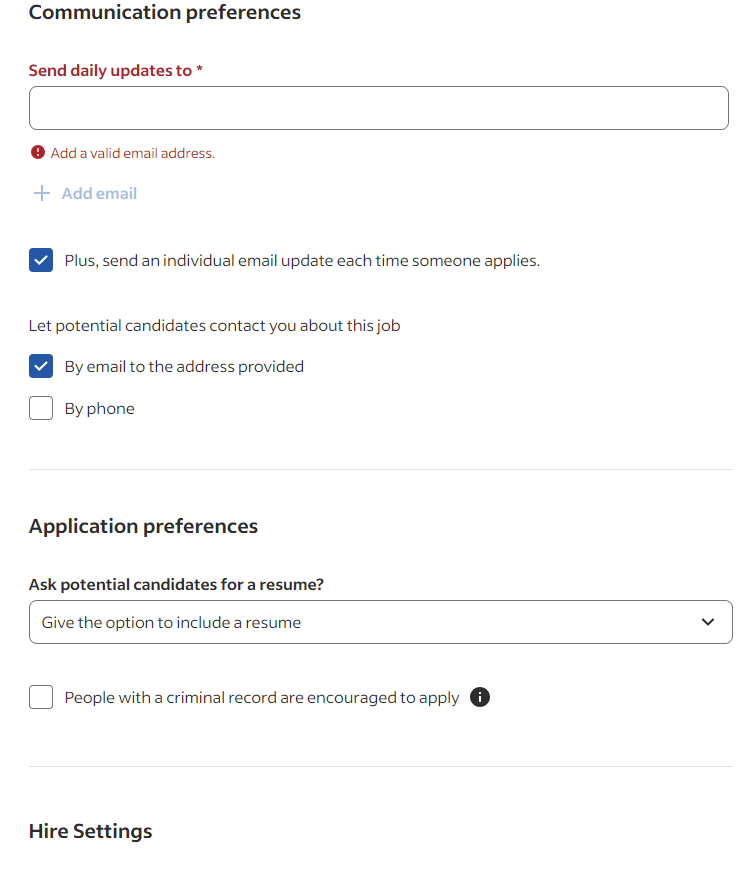 Review your job post template. Make any necessary changes or additions as recommended by Indeed.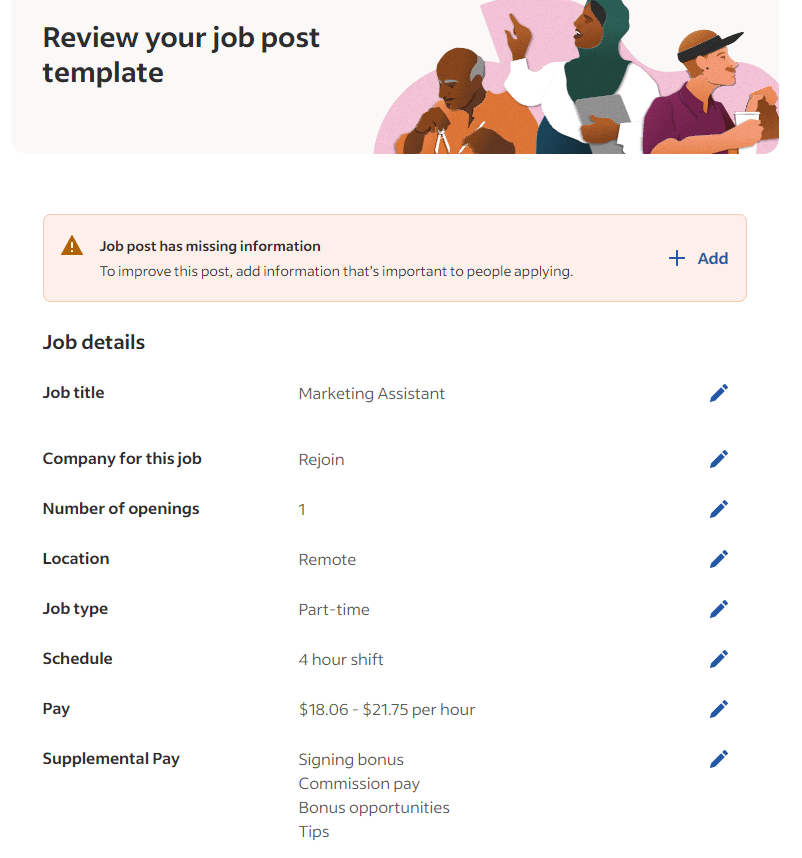 Add any key qualifications for the role (optional).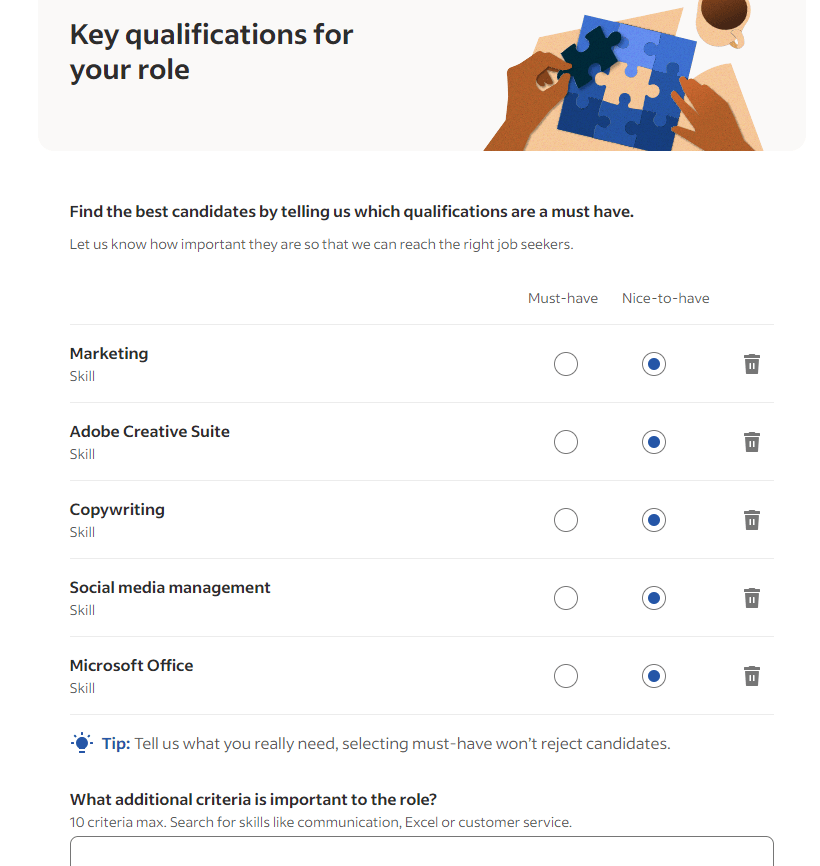 Select any pre-screening requirements you'd like Indeed to employ to filter out applications based on the questions you select as "deal breakers". 
Preview your ad, make any necessary edits, and confirm the post.
Skip through the sponsored post opportunities. 
That's it! Your ad should be live within a few hours. You can edit it, pause it, or close it permanently at any time. Now, kick back and wait for the applications to come in.
2. Post A Sponsored Job Ad Directly On Indeed
If you have the budget, you may want to consider posting a sponsored job. Here are a few reasons why:
Free ads gradually lose visibility.
Sponsored jobs appear higher in candidate search results.
You'll only pay for performance (per application).
Indeed will show you qualified candidates that you can invite to apply via their Instant Match program.
Plus, based on data from Indeed, employers are 4.5x more likely to make a hire when using sponsored jobs to fill a position. 
The process to post a sponsored job ad via your Indeed account follows most of the same steps above. However, when you get to step 11, you'll choose between "Basic advertising" and "Pay per application".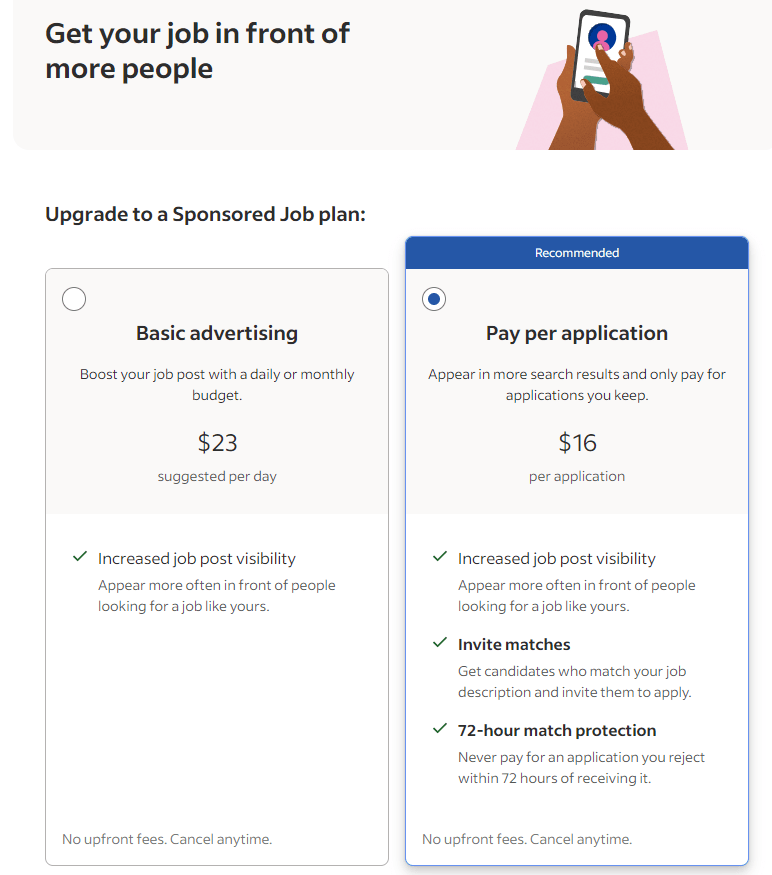 Pricing per application is set by Indeed and is specific to the role you're posting for. You can set your budget by utilizing the maximum spend tool. Indeed will automatically pause the posting when your maximum spend is reached. You can cancel anytime. The total budget does not include taxes.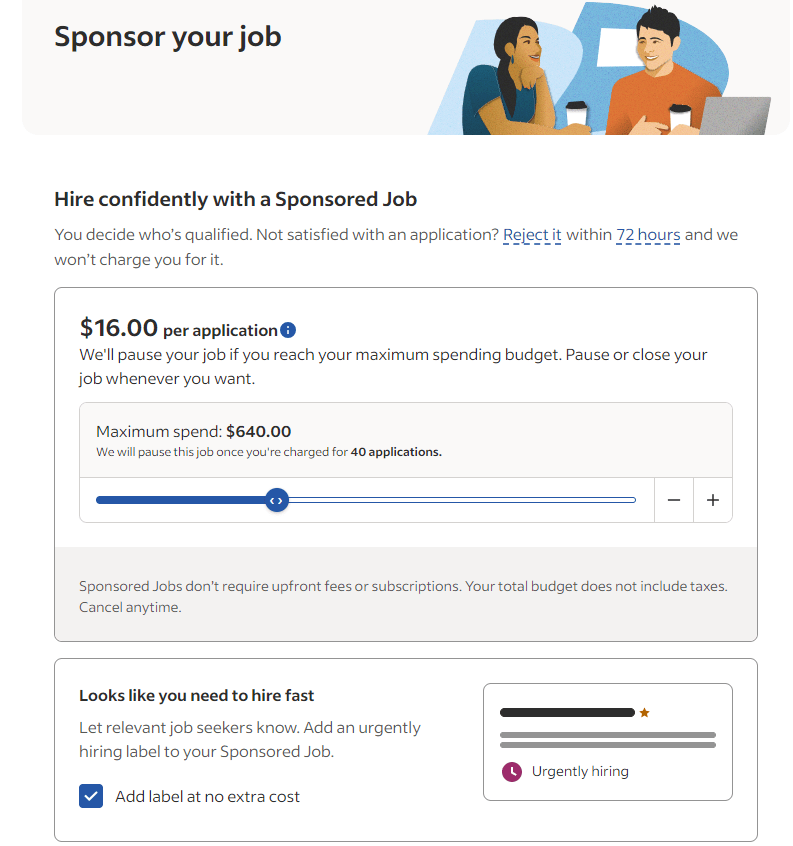 As of 2022, Indeed no longer uses a pay-per-click model, it transitioned fully to a pay per application model.
If you're searching for a job, make sure your resume will get past the ATS. You can make sure your resume will pass the ATS by working with a resume writing service.
3. Post For Free Via Indeed's Aggregation Method Or Employer's ATS
If your firm already has a career website or applicant tracking system, you may not have to post jobs to Indeed manually. With your permission, the company can aggregate your ads and post them to the Indeed website for free. But, aggregation isn't guaranteed. For the best chance of having your ads picked up by Indeed, each job posted must have:
a unique URL
separate fields for title and location
a detailed job description
a button to apply or an email address that accepts applications
You'll also need to ensure that all postings are respectful, honest, non-discriminatory, and representative of an actual vacancy in your organization (no recruiting to fill a pipeline for future talent needs). To get your jobs aggregated quickly, submit an XML job feed to Indeed. To see where your candidates come from, set up automated source tracking in your applicant tracking system. If your applicant tracking system integrates with Indeed, you'll already have access to that data.
4. Post a Sponsored Job From The Employer's Career Page or ATS
To sponsor a post aggregated from your career page or applicant tracking system, you'll have to contact Indeed. The company will walk you through the process and provide tailored guidance. Indeed will help you determine which jobs to sponsor and what budget would work best to achieve your desired results.
Indeed Job Posting Pricing
Depending on your organization's goals and recruiting budget, you could spend hundreds or thousands of dollars per month on sponsored posts. Let's take a closer look at how this breaks down.
With a pay-per-application arrangement, you'll pay a set amount per application received for that sponsored post. The cost is dependent on the job title and location. The typical application cost is $15 - $20 but may be more. If you end up with 50 applicants at $15 per application, your total cost would be $750.
More advanced positions in large cities will likely have a larger cost per application. The example below is for a Sr. Software Developer in San Francisco. The cost per application is $49, meaning just 25 applicants will put your spend at $1,225.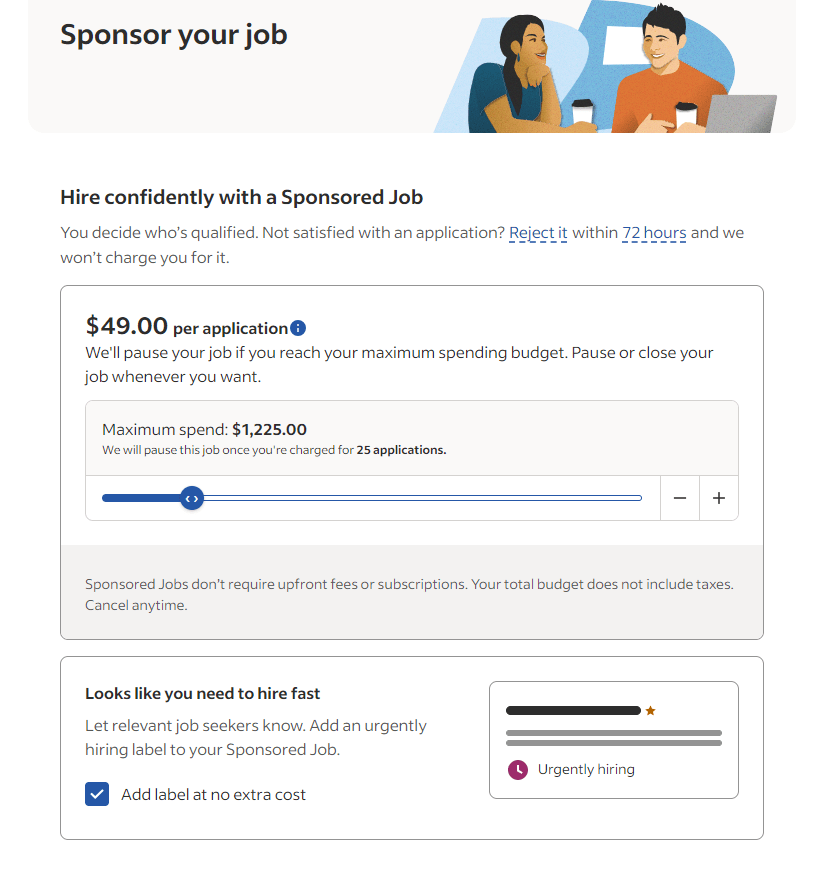 You can also elect Indeed's basic advertising model which sets a daily budget for the sponsored post. Indeed will provide a recommended daily budget based on the job title and location. You can adjust this budget as well as the ad duration. If you lower the daily budget, your ad will have less visibility to job seekers. Depending on your elected daily budget, Indeed will provide an estimated number of applications over the next 4 weeks.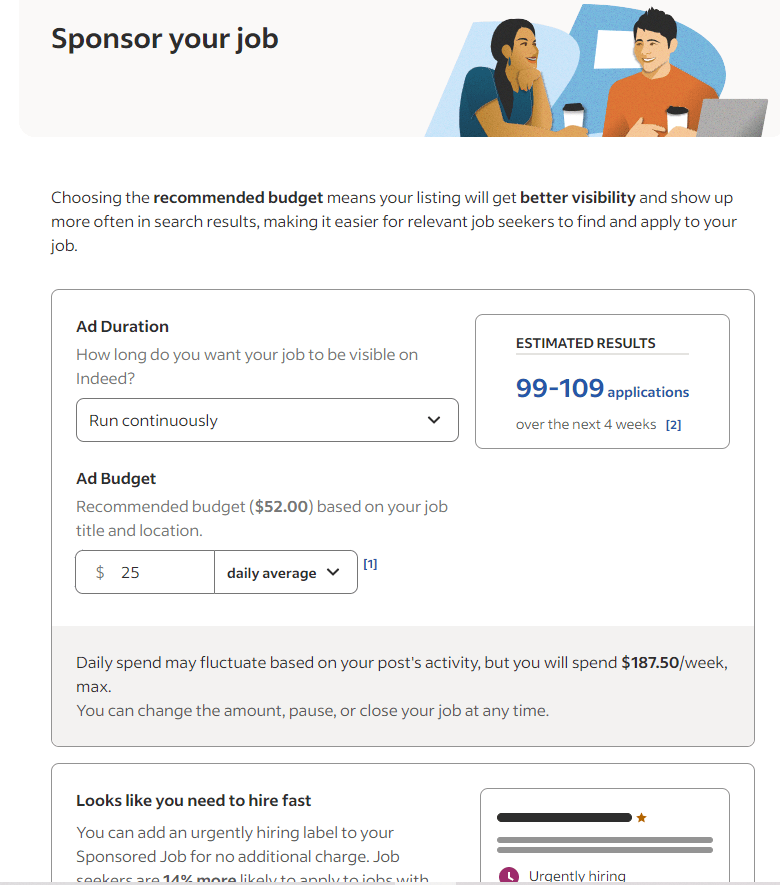 Only pay for qualifying applications
This is where the deal breakers from the pre-screening questions come into play. If an applicant fulfills all the requirements that you have designated as "deal breakers," their application will be forwarded to you for evaluation. If you are unsatisfied with an application, you have 72 hours to reject it, and Indeed will not charge you for it.
The next application that matches your specified criteria with deal breakers will be displayed by Indeed. You will keep receiving new applications, and the job posting will remain visible to job seekers on Indeed until the application target is met (at which point the job will be automatically paused), or until you pause or close the job yourself - whichever occurs first.
Related: Indeed Job Posting Cost
8 Tips For A Great Job Posting On Indeed
To make your job posting stand out on Indeed, follow these best practices:
Make each post detailed but scannable using bullet points and short paragraphs.
Make each ad engaging by avoiding jargon and being personable.
Ensure your ad gives candidates a good sense of what it would be like to work in your company.
Include industry-related keywords that job seekers will search for in the job description so your ad will be more visible.
List a specific location to improve the post's search position. You can also tag the role as remote.
Anticipate and answer candidate questions about the position, pay, benefits, and company.
State the education, experience, and skills requirements early on in the post.
Share what makes your firm unique to entice candidates to apply.
If you implement these tips, your odds of attracting top talent go way up!
Frequently Asked Questions 
Is it free to post a job on Indeed?
Yes, you can post a job for free on Indeed. To boost your job's visibility, you can also pay to promote your ad through Indeed's sponsored job posts. 
How do I post a job posting on Indeed?
To post a job on Indeed, log in to your Indeed account, click on "post a job," and answer the questions that appear on the screen.
How do I advertise a job on Indeed for free?
To advertise a job on Indeed for free, click on "post a job," answer the questions that appear on the screen, and click "post without budget."
How does posting a job on Indeed work?
When you post a job on Indeed, it will be visible to many job seekers. This increased visibility improves your odds of attracting your ideal candidate. Read our Indeed guide for employers.
How does Indeed compare to ZipRecruiter?
We compared all aspects of these two job sites. Read our full review of ZipRecruiter vs Indeed.
The Bottom Line
Armed with the information above, you should feel confident about how to post a job on Indeed. The company makes it easy to list open positions, so your job ads can get to work fast. But, Indeed isn't the only option you have.
ZipRecruiter can help with all of your hiring needs. If you are ready to add to your team, consider listing your job opening on ZipRecruiter!