Written By: Michael Gardon | Edited By: Mike Jelinek
We recommend getting started with ZipJob's Executive Resume Service. It's our top choice for an executive resume writing service because it provides the most personalized attention and service compared to the others.
If you're looking for the best bang for your buck, check out TopResume.
What sets executive resume writing services apart from resume services for other job levels is personalization, and the comprehensive attention to detail that will capture your personal brand and style across your resume, cover letter, biography and social profiles like LinkedIn.
The 7 Best Executive Resume Writing Services in 2023
Our team has hired and managed thousands of employees for technology, HR, finance, management, content, marketing, data and executive-level jobs. Each week we revisit this page and check in on the executive resume writing services to keep tabs on a constantly changing industry. We've spent many hours each week for the past 3-4 years reviewing all the top resume services.
Executive Resumes in 2023
When it comes to getting an executive-level job, candidates need specialized resume writing services to compete at with a higher level applicant pool. At this level, your reputation and communication capabilities need to resonate.
With layoffs flooding in to start the year, the pool of applicants looking for their next big thing is only trending up. Your resume needs to get past the robots and it needs to truly show why you need to be walking through the door for the interview vs. someone else.
Both ZipJob and TopResume have a free resume review to get started. Those can help you avoid mistakes and formatting errors that may get your resume rejected by ATS software.
Full Reviews of the Best Executive Resume Writing Services
ZipJob Executive - Best Total Package For Executives
Read the full CareerCloud ZipJob review.
ZipJob provides resume writing services for C-Level executives, directors, senior leadership, and VPs in every major industry. They have been featured in a variety of popular media outlets for their work, and past clients have gone on to secure positions at companies like Google, ABC, GE, BBC, and Chase. They boast an excellent TrustPilot score with 4.6 out of 5 stars and have an entire page on their website dedicated to people seeking employment at the executive level.
Where It Excels
Personalized. ZipJob provides everything you might expect of a high-touch executive resume writing service.
Unlimited revisions. After an initial phone consultation, there is a five to seven-day turnaround to produce the initial draft, on which you are allowed unlimited revisions.
Future updates and changes. With ZipJob, you have the advantage of making future updates and additions to your resume as your professional experience grows. Their team of writers will be there to assist you in the years to come, ensuring your resume remains up-to-date and effective.
ATS optimized. When your resume is written (or rewritten) it undergoes optimization for high impact keywords relevant to the position you're seeking and goes through ZipJob's in-house ATS scan to make sure it parses correctly. Once your resume passes ZipJob's ATS, you can be confident that it will pass other companies' ATS as well, as you begin the application process.
Additional services are included. There are also three additional services included with your resume that most other services charge for. A cover letter, which "can easily be tailored to different positions and companies," LinkedIn profile optimization, and a post-interview thank you letter for you to distribute. When compared to other resume services, these three services alone are worth the price for Zipjob.
Guaranteed interviews. This service also comes with ZipJob's guarantee that you will receive two to three times more interviews once you have a finished product that you are happy with.
Where It Falls Short
Money-back guarantee. The guarantee Zipjob provides is not a money-back guarantee. If you're not getting 2x more interviews as they state, they will go back and make revisions based on the types of positions you're applying to. Since unlimited revisions are standard with the service, they're really saying that there are no refunds after they go to work on your resume. However, you shouldn't need revisions because you're dealing with a top service.
Pricing
Expert Resume Review: Free
Executive Resume Package: $899
Check out the review below from a recent customer for more context into the service: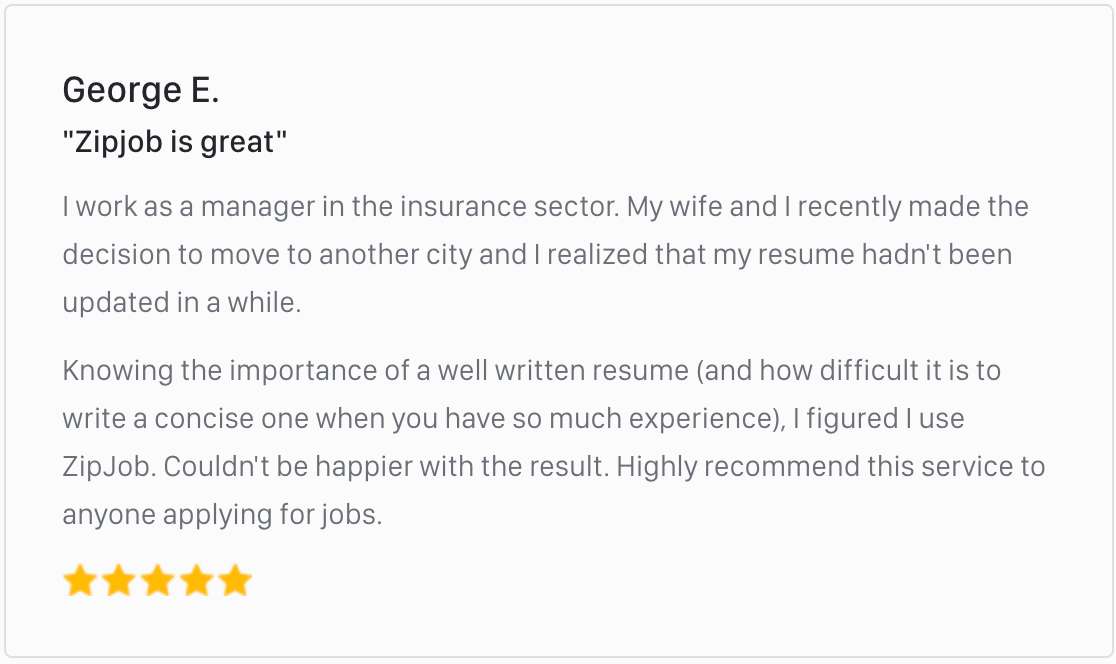 TopStack Resume - Best For Unique Pay-After Model
Read the cull CareerCloud TopStack Resume review.
TopStack Resume writers create custom, ATS-friendly executive resumes that will wow hiring managers and recruiters. They can also craft engaging cover letters and LinkedIn™ profile content. And, if you need some extra support during your job search, you can work with one of the company's career consultants for guidance.
TopStack is known for working with experienced job hunters who are looking for a well-reviewed resume writing service.
Where It Excels
Pay-after model. TopStack stands out with their unique pay-after model. When you place an order with TopStack, you don't need to enter a credit card number or any payment information. When your resume is complete, they will send you a link to review. At that time, you pay for your order if you are satisfied. No other resume writing service offers this unique pay-after option, it allows you to get started with TopStack risk-free.
Personalized. TopStack Resume's resume writing service follows a simple process. First, you'll submit an online order form with details about your career goals and professional experience. You can also attach your current resume if you have one. Then, your order will get assigned to a resume writer. You'll work closely with your writer via email or phone until you're satisfied with the progress made on your resume. Once you feel good about how it looks, you'll pay for your order. Your writer will then make any final adjustments needed and send you the completed document.
Variety of packages. TopStack Resume offers four resume writing packages, so you can choose the level of service that meets your needs. First, the Basic package comes with a professionally written resume and email communication with your writer. Next, the Standard package comes with everything from the Basic level, plus a cover letter. Then, the Professional package builds on the Standard level with LinkedIn™ profile content and phone communication with your writer. Finally, the Premium package mirrors the Professional package with the addition of up to 4 hours of career consulting.
Advanced career consultations. Career consultations meet you where you are. Each conversation will get tailored to your current situation, whether you're creating a job search strategy, preparing for an interview, or planning to make a career change.
Guaranteed interviews. Both the Professional and the Premium packages come with a 60-day interview guarantee. If you don't receive any interviews within 60 days of purchasing your resume (and you've applied to at least ten jobs during that time), TopStack Resume will provide additional career guidance and application support to you for free. Plus, when you purchase one of these higher-level packages, you'll get to work with one of the company's most experienced writers.
They give back to the community. Five percent of the firm's profits get donated to the Fisher House Foundation, which provides free lodging to loved ones of hospitalized military personnel.
Where It Falls Short
Money-back guarantee. While it's reassuring to have some sort of guarantee when you buy a service, you won't get your money back if your resume doesn't help you land an interview.
Timeliness. Unless you pay extra to expedite your order, it can take up to two weeks to get your finished document. That timeline may not work for you if you need to find a new job as soon as possible. And, even though the company's prices are lower than some of its competitors (particularly when you consider what's included), the price tag may still be too big if money is tight.
Pricing
Basic Resume Writing Package: $139
Standard Resume Writing Package: $199
Professional Resume Writing Package: $279
Premium Resume Writing Package: $649
Upgrade to Phone Communication with Writer: $25
Resume Writing Expediting: $50
You can choose any package for an executive resume. When you fill out your order form, you can provide more information so that TopStack can assign the best writer for your situation and needs.
Here are some reviews from happy TopStack Resume customers!
TopResume Executive Priority - Best Value 
Read the full CareerCloud TopResume review.
Founded in 2014, TopResume is one of the largest and most distinguished resume writing service companies. Their writers have backgrounds in human resources, recruiting, career coaching, and job search strategy - the top 10 percent of which work on executive resumes. Currently, they have over 1,500 writers that have helped 400,000+ people across 65 industries. And they only accept the very best, as they state on their website that only two percent of those who apply to be a resume writer are hired.
Where It Excels
Free diagnosis. If you're leery about the service, TopResume offers a free resume scan where you upload your current resume and are emailed a diagnostic report of areas where your resume needs improvement.
Benefits. There are six key benefits of enlisting TopResume Executive Priority. First, as stated above, you are assigned a more seasoned writer who is in the top 10 percent of TopResume's network. Second, your resume is properly formatted (resumes that aren't properly formatted are quick to be dismissed by ATS). Third, your resume is optimized for keywords, so again, it passes through the ATS. Fourth, you are given a cover letter. According to TopResume, "employers are 40 percent more likely to read a resume with a cover letter." Fifth, there is a 60-day interview guarantee, which states if you're not getting twice the amount of interviews you were before enlisting the service, they will rewrite it. Sixth, you get a LinkedIn makeover.
Industry specific writers. All of this takes place after you are assigned a writer who is selected based on the type of industry you're in and the experience you have. Once you're assigned a writer, you are given a questionnaire to fill out, and submit so your writer can properly fill in any gaps you might have with your existing resume.
Interview coaching. Once you make it to the interview phase of the hiring process, TopResume offers an interview coaching service called TopInterview, which costs $149 per session.
Where It Falls Short
Revisions. Perhaps the biggest hole we saw with TopResume's executive package is that you can only make one round of revisions.
Money-back guarantee. There is a 60-day guarantee, but like with ZipJob, they're not offering a refund, simply a revision. It's not clear on their website what happens, or how much they charge if you continue to be dissatisfied.
Fees. Furthermore, the company is completely transparent with the open lines of communications that you will have with your assigned writer during the process. However, if you prefer speaking with your writer over the phone instead of via email, you will be charged a fee, which again, is unspecified on the company's website.
Learn more about the overall best resume writing services
Pricing
Expert Resume Review: Free
Executive Priority Package: $699
Don't take our word for it! Check out these reviews from real people who have used TopResume.
JobStars - Best Resume Package
Read the full CareerCloud JobStars review.
JobStars was founded in 2013 by Doug Levin. The company puts extra time and care into telling your career story through your resume. Your executive resume writer will showcase your top achievements and credentials so that you can land a new leadership role as quickly and easily as possible. JobStars offers a variety of resume packages, career coaching, LinkedIn profile optimization, cover letter writing, and more. The company is a one-stop-shop for planning, preparing for, and making your next career move.
Where It Excels
One-on-one phone call with the founder. The first benefit is a one-on-one phone consultation with JobStars founder Doug Levin. Levin is an experienced career coach and Certified Professional Resume Writer (CPRW). During the in-depth call, Levin will ask you questions to fully understand your career history, educational background, and aspirations. Gathering this information upfront will result in a high-quality first draft of your resume.
Unlimited revisions. JobStars offers unlimited revisions for 30 days after you receive your first draft. Though JobStars prides themselves on doing their best to get it right the first time, they want you to be happy with the final product. You can expect the entire executive resume writing process to take 10-30 days, depending on how many rounds of edits you request.
Additional services are included. The Gold Executive Resume Package doesn't just come with a resume. This package includes a thank you letter, a references list, DIY LinkedIn optimization, and resume distribution.
Resume distribution. Resume distribution gets your new executive resume in front of hundreds of staffing agency recruiters, which is a great way to kick off your job search. You can also request a matching cover letter for a nominal extra cost.
LinkedIn optimization. With the DIY LinkedIn Optimization, JobStars writes your entire LinkedIn profile in a Microsoft Word document and sends it to you as an attachment. Then, you have to cut and paste the content into your actual profile. For an additional fee, the company will put the information on LinkedIn on your behalf.
Interview coaching. If you need help beyond creating your executive resume, JobStars offers mock interview prep and a la carte career coaching services. As part of the resume writing package, you'll also have access to job search guides, career discovery worksheets, goal setting worksheets, self-improvement worksheets, and interviewing worksheets through your client portal.
Where It Falls Short
Guarantees. They lack a guarantee, unlike other companies such as TopResume that offer a 60-day interview guarantee. While JobStars does provide unlimited revisions for 30 days, the absence of a formal guarantee may be a drawback to consider.
Pricing
Bronze Resume Package: $495-$795
Silver Resume Package: $650-$1,195
Gold Executive Resume Package: $950-$1,495 (best for executives)
LinkedIn Profile Optimization: $250-$495
Mock Interview Prep: $495
A La Carte Career Coaching Sessions: $150-$595
ResumeSpice Executive Resume - Best For Inside Track on What Recruiters Are Looking For 
Read the full CareerCloud ResumeSpice review.
According to Trustpilot ratings, ResumeSpice is the #1 ranked resume writing and careercoaching service. The company was founded by recruiters who have a deep understanding of what human resources personnel, talent acquisition specialists, and hiring managers want to see in a resume. ResumeSpice works with job seekers from all industries, functions, and career levels - including those looking for C-suite, upper management, and high-paying ($125k+) roles.
Where It Excels
High-quality and timely. The company is deeply committed to creating high-quality resumes in a timely fashion. Once you purchase the executive resume writing service, you'll speak with a resume expert to give them a sense of your background and career goals. Then, you'll receive the first draft of the document within two business days of the phone consultation, which is faster than many other providers.
All eyes on deck. Your resume draft will get reviewed by at least two experts before you see it to ensure that it's error-free.
ATS optimized. You can rest assured that it's been keyword optimized so that it can get past applicant tracking system filters. Effective formatting and well-presented credentials and experience will impress human evaluators. Once complete, you'll receive the final version in both Word document and PDF formats.
Reputation. ResumeSpice has helped clients land roles at Amazon, Facebook, Google, Nike, and other top organizations, so the chances are good that the provider can help you do the same.
Extra assistance. If you need extra assistance, the company also writes cover letters, optimizes LinkedIn profiles, offers interview preparation sessions, and provides career coaching. The firm can be your go-to career move resource.
Guaranteed interviews. The provider stands by its work with a 60-day guarantee. If you don't schedule any interviews within 60 days of receiving your final resume, ResumeSpice will redo it for free. Some terms and conditions apply, such as you must have submitted the resume to at least 15 different companies. For complete details, please visit the company's website.
Where It Falls Short
Packages. ResumeSpice has an excellent reputation, but it comes with a steep price tag. The company doesn't offer package deals for buying multiple services, either. While the company officially allows two rounds of revisions, they have a stellar reputation and promise to address any concerns you have, even if it goes beyond two edits.
Pricing
Executive Resume: $599
Cover Letter: $179
Professional Bio: $179
LinkedIn Profile: $179
Interview Preparation: $159 per session
Career Coaching: $179-$695 (depending on the number of sessions)
Boutique Resume Services To Consider
The above services are larger companies with multiple executive resume writers on staff. For those looking for a more personal touch, we are including a review of a few companies below for individuals who may be a better fit for something other than the larger outfits.
Capstone Resume Services Executive Resume - Best For Affordability
Founder Amy Gies leads a lean team of five professional resume writers at Capstone, where, like Resume Spice, a variety of different services are offered in addition to the executive resume. Amy has helped over 7,000 clients worldwide, and along the way has "gained intuitive insight into developing optimal presentations in the ever-evolving job market." Her team is equally experienced, and each writer possesses a diverse background, so you are sure to be matched accordingly no matter what your industry or goals are. They're also all Certified Professional Resume Writers.
Where It Excels
Timely. At Capstone it all starts with the consultation, after which a two to three-day turnaround will produce your executive resume. The document is shared in both word and PDF formats, and you are allowed up to one revision, if necessary. As with other services, keywords and ATS are taken into consideration. With more importance placed on the consultation, the site's executive page talks about going beyond the mere listing skills, and the importance of developing a personal brand within your resume.
Customer service. The team is quite responsive to correspondence and does their best to deliver a product you're happy with, promptly and accurately. The service is moderately priced compared to other services, and they have a seemingly endless amount of positive reviews on their website.
Free consultation. Capstone also offers an initial consultation, prior to the actual resume consultation after you sign up, so you can gauge whether or not you found the right fit. None of the large companies offer anything like this.
Add-ons. Capstone's add-ons include cover letters, LinkedIn profiles, a resume distribution service, interview coaching, and career coaching. In regard to the distribution service ($175), they point out that it is estimated that almost two-thirds of all executive positions filled are handled by executive search firms. So this is a nice option to have, especially if you're searching for an executive-level position.
Where It Falls Short
Ambiguous if ATS optimized. While they mention optimizing your resume for keywords and ATS, it is unclear whether or not they have (and use) actual ATS software to see if your resume will pass. Furthermore, there is no guarantee and very few reviews outside of their company website.
Price
Executive Resume: $299
Cover Letter: $59
LinkedIn Profile: $199
Resume Distribution Service: $175
Resume Pilots - Best To Couple With Coaching Services
With the stated core values of writing excellence, superior service, and unfringed integrity, one would be safe in assuming that Resume Pilots is a reputable executive resume writing service. This is not only the only service we reviewed that specializes exclusively in executive resumes, it is also the only service where every writer on staff is a graduate of an ivy league school. Additionally, like Capstone, all writers are certified professional resume writers.
Matt Glodz, the founder of Resume Pilots started writing resumes professionally after he found that "otherwise qualified candidates were frequently rejected from interview opportunities due to poorly written resumes" Eight years later, Resume Pilots has become one of the top executive resume writing services in the world.
Where It Excels
Transparency. On their website, Resume Pilots is very clear about keyword and ATS optimization and how it can be used to move your resume to the top of the pile. As far as guarantees go, they're extremely transparent stating that they don't guarantee interviews because it is only one component in the job-seeking process. They go on to say that anyone who is offering a guarantee probably isn't trustworthy.
Personalized and timely. Instead, they promise to look at your resume from a holistic viewpoint and highlight your strengths after getting to know you through a questionnaire and consultation. You're allowed two revisions, and the turnaround time is five business days, although there are options for expedited service.
Add-ons. You can purchase additional services that include Linkedin profiles, cover letters, action plans, and thank you notes, and have the option to bundle some or all of the services.
Founder reviews every resume. Employing a team of 10+ writers, Matt personally reviews every resume that is worked on to ensure the highest quality and standards are met for each and every client.
Where It Falls Short
Ambiguous ATS information. As stated above, they reference ATS, but we don't know if they have in-house ATS software to truly see if your resume will pass once it's submitted.
Consultations fee. Also, Resume Pilots offers a "Resume Review & Consultation" for $99, where they review your resume and give you an action plan. This is in line with the resume diagnostic provided by TopResume or the initial consult offered by Resume Spice, both of which are free, so it is a little off-putting that they charge you to even have a phone call.
Pricing
Resume Review & Consultation: $99
Resume Writing: $679
All In Writing: $1,099
Career Transitions Writing & Coaching: $2,650
Other Executive Resume Writing Services For Executives To Consider
In addition to our top selections, we also found the other resume writing services to be adequate at the executive level. If you want additional choices, you can check out these other services as well:
How To Choose An Executive Resume Writing Service
As an executive, the stakes are higher, both for your potential employment, as well the price that goes into enlisting the help of an executive resume writing service. Here are the most important determining factors that should go into the selection process.
Related: The Best Executive Job Search Sites
Previous Customer Reviews
None of the companies we reviewed in this article have received negative reviews from previous clients, so it's safe to say that they're all trustworthy. Again, however, you may be able to ascertain certain things through the reviews that are not mentioned directly on their websites. It might be something small, like "I got a handwritten thank you note from the CEO," or maybe one company responds on the weekends, and one does not. Just like every client is different, so is every company, and what it does for some, might not cut it for others. So, if at the end of our review here on CareerCloud, you're still looking for more information, we invite you to hop on to the company websites and read past user reviews from the many satisfied customers these companies have had.
Writer Expertise and Credentials 
Before you commit, make sure you have reviewed the actual person that will be helping you with your resume. Beyond standard industry qualifications and history of employment, you will want to know if the resume writer is familiar with your industry and specific positions you are applying for.
Finally, You will want to make sure that you can work well with this person, and that their communication style and cadence matches yours.
Suite Of Services
Some people are in need of a polished, ATS-friendly resume, and nothing more. Others need help with cover letters, LinkedIn profiles, etc. ZipJob, as an example, factors these two add-ons into their price, along with recruiter distribution, so some people might be forced to pay for these services even though they didn't ask for them. Others may look at this bundle of services as a great deal. The good news is that you've got a variety of highly reputable companies to choose from to best fit your needs and budget.
Company Reputation And Trustworthiness
It can sometimes be difficult to judge trustworthiness online these days (which is why we're here). How do you know if one company is better than another. Well, here are several factors to consider when judging online reputation and trustworthiness:
Customer reviews. You can take a look at customer reviews on each service's website, but you can also use verified resources like Trustpilot and reddit to hear what executive customers really have to say.
Number of customers or number of industries. Good services will talk about their high number of customers, number of industries they operate in or customer satisfaction ratings. Scammy 'services' will not. Of all the companies we reviewed, TopResume boasted the highest recorded number of industries helped, with 65.
Website look and feel. This may seem silly, but if a website looks like it was built in the 1990's, the company is probably not growing or very trustworthy.
Companies hired. All of the services we recommend have helped executives get hired at many of the biggest and most desired companies in the country. Zipjob writers, for example have helped candidates get hired at Google, GE, ABC, and Chase to name a few.
Specifics to you. When and if you do contact these companies, and you are in a niche industry (or a common one), you can ask specifically what they have done in the past to help someone with a similar background as yours. If, as an example, you're in the technology industry, you may find a company with a resume writer who has a great track record of finding employment for upper-level executives in that industry.
Frequently Asked Questions
Here are a few frequently asked questions regarding executive resume writing services.
How Is An Executive Resume Writing Service Different Than Other Resume Writing Services?
The difference in the service is the same as the difference in the level of employment. Executive resumes are more expensive because they are written by professional writers with more experience who are abiding by certain rules that make your resume ATS friendly, while at the same time conveying qualities of leadership and value that would seemingly make you invaluable to the company you're applying to. Some of the rules are that your resume should be no longer than two pages, represent no more than 15 years of experience, and highlight any unique attributes which would separate you from other candidates.
What other resources are there to help me with my resume writing?
If none of the recommendations on this page seem to make sense for you, then you may want to contract this work out to a freelance writer or an individual. Most niche executive writers operate by word of mouth, but LinkedIn is a great place to find someone who can give you more personalized attention (likely at a higher price point). Other options are to talk with executive recruiters or career coaches who could recommend someone.
How much does an executive resume service cost?
From our research, quality executive resume services will range in price from around $300 to well over $1000. This also depends on the level of service you require, and your position.
Why Should I Enlist An Executive Resume Writing Service?
The simple answer is to make sure your resume is compliant with ATS, which is being used by more companies every day. The more complex answer is that you should view the process as a competitive advantage in the highly competitive world of becoming an executive. And it helps to have a second, highly educated, and experienced opinion in your corner.
Bottom Line
The bottom line is that people who enlist resume services receive more job interviews than people who don't. It's why the majority of the companies we reviewed come with some kind of an interview guarantee and stellar reviews. So if you're going strictly by the numbers, hiring an executive resume writing service will increase your odds of getting hired.